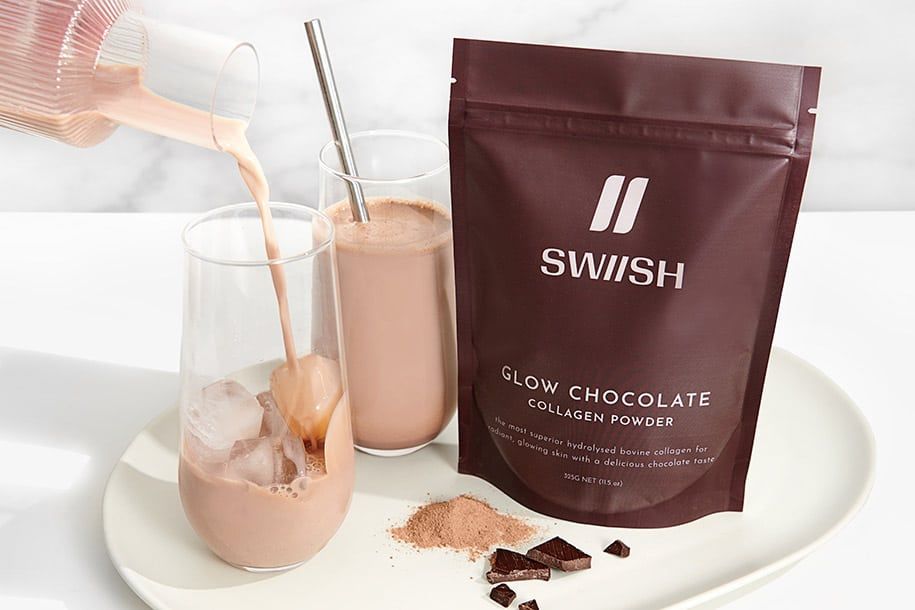 Your shortcut to glowing skin

3 Things You Didn't Know About Collagen:

It's Your Hydration Shortcut
Hyaluronic acid production begins to decline with age. The good news? Collagen contains prolyl-hydroxyproline which triggers its production. This increases your skin's water content giving you that plump, hydrated glow.
Your gut lining is made from collagen, just like your skin. When the gut is inflamed and irritated (from stress, alcohol or even food sensitivities), chances are your skin is also suffering. Nourishing your gut with collagen can help:
Reduce inflammation
Improve skin health
Calm red, puffy skin
Strengthen gut integrity
By the age of 30, you have around half as much collagen as you were born with. UV rays, environmental toxins, stress and even junk food can speed-up collagen depletion. This is where consistent supplementation is key.
Skincare Never Tasted So Good
Collagen is heat stable – why not throw it into your favourite recipes? Here are some of go-to recipes:
CHOC COLLAGEN GLOW BITES
https://blog.swiish.com/choc-collagen-glow-bites/
CHOC FUDGE GLOW BALLS
https://blog.swiish.com/choc-fudge-glow-balls/
CHOC COLLAGEN & PB OVERNIGHT OATS
https://blog.swiish.com/choc-collagen-overnight-oats/
COLLAGEN RASPBERRY BROWNIES
https://blog.swiish.com/collagen-raspberry-brownies1/
WANT MORE? EXPLORE OUR ENTIRE WELLNESS RANGE HERE