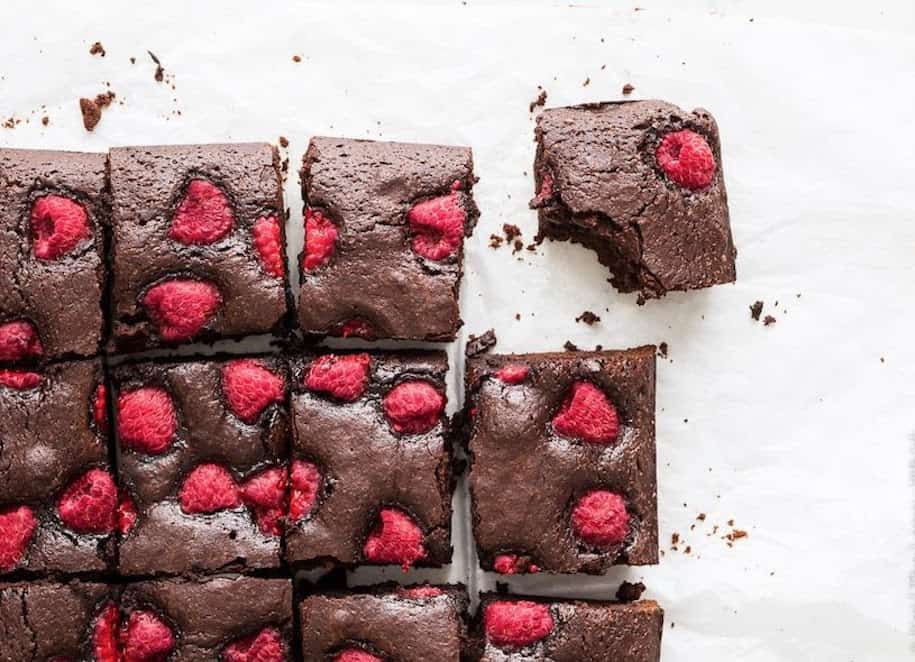 What's better than a healthy brownie – that stills tastes like the real deal? One that's loaded with collagen, of course. Trust us, you'll have this skin-loving recipe on repeat.
Makes approximately 16 squares.
INGREDIENTS:
115g unsalted butter, cut into cubes
200g dark chocolate, roughly chopped
1/2 cup coconut sugar
1 tsp vanilla extract
3 eggs
1/2 cup plain flour
1/4 cup SWIISH Wellness GLOW Hot Chocolate Collagen Powder
1 cup frozen raspberries
METHOD:
Preheat oven to 180 degrees. Grease and line a square tin with baking paper, ensuring two sides of the paper overhang.
Add butter and dark chocolate to a heatproof bowl and microwave until melted, stirring every 30 seconds.
Add sugar and vanilla to the chocolate mixture and stir. Add the eggs, one at a time and stir until well combined. Add flour and GLOW Hot Chocolate Collagen Powder then stir until mixture is smooth.
Pour mixture into a lined baking tin and scatter raspberries on top.
Bake brownies for 30-35 minutes, or until you see the edges crack.
Leave brownies to cool completely before cutting into squares and serving.
WANT MORE? CHECK OUT OUR RECIPES SECTION AND OUR BOOKS FOR MORE NUTRITIOUS TASTY TREATS.