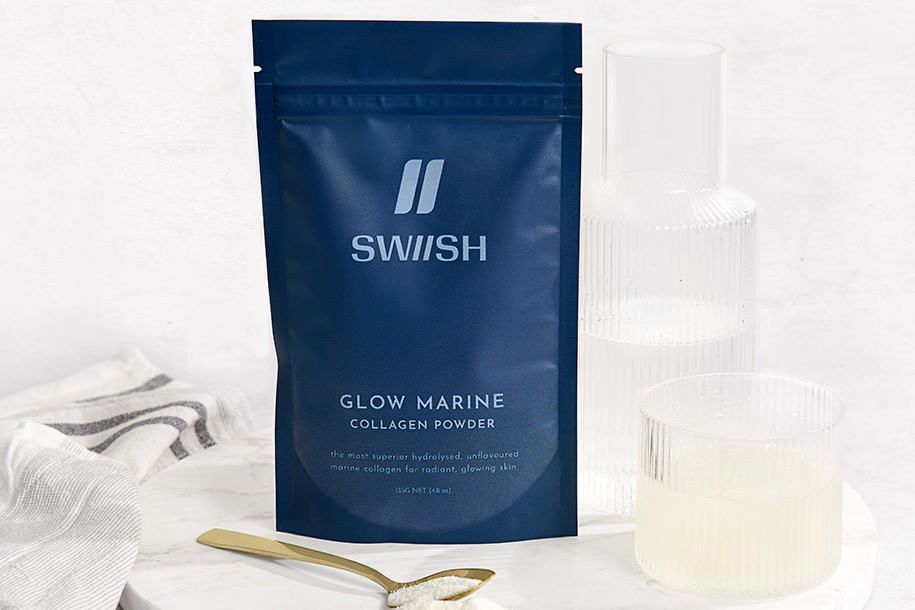 BEAUTY BENEFITS
Collagen is the most abundant protein in our body – essential for plump, firm, hydrated skin. As we age, our body's collagen production naturally declines, leading to fine lines, wrinkles and loss of moisture.
GLOW Marine Collagen Powder helps skin elasticity and hydration, and supports healthy collagen production. Ultimately Marine Collagen is scientifically formulated to help skin be lit from within.
Check out our Top 6 Collagen facts that you probably never knew.
1. COLLAGEN IS THE MAJOR PROTEIN THAT MAKES UP 75% OF THE SKIN
It gives skin its strength, durability and hydrated appearance.
2. COLLAGEN PRODUCTION DECREASES AROUND 20 YEARS OF AGE
Yes, we know it seems like nature's cruel joke.
3. COLLAGEN SUPPLEMENTATION HELPS STIMULATE YOUR BODY'S OWN COLLAGEN PRODUCTION
Yep. You read that correctly. Daily collagen supplementation not only helps your skin, but it also stimulates your body's own collagen production. This a glowing win-win.
4. SWIISH HYDROLYSED COLLAGEN IS MORE EFFECTIVE
SWIISH Hydrolysed Collagen Peptides are more bioavailable than other many collagen powders taking only 15-20 minutes to enter the skin matrix… talk about speedy!
5. COLLAGEN IS YOUR HYDRATION SHORTCUT
Hyaluronic acid production begins to decline with age. The good news? Collagen contains prolyl-hydroxyproline which triggers its production. This increases your skin's water content giving you that plump, hydrated glow.
6. COLLAGEN IS GUT LOVING
Our gut lining is made from collagen, just like our skin. When the gut is inflamed and irritated (from stress, alcohol or even food triggers), chances are the skin is also suffering. Nourishing our gut with collagen can help reduce inflammation, improve skin health and strengthen gut integrity.
WANT MORE? EXPLORE OUR ENTIRE WELLNESS RANGE HERE