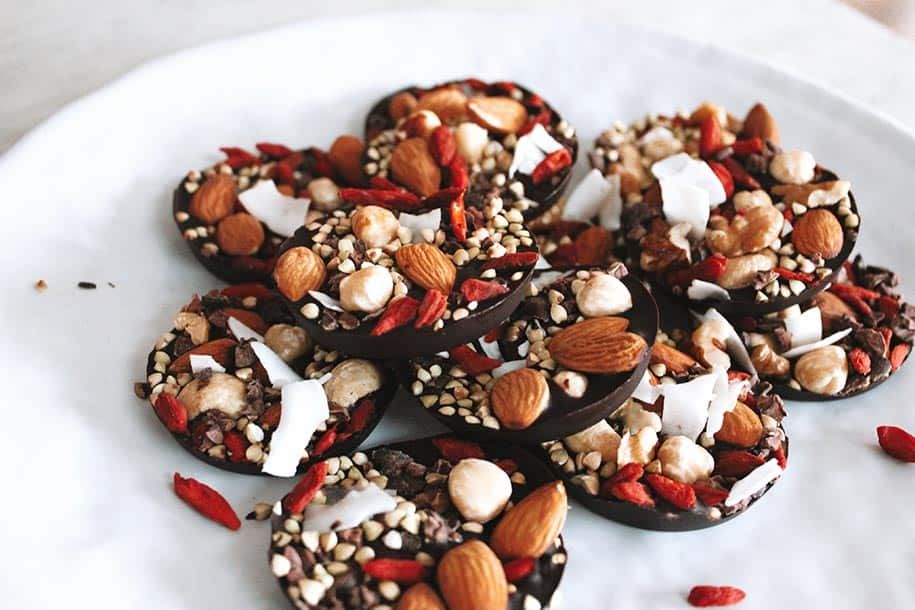 These chocolate treats are little bites of bliss. Loaded with collagen, skincare never tasted so good. (Seriously – what is this magic?). One taste of these Choc-Collagen GLOW Bites and you'll be hooked.
CHOC-COLLAGEN GLOW BITES
Refined Sugar-free
Makes 12 Chocolate Bites
INGREDIENTS:
1 cup coconut oil
3 tbsp butter
½ cup cacao powder
3 tbsp rice malt syrup
Choice of nuts and seeds, to top
METHOD:
In a medium-sized microwave-safe bowl, melt coconut oil for approximately 30 seconds, then add the butter and melt in the microwave for a further 10 seconds.
Add GLOW Chocolate Powder, cacao and rice malt syrup. Whisk well until glossy and shiny.
Pour the mixture evenly into a 12-hole cupcake tray (we recommend using the flexible silicone ones, alternatively, line each muffin hole with baking paper so they don't stick). Top with a mix of nuts and seeds. We used almonds, buckinis, hazelnuts and goji berries!
Freeze for approximately 20 minutes before serving. Store in the fridge for up to 2 weeks.
WANT MORE? CHECK OUT OUR RECIPES SECTION AND OUR BOOKS FOR MORE NUTRITIOUS TASTY TREATS.