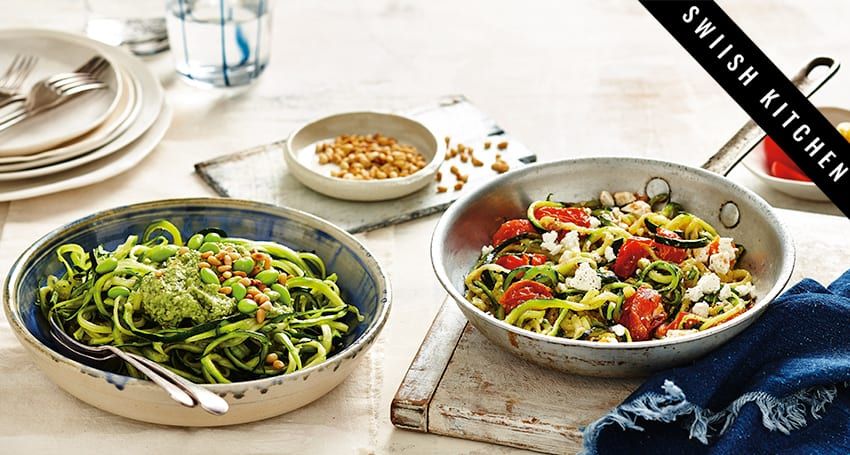 Who doesn't love a great big bowl of warm, pasta on a cold winter night? We know we do. The only issue is, regular pasta can leave you feeling sluggish and bloated, and depending on what toppings you use, can also be hugely calorific.  That's why our version will make you feel AMAZING and keep your taste buds happy at the same time. Woo hoo!

We're talking about zucchini noodles.  If you happened to catch our Sunrise segment on Channel 7 a few weeks back, you'll know that this is one of the dishes we're most well known for.  Why?  Well, when you pull together a super satisfying, pasta-style dish that's also lean, low-carb, gluten-free and packed full of flavour, it's bound to get a whole heap of high fives.

With double the health benefits and half the hassle of regular pasta, zucchini noodles have fast become our go-to dish for lunch and dinner.  I mean, it's pretty neat knowing we're getting a great big dose of vitamin C, magnesium and dietary fibre, while at the same time enjoying one of our favourite meals.  
Out of all the zucchini noodle combo's we've tried, these two are by far our favourites.  The avocado pesto recipe is great for when you feel like something creamy, delicious and nutrient-dense.  The tomato and feta version, on the other hand, is perfect for when you feel like something a little lighter – at only 156 calories a serve (YES! And it has cheese!), it's the ultimate lean lunch on the go.
If you love the sound of these dishes, you'll find a whole lot of other lean, healthy, delicious, quick and easy recipes in our cookbook, THE GOOD LIFE, which you can pick up now from our online store right here.