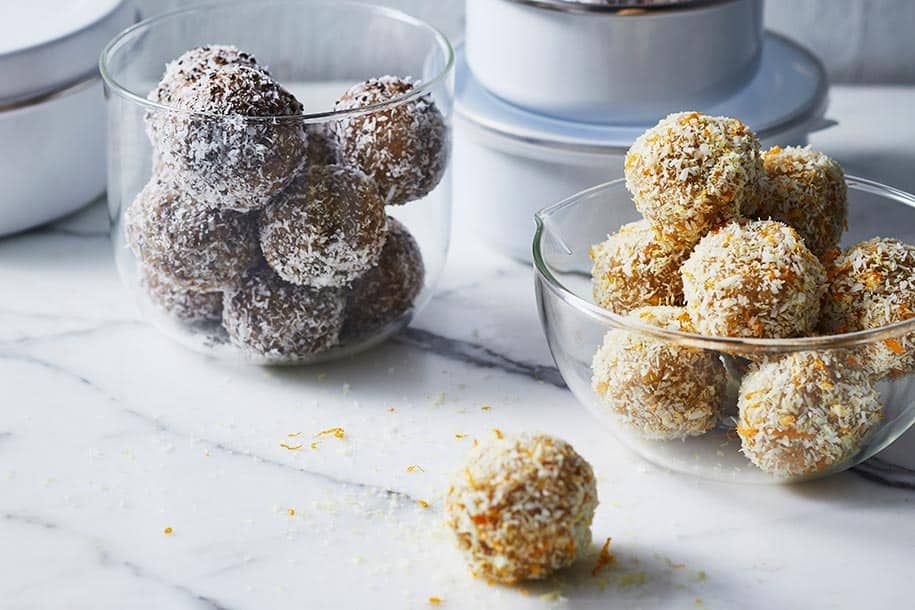 This is one of our go-to snacks here at SWIISH. We love making a whole batch up at the beginning of the week to have at the ready. They're zesty, moreish and all kinds of GLOW-packed.
ZESTY ORANGE COCONUT BALLS
Dairy-free / Refined Sugar-free
Makes 12
INGREDIENTS
155g (1 cup) cashew nuts (raw or salted and roasted – either is fine)
90g (1 cup) desiccated coconut, plus extra for coating
Zest of 1 orange
1/2 orange, juiced (reserve the other 1/2 orange)
1/2 teaspoon vanilla extract or vanilla bean paste
1 1/2 tablespoons maple syrup
3 teaspoons GLOW Marine Hydrolysed Collagen Powder
METHOD
Line a tray with baking paper.
Place all ingredients in a food processor and blitz until you have a sticky mixture. If the mixture is too dry, juice the reserved orange and, adding a little at a time, pulse again until you get the sticky mixture needed.
Shape the mixture into 12 balls. Place the extra desiccated coconut and orange zest in a shallow bowl, add the balls and roll around, coating well. Place on prepared tray and transfer to the fridge to set for an hour. These balls are best enjoyed at room temperature. Store in an airtight container in the fridge for up to 4 days.
WANT MORE? CHECK OUT OUR RECIPES SECTION AND OUR BOOKS FOR MORE NUTRITIOUS TASTY MEALS.