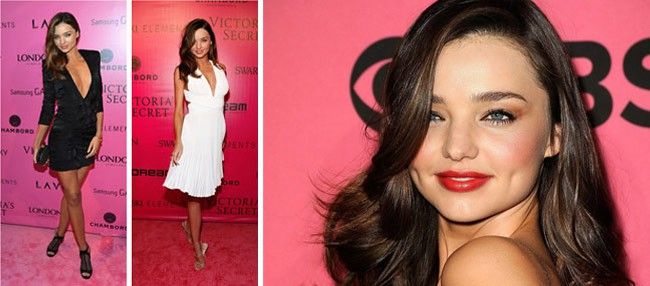 Whenever we see Miranda she is always looking fab. Whether she's strutting her stuff on the runway or taking son Flynn out for a stroll, her style is effortlessly chic.  How does she do it?
You'll always see Miranda working the latest trends and her secret is to pick basic items out of her wardrobe and match them with a trend item, or fabulous accessories. She carries everything she wears with confidence and that really shines through in all of her outfits.
Although she loves prints, Miranda also often chooses white to help her shine.  Pick cute button up tops with Peter Pan collars, grandma styled knits or retro prints. You can create a cute chic outfit by matching them up with basic items from your wardrobe – denim skinny jeans, white t-shirts or black ballet flats.
You'll rarely see Miranda without a pair of statement sunglasses, a hat or an oversized handbag. She also loves to wear a bright lip colour, which is a huge spring trend. Her hair is either cascading in loose waves or pulled back into a classic bun. With Miranda, simplicity is the key.
Our tip to get Miranda's look – stick to simple silhouettes, don't go overboard and add a few hot accessories.
Need some inspiration? No problem!