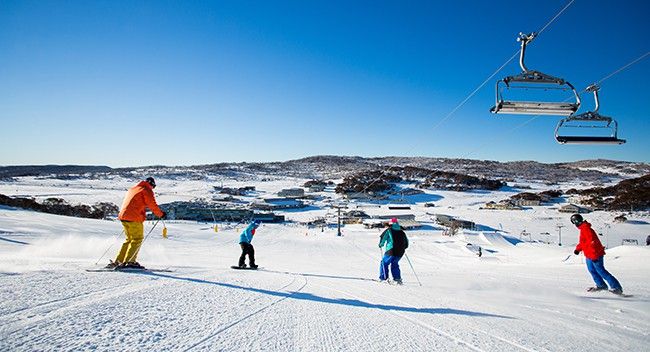 Embrace the cold and make your next holiday a beautiful winter wonderland snow weekend! Whether you're hitting the black runs or you're still a beginner (that's definitely me!), breathe in the crisp, fresh air and head to one of these ski getaways that are right on your doorstep.
NSW
Thredbo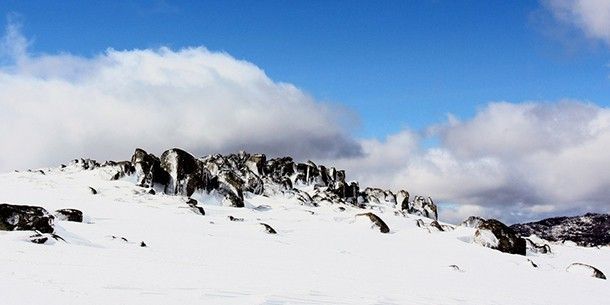 Thredbo is Australia's ultimate après ski resort. If your version of the perfect ski holiday involves a lot more spa sessions and bar hopping than skiing (this is most people I know!), then Thredbo is the place for you. Although the actual ski field is quite substantial and contains Australia's longest ski run, the real draw card of this ski resort is its vibrant après culture. With a picturesque 6 and a half hour drive from Sydney, how could you resist?
Stay
Accommodation comes in all forms, from luxurious hotels to youth hostels. Some of the most popular places to stay are The Denman and The Thredbo Alpine Hotel where prices are around $200 a night, depending on the time of year, along with some self-contained apartment options. There are free shuttle buses that transport you from most areas of the village into the nearby ski fields. If you're on a budget a good option is staying in Jindabyne, a nearby town, where accommodation prices are lower and you can bus or drive to the snow fields each day.
Eat
Being an après ski village there are endless options for food. Bernti's Grill, located next to the Thredbo Supermarket has an extensive a la carte menu. The Black Bear Inn is almost a Thredbo icon these days. It serves Austrian style food, beer on tap and great schnitzel. T-Bar Restaurant is also worth a try. It's one of the busiest places to eat on the mountain and is well known for its steaks and wood fired pizza. On the mountain, you can't go past Eagle's Nest. It sits 1937m high on top of the Kosciuszko Express Chairlift, giving you a 270 view of the Snowy Mountains while you eat. Black Sallees is more of a cafeteria style experience – highly recommended on sunny days when you can sit outside on the large deck area.
swiish tip: On your way into Thredbo, stop in at the Wild Brumby Schnapps Distillery on Alpine Way. Not only can you pick up some schnapps for your stay, but they also have great home-style food and regular tastings. The sour apple schnapps is the most popular on the menu.
Play
With over 50 ski runs, and 13 lifts there is a lot of skiing to be done in Thredbo. For the kids, there is a whole range of activities to keep them occupied, from Thredboland (a kids only area of the mountain complete with a mini-terrain park) and a 50m heated pool with a water-slide.
This season they have also introduced Kids Ski Free Weekends on July 20th-21st, August 24th-25th and September 14th-15th. For the adults, there is no shortage of different pubs and bars to try, including the Bullwheel Bar & Bistro for an afternoon drink with the locals and Schuss Bar for live Australian music.
Perisher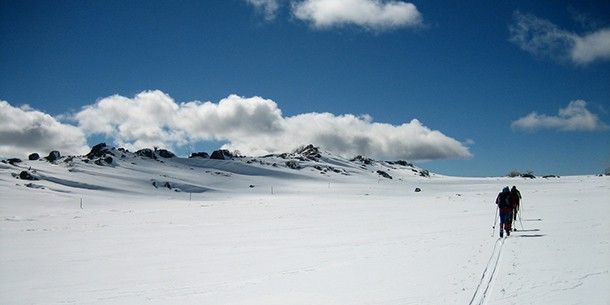 Perisher Ski Resort possesses the impressive title of being the largest ski resort in the southern hemisphere. Perisher is the combination of 4 separate resorts; Perisher, Blue Cow, Smiggin Holes and Guthega. Perisher provides a very expansive ski terrain, which is great for those who want a large mountain to explore. It is also 6 and a half hours from Sydney, with a tube-style train connecting it to nearby Thredbo.
Stay
Perisher doesn't have the village experience that Therdbo does. Lodges are very spread out, with one commercial hotel in Guthega, and the rest sprawled over Perisher and Smiggin Holes. If you're not keen on doing a lot of walking, it's best to find accommodation that is close to the ski lift, like the Perisher Valley Hotel and Smiggins Hotel. The majority of accommodation is however quite far away from lifts, with many of them providing free shuttles to and from the ski fields. This season several Perisher lodges are doing 'kids stay free' packages. Check them out here for more info.
Eat
Restaurant choices in Perisher are really determined by where you are staying. Most lodges are fairly self sufficient, with many of them containing their own restaurant and bar. Some of the popular choices include Bibi's a la carte restaurant and Smiggin's Chargrill in Smiggins Holes, as well as Jax Bar & Chargrill and Snow Gums Restaurant in Perisher Valley.
Play
Like Thredbo, there is a lot to ski in Perisher, with 48 operating lifts and an area of 1,244 hectares to ski. Perisher, in particular, has a wide range of cross-country skiing. The Kosciusko Cross Country Ski School conduct nordic skiing tours, cross country ski lessons and snow shoe tours throughout winter. For those of us who want to join in on the fun without skiing, there are also a whole lot of 'snow experience' activities including tobogganing and tubing.
Charlotte Pass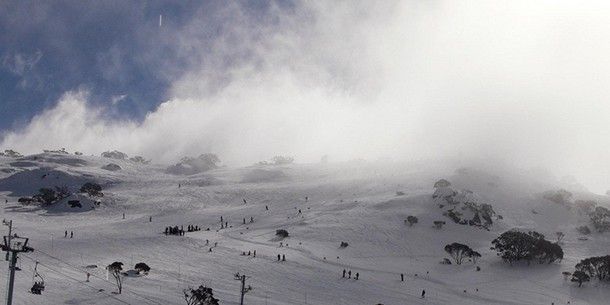 Skiing can be hard enough to master without having to lug your skies awkwardly to and from the mountain! Being completely snowbound, Charlotte Pass is entirely ski-in ski-out, meaning no more uncomfortable treks back to the lodge. Although Charlotte Pass is a lot smaller than Thredbo and Perisher, it makes up for this in its reliable snow conditions and remoteness (it is only accessible by over-snow transport). It also has the claim to fame of being Australia's highest resort!
Stay
Although there are only 13 lodges in Charlotte Pass, between them they can cater to almost any budget. The Kosciusko Chalet Hotel is not only a grand old building, but it is also by far the largest, offering views of the entire resort. Other options include the Snowbird Lodge and the Stillwell Lodge.
Eat
Like Perisher, most lodges have their own restaurant facilities. However if you get the chance, Arches Restaurant is definitely worth a visit, as well as Spencer's Restaurant.
Play
Skiing is substantially cheaper here, setting you back around $350 for a 5 day lift pass, compared to Thredbo and Perisher at around $500. It's a great mountain to learn to ski on because of its expansive runs, with few hazards (like trees!) to get in your way. There are also several ski lesson packages available as well snowshoe tours.
VIC
Mt. Hotham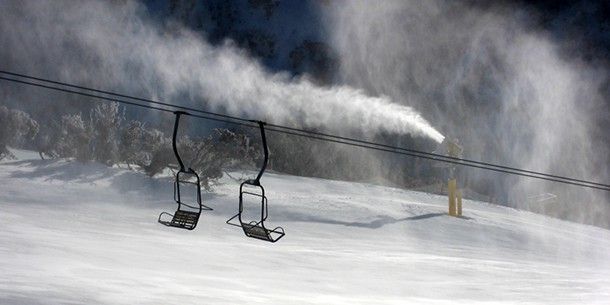 Mt. Hotham is the perfect resort for the keen skiers among you. This purpose built resort is renowned for having steep slopes that are ideal for the experienced skier. At only 4.5 hours drive from Melbourne, and 8 hours from Sydney, Mt Hotham is the ideal alternative to overseas skiing for the snow enthusiast.
Stay
The Mt. Hotham Resort's layout is unique due to the major highway that runs through it, dividing the village in half. Buses are used to transport skiers from their accommodation to the slopes. The great thing about Mt. Hotham is that they offer a whole heap of great ski package deals. You can find more information here. Our pick is the Romantic Long Weekend, which includes 3 nights accommodation; 3 day lift pass/lessons/rental and a free bottle of sparkling wine on arrival for only $769 – what a bargain!
If you're after a bit more ambiance, you can't go past the Dinner Plain Village. It's about 20 minutes down the road from Hotham, and the village is quaint and charming. Although this area is mainly private homes and lodges there are a few self-contained apartments and hotels, including Rundells, which we like for its huge fire place, great food and cozy atmosphere.
Eat
There is an abundance of places to eat in Hotham; cafes, bars, pubs, fine dining – take your pick! If you're looking for a treat after a hard days skiing (or après skiing!), Tsubo is great place to check out. This modern Japanese inspired restaurant is a bit of a splurge but the food is amazing and the drinks list is extensive – a winning combination!
Play
Mt. Hotham has around 72 runs to keep you busy, and 13 chair lifts to get you there. Being the second highest ski resort, after Charlotte Pass, there is always plenty of snow around. In fact they are so confident about their snow that they offer the Hotham Snow Guarantee; a full refund or credit note if less than 3 ski lifts are operational due to lack of snow. You'll also find a whole lot of non-skiing activities including tobogganing, snow play areas, bars and… my favourite… a day spa, the White Spa Retreat. There are also dog sled races around the village in August, which are always a hit with the kids.
Mt. Buller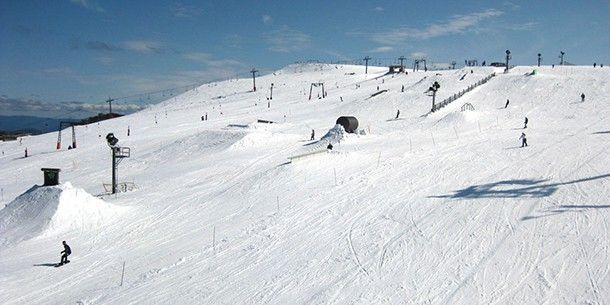 Mt. Buller is known as the high-tech resort. With a brand new chair lift added just last year, the Mt. Buller network of 22 lifts is capable of moving a whopping 40,000 people per hour! This comes in handy over the weekends when the mountain is teeming with Melbournites looking for an escape. As Mt Buller is Melbourne's closest ski resort, only 3 hours away, it's definitely worth staying a couple of extra days into the week to ensure you can get the most out of this state of the art ski resort.
Stay
If you're after luxury then you can't go past the Grand Mercure Mt. Buller Chalet. The Grand Mercure provides the ultimate in ski accommodation, close to the slopes, great facilities and convenient access to the village. The Alberg Hotel is also a great ski-in ski-out choice, that is much more affordable, with a motel style set up.
Eat
Mt. Buller has a vibrant après ski village with many restaurants and pubs to visit. The Moosehead Bar is a great place to start. With its large open fire, the Moosehead is the perfect place to grab an afternoon drink after a long day on the slopes. ABOM is also a popular choice serving breakfast, lunch and dinner throughout the season. If you're up for something more casual, try the Berger Haus. A popular place with the locals, this burger restaurant will be heaven to any burger lover. We like the spicy Afterburner burger, served with satay sauce!
Play
A great initiative in Mt. Buller, if you're after a longer ski holiday, is the Ski 7 Pay 5 deal available through most travel agents. There are also lots of events going on at Mt Buller, including several Snowsports Championships. If you can, try and catch one of the two International Ski Federation Aerial Skiing World Cup events that are held every year. The kids will love watching expert skier do flips in the air!
Falls Creek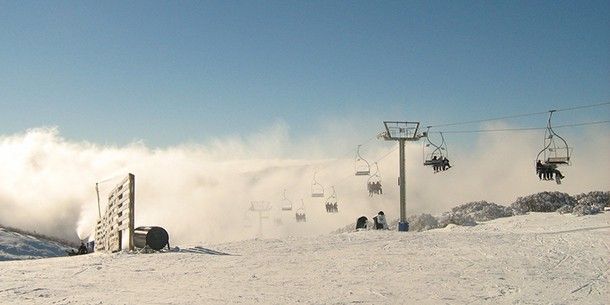 Falls Creek is by far the most balanced resort, in terms of both ski and après ski facilities. The village has a great ambiance, and the ski terrain and lifts are well designed. It is located about 5 hours drive from Melbourne, but most people fly into Albury Airport and drive the remaining 2 hours from there.
Stay
Falls Creek offers a full range of accommodation options, with almost everywhere providing ski-in ski-out facilities, making it easy to get from your lodge to the snow. QT Falls Creek is on the luxury side of the scale, providing a choice of 1-3 bedroom apartments or the decadent penthouse (we wish!). A more affordable option is the Falls Creek Hotel located in the centre of town, or the Cooroona Alpine Lodge.
Eat
Off the mountain, the Gully Bar and Restaurant is a casual place to grab a bit to eat in between activities. It also serves excellent coffee for those of us who need our morning caffeine hit, and is a spin-off of popular Bronte hangout in Sydney, Three Blue Ducks. Bazaar Restaurant is part of the QT Falls Creek, where you can enjoy the luxury of this lodge without the accommodation price tag. On the mountain, we recommend Cloud 9. As the name suggests, it is up in the air, atop the Fall Creek Express chair lift. It overlooks the ski school, so is a great meeting place for a post ski-school hot chocolate.
Play
Falls Creek is a beginner/intermediate level ski resort. Unlike most mountains where beginners are relegated to the lower slopes, here there are around 92 runs and 14 ski lifts, 80% of which cater for beginner/intermediate skiers. There are also lots of ski lesson options too, for both children and adults, to hone your skills. If you are into cross country skiing or want to give it a go, then this is the resort for you. Every August, Falls Creek plays host to the Kangaroo Hoppett world class 42km cross country marathon.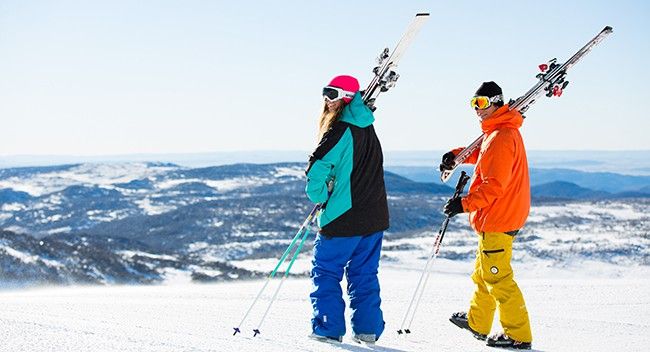 TAS
Ben Lomond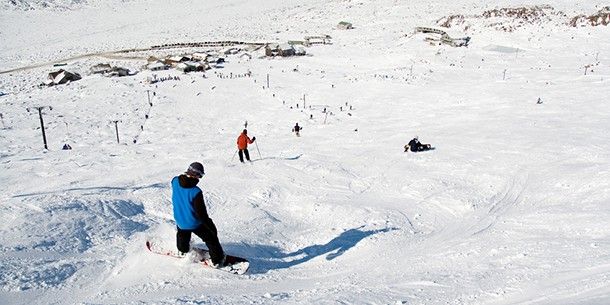 The Ben Lomond Ski Resort is located about 70 minutes east of Launceston in the Ben Lomond National Park. It is a perfect mountain for beginner skiers, providing a range of ski runs that are wide and easy to ski. Although snow cover can be a bit unpredictable, it gives Tasmanians a ski holiday option that doesn't involve crossing the Bass Strait.
Stay
On the mountain, Ben Lomond Creek Inn is the place to stay, with great food and local entertainment available on the weekends. As the commute is only a little over an hour, many people choose to stay in Launceston as there are plenty of accommodation options, from luxury hotels to backpackers hostels.
Play
Ben Lomond contains 3 T-bars and 4 Poma lifts which give access to the ski runs. If skiing isn't your thing they also have a range of tobogganing and snow play areas available as well. One of the best things about Ben Lomond is the price – only $50 a day for adults, and $25 for kids. An absolute bargain compared to NSW and VIC!