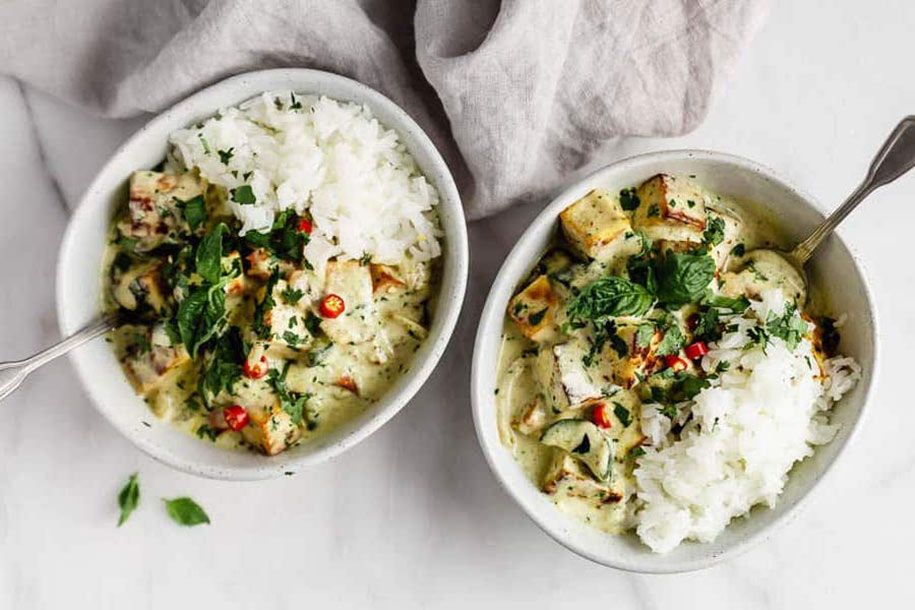 Whether you're vegetarian or not – this hormone-supporting recipe ticks all the tummy-loving boxes. We love making a big batch of this Vegetarian Thai Green Curry at the beginning of the week for awesome grab-and-go work lunches. Its hormone-supporting benefits come from the tofu which contains phytoestrogens – a natural compound that supports oestrogen in the female body, raising or lowering it as needed.
VEGETARIAN THAI GREEN CURRY
Vegetarian / Dairy-free
Serves 4
INGREDIENTS
2 tbsp olive oil
450g block firm tofu, cubed
1 onion, chopped
2 garlic cloves, chopped
1 medium zucchini, chopped
1 red capsicum
2 tbsp green curry paste
400ml tin coconut milk
1 tbsp coconut sugar
2 tbsp soy sauce
Juice of 1 lime
METHOD
Heat 1 tablespoon oil in a pan on medium-high heat. Add the tofu and cook on each side for 1-2 minutes, or until crispy and golden brown.
Transfer the tofu to a bowl then heat the remaining 1 tablespoon of oil in the pan.
Add the onion and garlic, cook for 2 minutes. Add the zucchini and capsicum, then cook for 2-3 minutes.
Add the remainder of the ingredients (except the tofu) to the pan and mix everything together until well combined. Add the tofu back in and mix.
Taste and adjust seasoning if needed, then remove from heat and serve immediately.
WANT MORE? CHECK OUT OUR RECIPES SECTION AND OUR BOOKS FOR MORE NUTRITIOUS TASTY MEALS.