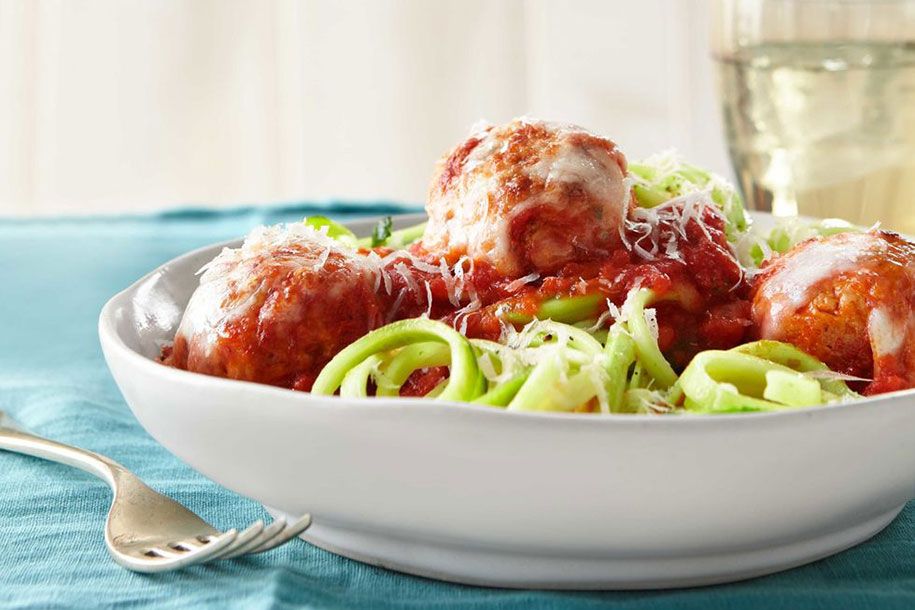 Looking for a low-carb spag bol? These easy-to-make Turkey Meatball Zoodles will become your new favourite. What's so good about turkey? It's high in the protein tryptophan that is responsible for producing your sleep hormone – melatonin. Cool, right? This is why it's one of our go-to recipes for general sleep and mood support (as tryptophan is also involved in producing serotonin, your happiness hormone!).
TURKEY MEATBALL ZOODLES
Serves 4
INGREDIENTS
500g turkey mince
¼ cup panko bread crumbs
1 egg
3 tbsp fresh parsley, chopped
½ cup parmesan cheese, grated
2 garlic cloves, crushed
2 tbsp olive oil
700g jar passata sauce
500g zucchini noodles – available at your local supermarket
Salt and pepper, to taste
METHOD
Combine turkey, breadcrumbs, egg, parsley, ¼ cup parmesan cheese, 1 garlic clove, salt and pepper in a bowl. Form into 12 meatballs.
Heat 1 tablespoon oil in a large pan over medium heat. Add meatballs to pan and cook for 4-6 minutes, turning occasionally until browned on all sides.
Reduce heat to medium-low and gently stir in passata. Simmer, turning meatballs occasionally, until meatballs are cooked through and sauce has thickened (approximately 15 minutes).
Meanwhile, heat remaining oil in a pan over medium-high heat. Add zucchini and remaining garlic. Cook for 2-3 minutes, or until tender. Season with salt and pepper.
Serve meatballs over zucchini noodles and top with remaining parmesan to serve.
WANT MORE? CHECK OUT OUR RECIPES SECTION AND OUR BOOKS FOR MORE NUTRITIOUS TASTY MEALS.