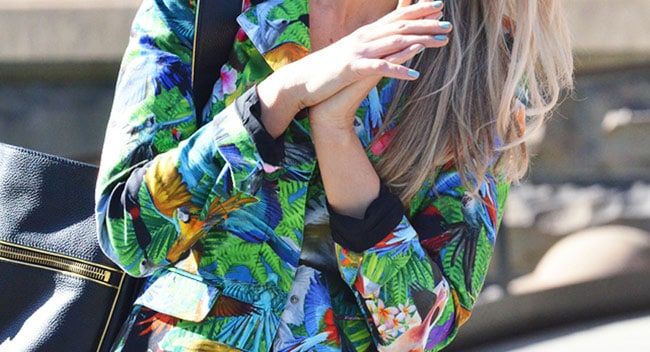 I know what you're thinking – palm trees? toucans? really? Well, I was a little hesitant myself to begin with but when I saw the clothes being worked by stylistas on the street, it felt so fresh and summery, it was hard not to like it. One palm tree print dress from Modcloth later (I will post a picture of it next week) and I'm fully converted.
Spotted on the runways at Stella McCartney, Issa London and Salvatore Ferragamo to name a few, it's easy to get the look. Because the prints are typically loud and bright, just keep your accessories simple and let the print do the talking.
You may know by now that at swiish we love mixing prints; it's been a strong street wear look in recent times, and done successfully can look incredible. That same principle applies to tropical prints. Whether you're heading to a lunch with the girls, or running errands, you'll certainly have the wow factor if you pump up the volume and mix clashing tropical prints together.
A word of warning though – if you want to go troppo in the office, we suggest playing it on the more subtle side, go with one item only – try pairing a statement hibiscus floral pant, or a toucan-laden blazer with plain, straight-cut separates.
A word of warning about the above warning – if you work in a very corporate environment like i used to, then let this one slide and save it for the weekends. You don't want people thinking you've gone troppo.
You can shop the look at ASOS, Forever 21, Modcloth, Boohoo or splash out on a few pieces from Lisa Ho (currently on sale!!).
And if you want to go direct to the Queen of tropical prints herself, make like the celebs (Beyonce and Oprah are fans) and head to cult Aussie luxury label, Camilla. From jumpsuits and dresses to tops and sandals; she does it all, and all in loud tropical prints. If you've got a little bit of spare cash lying around and are searching for that special something to wear to a balmy evening of drinks with friends, Camilla has got you covered.
swiish recommends: For a great way to search particular trends in your price range head on over to www.polyvore.com and enter key words, such as 'tropical print' or 'hawaiian' in the search field and it will pull up pieces locally, and internationally, and provide you with the price. Click on the product which interests you, and you're instantly directed to the online boutique where you can purchase it. Easy!