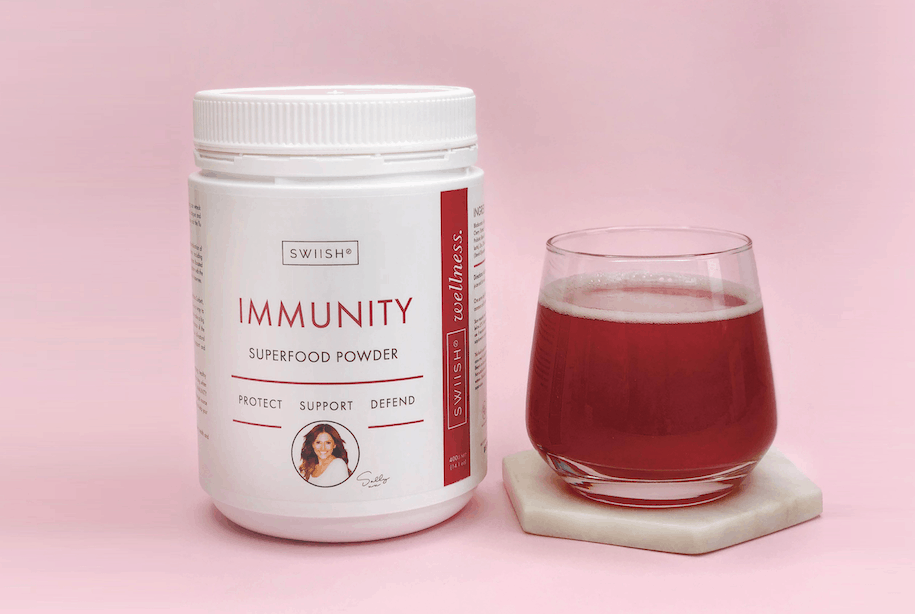 After extra immune support during these challenging times? We've received so many questions from you – our SWIISH Tribe – about our new IMMUNITY Superfood Powder. We've got you covered!
What is it?
IMMUNITY Superfood Powder was designed to support your immune system year-round. Specially formulated with all-natural, immune-supporting ingredients, vitamins, minerals, antioxidants, superfoods to help you stay healthy.
What does it taste like?
IMMUNITY has a zingy (thanks to the citrus and olive leaf extract) blackcurrant taste. Delicious in water alone, and also amazing in OJ!
What immune-specific ingredients does it contain?
Acerola Cherry Extract – up to

100 x more Vitamin C

than oranges
Probiotic Blend – protects gut flora where 70% of the immune system exists
Zinc – vital to defend against viruses & bacteria
Ashwagandha Root – antibacterial & anti-inflammatory
Blackcurrant – up to 4 x more Vitamin C than oranges
Astragalus Root – supports your immune cell defence mechanisms
Olive Leaf Extract – enhances immune response against harmful pathogens

What dietary requirements does this powder suit?
Dairy-free
Gluten-free
No added sugar
Vegan
Who should use this product?
Anyone looking to support their immunity.
How do you take it?
Add one scoop of IMMUNITY to 1/2 cup of water or juice and shake/stir well.
Enjoy once a day for general immune support. Take twice a day at the first sign of common cold or flu symptoms.
FIND OUT MORE OR GRAB YOURS HERE