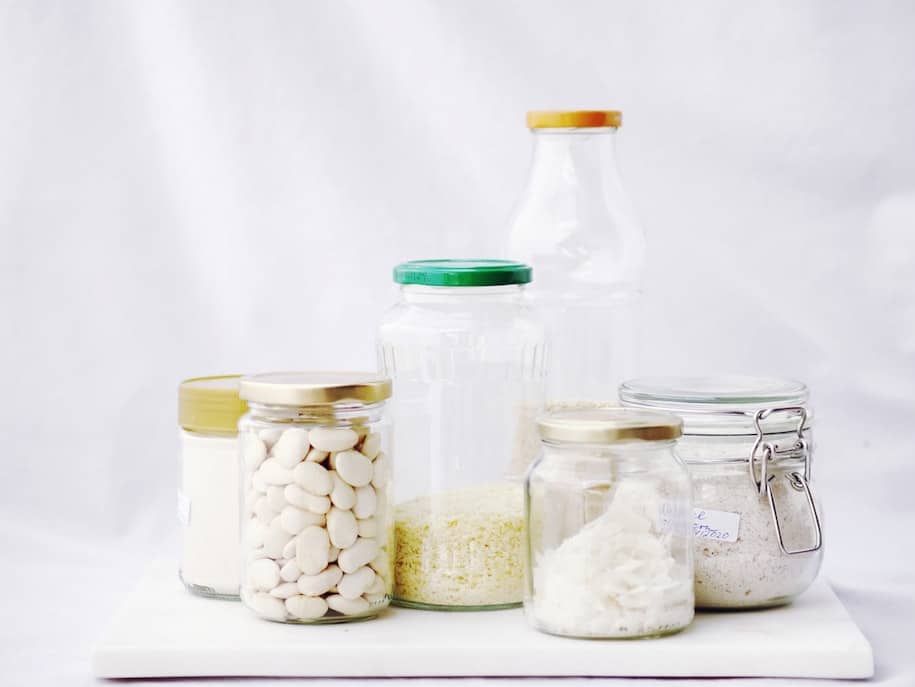 Cleaning is a vital part of Spring, and we don't need Marie Kondo to tell us.
Not only does the pantry clean-out get you starting the Spring/Summer season out right, but it will get you re-acquainted with some of those bits and pieces at the back of the shelf that you might not have seen in a while…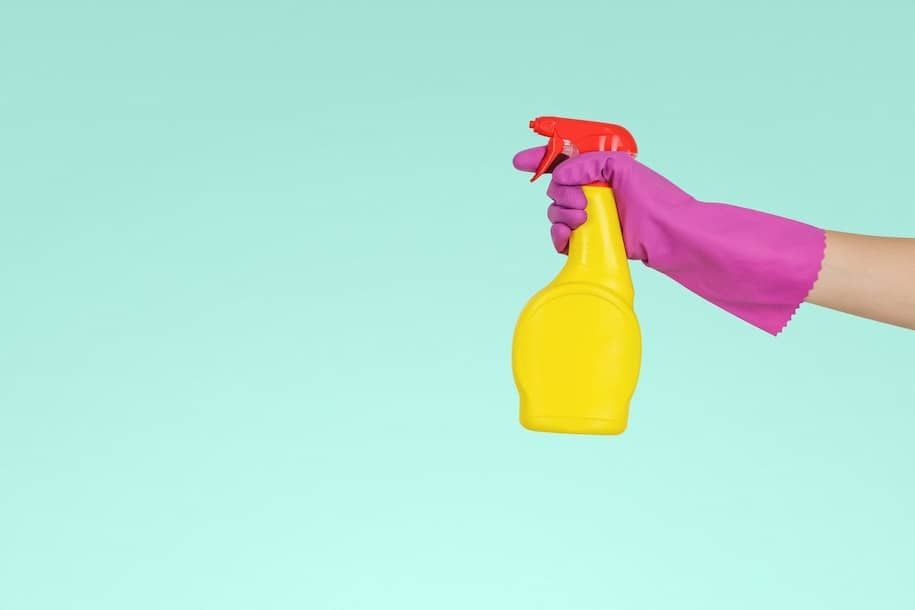 WHY SPRING CLEANING IS GOOD FOR YOU
The phrase "a cluttered house is a cluttered mind" doesn't exist for no reason.
Clutter and mess (and the smells that come with it) are known factors that can heighten stress levels and feelings of anxiety. Psychologist, Dr Johnathan Fader says this is because they act as 'extraneous stimuli' which overwhelm our senses, on top of the work, family and life-related stresses we're already dealing with.
Ultimately, organising your pantry is not just hygienic, but mentally healthy for you. In fact, it's been found that physical housework can cut stress levels by 20%. While pulling out the mop and bucket won't eliminate all your woes, it can have significant impacts on mood, happiness and productivity.
On top of this, a well-organised pantry is more economical, saving you time and money. Tidying up means you know what's in and what's not, meaning there's less chance of doubling up on items, or spending time you don't have looking for ingredients that you can't find.
HOW TO START
When it's time to get cracking, we say start with the empty out and wipe-down.
Rid all shelves of any out of date, moth or weevil infiltrated items before getting in there with the rubber gloves.
Handy tip: Save a few dollars by making a note of any out-of-date items, it's likely these ingredients you won't need to buy again.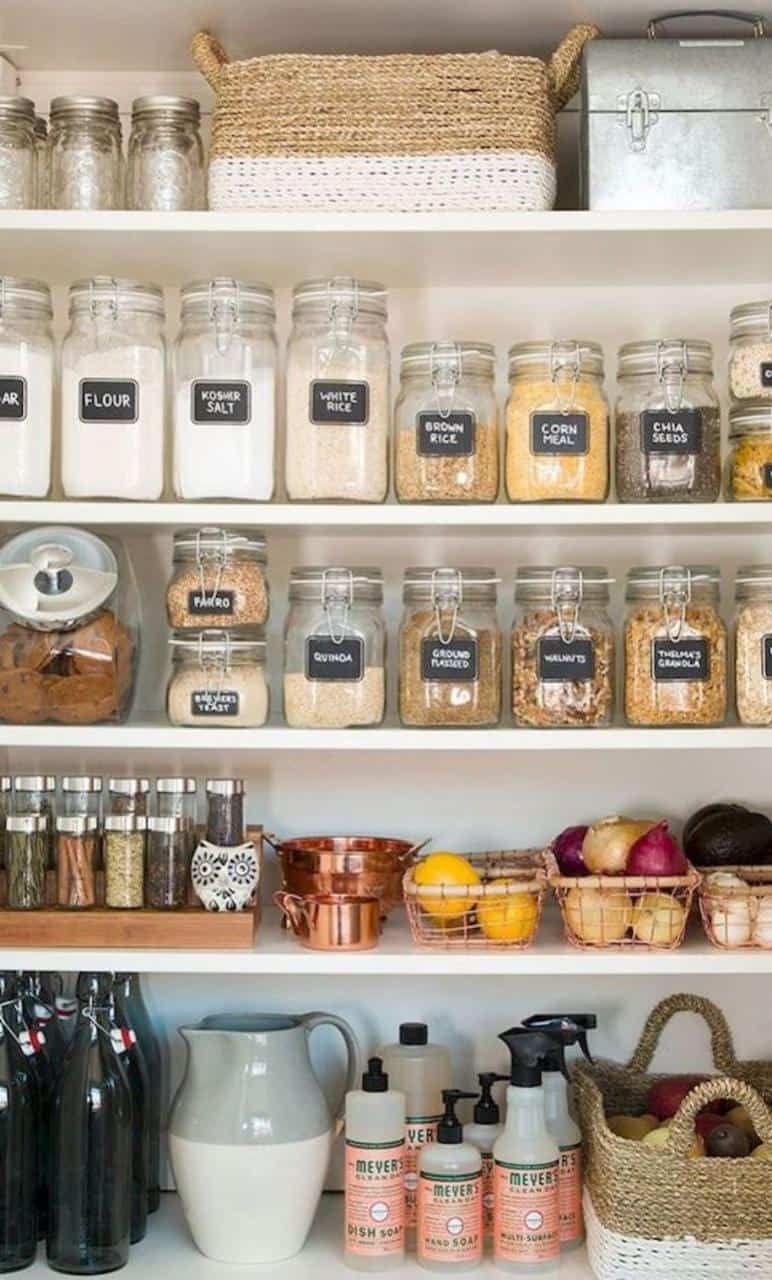 GETTING NEAT & ORGANISED

Once all the cabinets are clean and shelves are spick and span, you can begin organising items according to groups, labelling and assigning to shelves.

Here are our favourite organisational tips:

1. Place like items together. 

Sort oils with vinegars, pastas with rice, cans with cans

2. Ditch packaging for clear containers.

Packaging takes up space, and leaves you more likely to shove items in a corner where they risk being forgotten about. Emptying rice, sugar, flour and nuts into air-tight clear containers will mean everything is seen and used. These stackable air-tight containers from Peter's of Kensington will solve all your pantry storage woes (and for a good price).

3. Use baskets, drawer dividers and jars.

Baskets, dividers, jars or even extra shelves can keep your pantry functional and easy to clean. The odd lazy-susan can do wonders for accessing items that get pushed to the back of the shelf.

4. Labelling

Either make your own labels (some cardboard and a Sharpie will never do you wrong) or purchase a labeller. Stick to simple and necessary labels for things like rice and flour containers or snack baskets.

We're a fan of these chalkboard labels to keep your pantry organised and chic. A pro is that you can rub-out any label you make, making these outrageously convenient. To get the look, try these

These clear drawers from Kmart are perfect for easy-access storage – not to mention they're only $8!
KEEPING THINGS NEAT AND TIDY
It's clean, now how to keep it that way…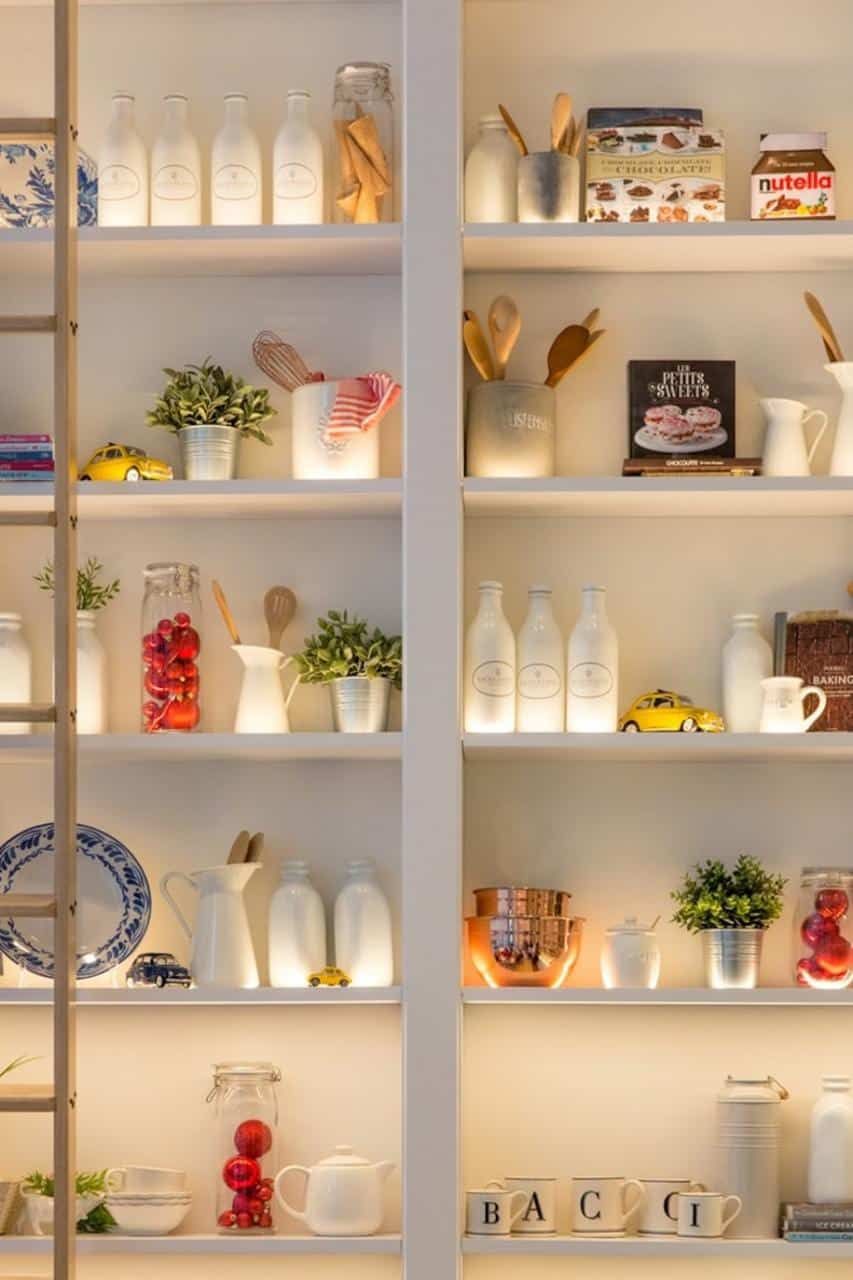 Our number one tip is to tidy up more often than not. We're not saying you need to be constantly rearranging the spreads and jars, but it is true that waiting for the seasonal deep-clean every year will mean tidying up the pantry will become a bigger job than it needs to be.
The 10-minute once-over
The key to this trick is working smarter not harder. If you've just popped a chicken in the oven, or you're waiting for some cookies to cool, this is your chance to do a quick, 10-minute check-up on the pantry – for what's running low, what's out of place and what needs a wipe.
Doing this a few times in the week will keep you on top of things, meaning less stress and less mess.
Handy tip: Keep a pen and paper nearby to jot-down shopping items as you go. Make a point of always checking up on essentials, like rice, pasta, sauces, beans and spreads.