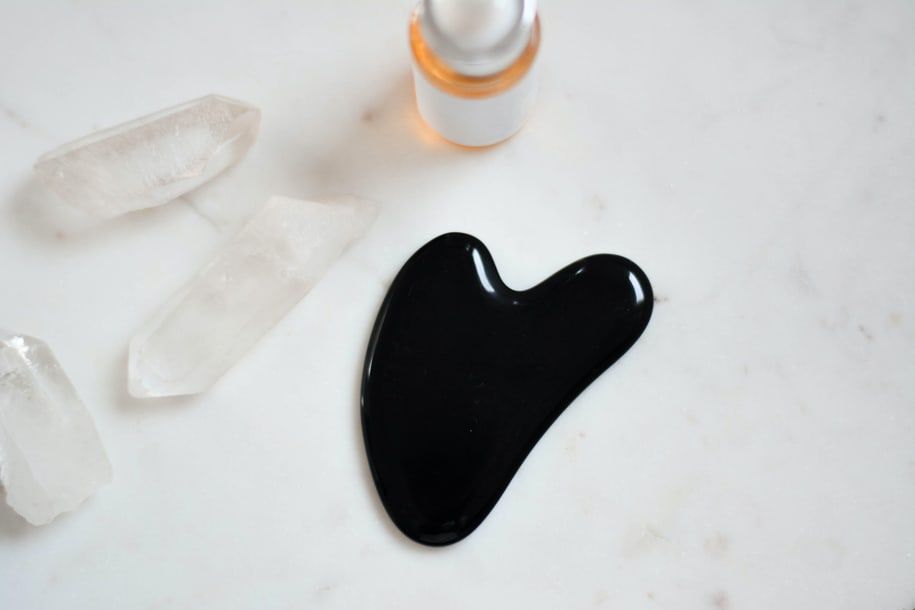 Experiencing muscle tension, puffiness or dull skin? Sounds like it's time for a full-body detox…
Heard about the Gua Sha, but not exactly sure what it does – here's the low down…
This centuries-old tool is a form of Traditional Chinese Medicine that uses a strong sliding motion across the skin to create many benefits. Working to improve overall circulation and increase blood flow, enabling the healing process and ridding the muscles and soft tissue of inflammation. It has been gaining popularity and for good reason…
The Benefits
EASE MUSCLE TENSION
Gua Sha use has been shown to help ease muscle tension – when you have adhesions in your fascia, your muscles become strained and contract. Releasing fascia through a gua sha practice helps relieve this.
DETOXING AND LYMPHATIC DRAINAGE 
Your lymphatic system runs throughout the body, almost parallel to your circulatory system (aka your blood vessels). However, it doesn't have a central pump (your heart) to keep things moving. Your lymphatic system relies on muscle contractions as it's a one-way system.
Each day 3 litres of fluid is absorbed into your lymph vessels and lymphatic drainage helps move this. Without a working lymphatic system, your body would swell with toxins, waste and fluid. This is why a form of lymphatic massage, such as using a Body Gua Sha and a Dry Body Brush, is so important for detoxification and minimising fluid retention.
IMPROVE CIRCULATION AND MUSCLE TONE
When you move the gua sha up and down your skin, the strokes stimulate microcirculation improving blood flow to the soft tissue. By increasing circulation the body can better deliver nutrients to the skin's surface and lessen the appearance of dimpled skin (cellulite) and improve muscle tone.
HELPS WITH APPEARANCE OF CELLULITE 
The Body Gua Sha helps reduce cellulite, as (contrary to common belief) cellulite isn't fatty tissue, but rather an unhealthy fascia (fascia is the connective tissue that encases muscles, nerves, veins and organs). Using its carefully-designed smooth ridged edges, it helps release tension and support fascia and minimise the appearance of cellulite.
Here's how to use it:
To clean skin, apply a body oil or cream of choice.
Using medium pressure, hold the Body Gua Sha against the skin and glide it gently upwards.
Start with the lower body first, then work your way up. Use 5–7 times per area. You can use the Body Gua Sha on your neck, back, shoulders, stomach and legs.
When finished, rinse your Body Gua Sha with warm, soapy water. Dry it and store at room temperature.
Can you see why we're obsessed? Make it part of your regular wellness and beauty routine to help stimulate collagen, improving skin texture and tone.
WANT MORE? CHECK OUT OUR BEAUTY SECTION FOR INSIDER INFO AND EXPERT ADVICE TO FEEL AMAZING INSIDE + OUT!