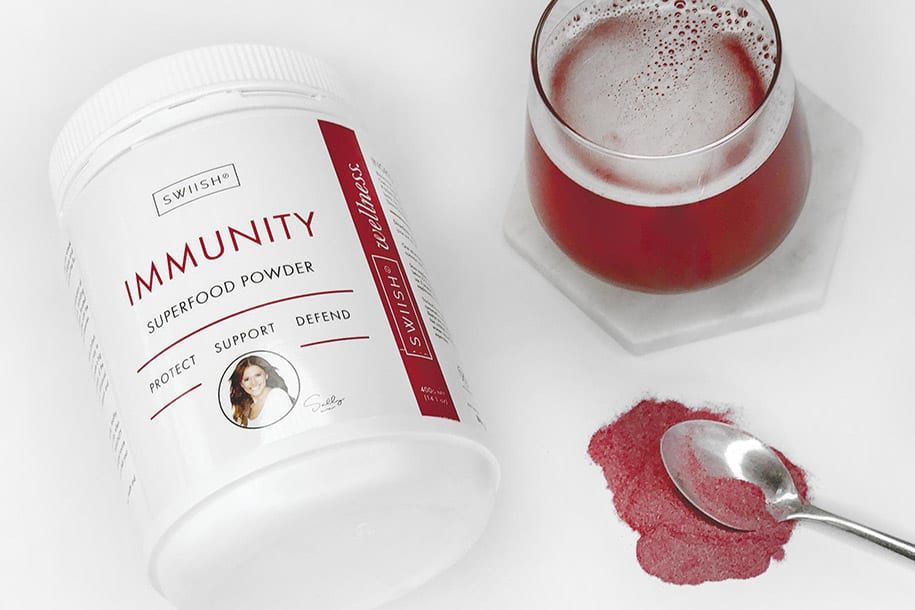 Sick of the sniffles? Tired of getting rundown in winter – especially when it feels like it goes for 3x longer than any other season? We've got the answer for you… Welcome to The Daily Scoop.
How Does It Work?
The Daily Scoop is simple. Each day this month, just add one scoop of the SWIISH Wellness IMMUNITY Superfood Powder to water or juice to load your body up with all the essential immune-supporting ingredients you can dream of.
Above & Beyond Immune Support
The Daily Scoop was designed for all immune intents and purposes – helping you feel stronger and more protected than ever. But its science-backed ingredients also work to…
Support stress and anxiety – Thanks to Ashwagandha which has been

studied

for its stress-relieving effects. (It helps moderate the hypothalamus-pituitary-adrenal (HPA) axis – aka our central stress response system!)
Strengthen gut health – Not only will the probiotic blend help diversify gut bacteria, but IMMUNITY also contains apple – which is naturally high in

pectin

, a type of fibre that helps soothe an irritated gut lining.
Give your skin some TLC – The skin is the 3rd most zinc-abundant tissue in the body. Found in our IMMUNITY Powder,

studies

show zinc supplementation helps reduce skin inflammation and improve overall strength and integrity!
Join Us
Kicking off July 1st, all you need is yourself and our IMMUNITY Superfood Powder – which is why we're giving you our Support Your Immunity E-Book (valued at $19.95) FREE with every IMMUNITY Powder. It's our gift to you!