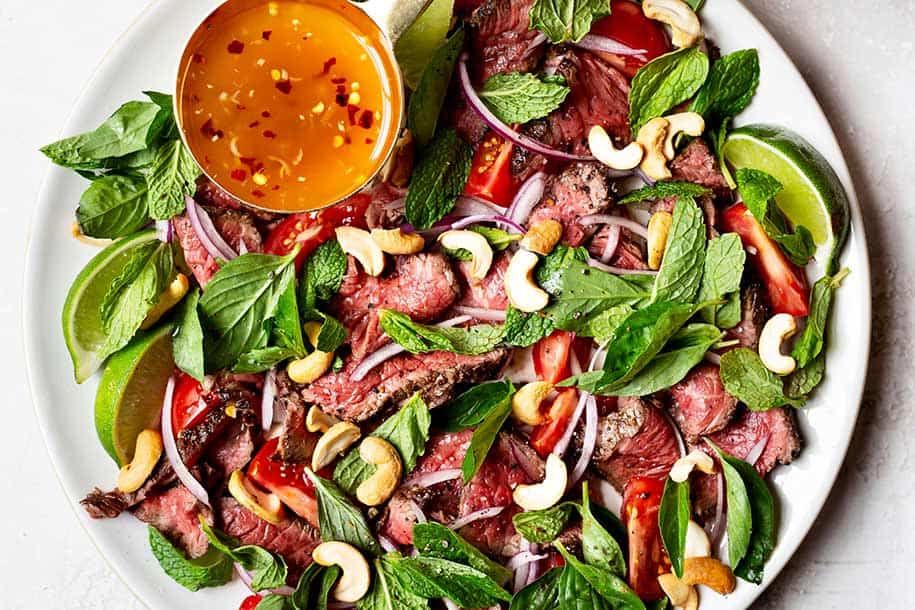 Easy. Impressive. Delicious. This Tasty Thai-Style Steak Salad ticks all the boxes, not to mention it's about as clean and lean as dinner can get.
TASTY THAI-STYLE STEAK SALAD
Dairy-free
Serves 2
INGREDIENTS
300g beef rump steak
1 tbsp olive oil
1 red onion, thinly sliced
2 tomatoes, quartered
½ cup fresh basil, roughly chopped
½ cup fresh mint, roughly chopped
¼ cup cashews – we love using toasted cashews!
Salt and pepper, to taste
Marinade
2 tbsp crushed ginger
2 tbsp honey
Juice of 1 lime
2 tbsp fish sauce
Chilli flakes, to taste
METHOD
Add marinade ingredients to a small bowl and whisk to combine. Pour ½ the marinade into a ziplock bag and place the steak inside, keeping the other ½ of the marinade to dress the salad with later. Seal and set in the fridge to marinate for 2-3 hours (this step is optional, the steak still tastes delicious even if it only marinates for 10-15 minutes).
Bring a pan to medium heat, add the oil, and cook steak for 4-5 minutes on each side, or until cooked to your liking.
Toss together the salad ingredients, season with salt and pepper, and drizzle with remaining marinade to serve.
WANT MORE? CHECK OUT OUR RECIPES SECTION AND OUR BOOKS FOR MORE NUTRITIOUS TASTY MEALS.