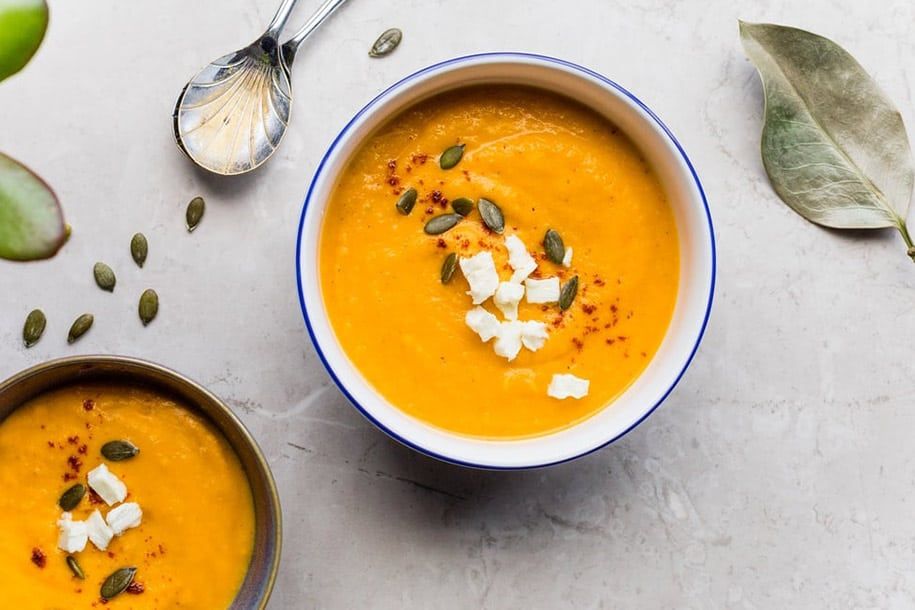 With warming notes of chilli and the vibrant flavour of pumpkin, this Spiced-Up Pumpkin Super Soup is anything but boring. We serve ours with sourdough slathered in hummus (trust us).
SPICED-UP PUMPKIN SUPER SOUP
Dairy-free / Pescatarian
Serves 4
INGREDIENTS
1 tbsp olive oil
1 medium brown onion, roughly chopped
1 clove garlic, crushed
4 cups vegetable stock
750g pumpkin, peeled and roughly chopped into small cubes
1 large potato, peeled and roughly chopped into small cubes
4 tsp chilli powder, plus extra to serve
Feta, to serve
Pumpkin seeds, to serve
Sourdough, toasted, to serve (optional)
METHOD
In a large pot over medium heat, heat the oil and cook the onion and garlic for 3-4 minutes, or until fragrant.
Add pumpkin, potato, spice, and stock. Bring to the boil.
Reduce heat and simmer for 20 minutes, or until the pumpkin is soft. Remove from heat and allow to cool slightly.
Using a stick blender, puree the ingredients until smooth. Serve with extra chilli powder, feta, pumpkin seeds, and sourdough.
WANT MORE? CHECK OUT OUR RECIPES SECTION AND OUR BOOKS FOR MORE NUTRITIOUS TASTY MEALS.