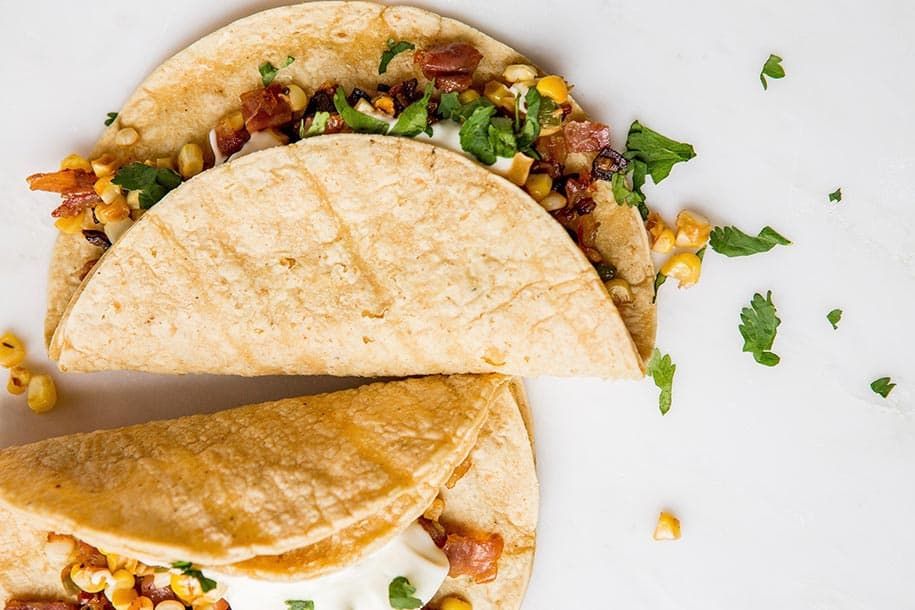 These Tasty Tex-Mex Chicken Burritos are a crowd-pleaser. Fair warning: you won't have leftovers, they're just too damn good.
TASTY TEX-MEX CHICKEN BURRITOS
Serves 4
INGREDIENTS
4 tbsp olive oil, plus extra to pan-fry
4 tbsp Mexican spice mix
Salt & pepper
500g chicken thigh pieces
4 large wholemeal tortillas
½ cup corn kernels (fresh or canned is fine)
1 red onion, thinly sliced
1/2 cup fresh coriander, to serve
1 lime, sliced, to serve
2 avocado, smashed, to serve
Natural Greek yoghurt, to serve
METHOD
In a medium-sized bowl, combine 3 tbsp olive oil, 3 tbsp of spice mix, salt & pepper. Add the chicken to the bowl and allow to marinate for 5-10 minutes.
While the chicken marinates, add the remaining oil to a pan on medium heat and lightly pan-fry the corn and onion for 5 minutes with the remaining spice mix. Remove from pan and set aside.
In the same pan, cook the chicken for approximately 15 minutes each side, or until cooked through.
Using two forks, shred the chicken into small pieces. Combine the chicken with the corn and onion mix.
Serve the tortillas with the chicken mix, coriander, lime, avocado, and a dollop of the yoghurt.
WANT MORE? CHECK OUT OUR RECIPES SECTION AND OUR BOOKS FOR MORE NUTRITIOUS TASTY MEALS.