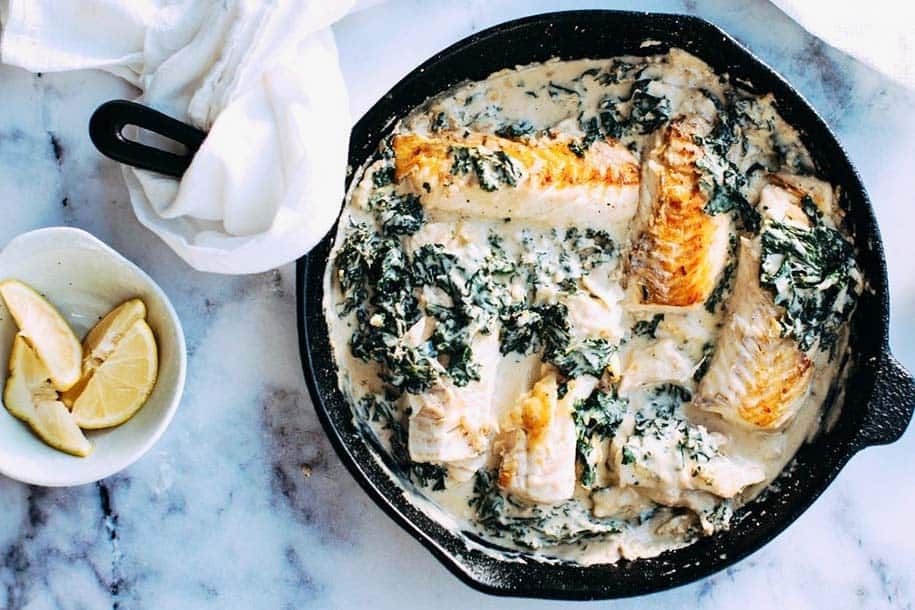 Short on time? This Creamy 15-Minute One-Pan Salmon is all kinds of yummy. You'll be craving this cleanse-friendly dinner all day long, trust us.
CREAMY 15-MINUTE ONE-PAN SALMON
Gluten-Free / Low-carb / Pescatarian
Serves 4
INGREDIENTS
2 tbsps olive oil
4 medium-sized salmon fillets, skin removed
1 brown onion, roughly chopped
3 garlic cloves, crushed
300ml pouring cream
1/2 cup semi-dried tomatoes in oil, roughly chopped
2 cups spinach, washed and roughly chopped
METHOD
In a large frying pan, heat 1 tablespoon of olive oil over medium-high heat. Cook the salmon for 2-3 minutes on each side, or until golden. Transfer to a plate.
Heat the remaining oil in the same pan over medium-high heat. Cook the onion and garlic, stirring often, for approximately 5 minutes, or until softened.
Add the cream and 1/3 cup water. Bring to the boil.
Add the sun-dried tomatoes and simmer for 5 minutes.
Reduce heat and add salmon back to the pan for two minutes.
Remove from heat and add spinach.
WANT MORE? CHECK OUT OUR RECIPES SECTION AND OUR BOOKS FOR MORE NUTRITIOUS TASTY DINNERS.