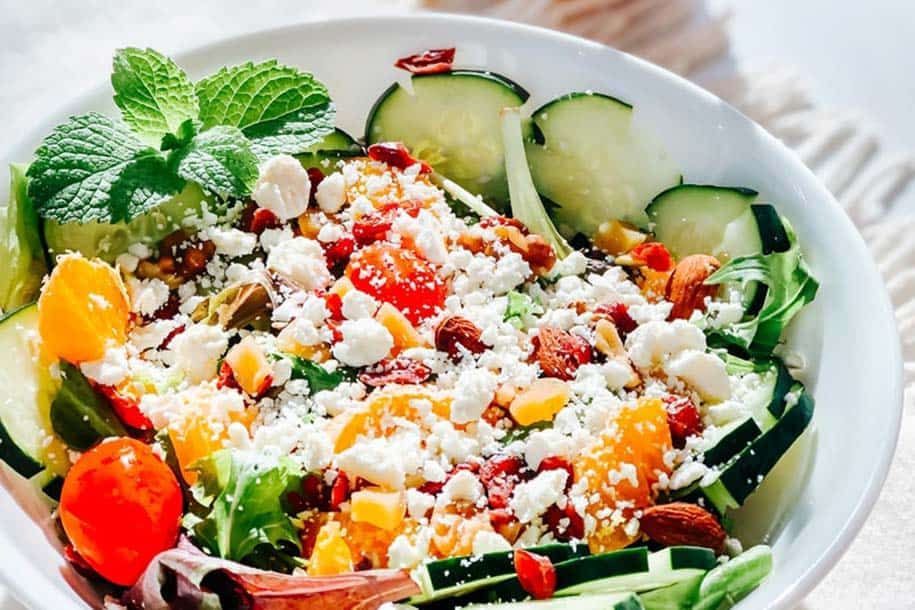 This Chopped Rainbow Salad With Tuna is the ultimate lunch to-go. Prep it in the morning in less than 5-mins and enjoy it for lunch (doused in dressing of course!).
CHOPPED RAINBOW SALAD WITH TUNA TO-GO
Dairy-Free / Gluten-free
Serves 2
INGREDIENTS
2 cups mixed lettuce, washed and roughly chopped
1 cup cherry tomatoes, halved
1 carrot, peeled and roughly chopped
1 Lebanese cucumber, sliced
¼ cup fresh mint, roughly chopped, to serve
250g 90-second microwave pack of brown rice and quinoa
2 x 95g tins tuna
¼ cup feta, crumbled, to serve
2 tbsp toasted almonds, to serve
Dressing
3 tbsp extra virgin olive oil
2 tbsp balsamic vinegar
1 tbsp wholegrain mustard
1 tbsp honey or rice malt syrup
Salt & pepper, to taste
METHOD
Combine all salad ingredients in a bowl and toss together.
In a small bowl, whisk together the dressing ingredients until combined.
To serve, prepare the brown rice and quinoa, top with the tuna and salad, then pour over the dressing. If taking the salad to-go, you can prepare the salad in the morning and take the tuna, rice and quinoa, and dressing with you to put together when you're ready.
WANT MORE? CHECK OUT OUR RECIPES SECTION AND OUR BOOKS FOR MORE NUTRITIOUS TASTY MEALS.