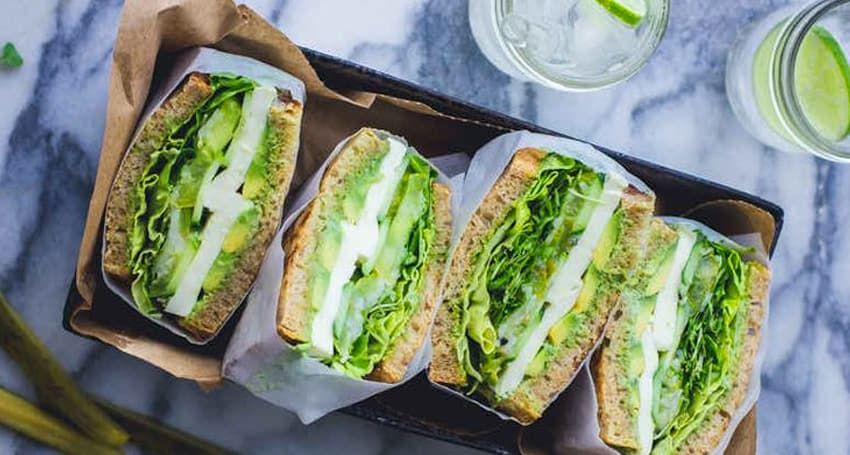 Whether it's on calories or spending – if you're looking to 'cut down' this year, brown bagging is the way to go.  Believe it or not, your typical restaurant or fast-food feed can easily hit 1000 calories per meal.  Not to mention that a lot of what's on offer isn't particularly nutritous. We're not saying we never ever hit the food court, of course we do, but most days of the week, we BYO lunch to work.

Plus calories aside, eating out can be expensive.  Take a second to add up how much you typically spend eating out each week.  Now times that by about 50 working weeks… yup, turns out maybe you can get that new Prada purse after all (had you brown bagged!).

All you really need to do to break this bad habit is to cut the excuses – here are some of our top tips…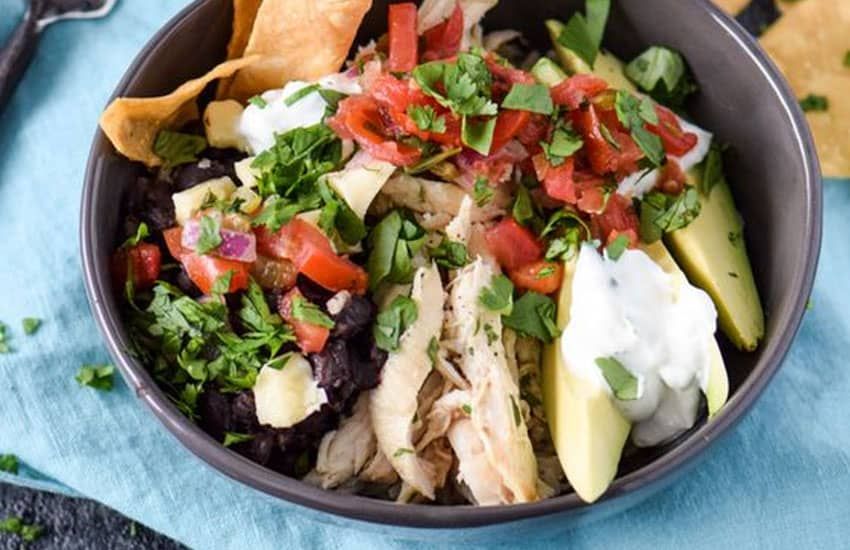 Spending hours in the kitchen only to end up with an unappetizing meal, isn't fun. If you honestly don't think you can cook, the solution is simple – don't cook!  There are so many handy supermarket shortcuts that can help you make a gourmet meal without even stepping near a stove.  
This easy-peasy burrito bowl is perfect for all of the non-cooks out there.  All you need is:
a packet of microwave 45 second rice

a quarter of a storebought BBQ chicken (shred it before adding to the bowl)

a handful of chopped cherry tomatoes

1/4 red onion, diced


1/4 to 1/2 an avocado, sliced

tablespoon of jalepinos (from the jar)

Add a squeeze of lime juice, and a dollop of low fat sour cream, or make a super quick cumin-lime dressing by mixing together:
2 tablespoons water

2 tablespoons tahini

1 teaspoon honey

2 tablespoons lime juice

1/4 teaspoon ground cumin

pinch of salt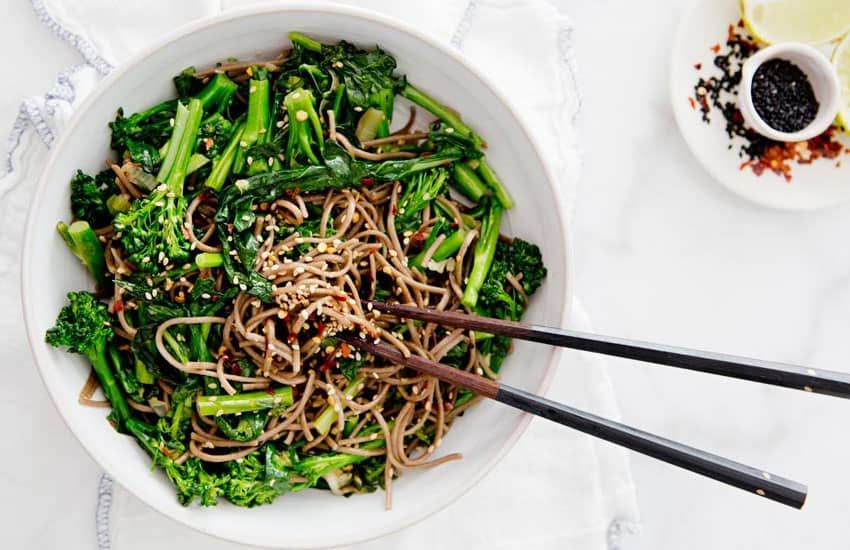 Spending hours in the kitchen making lunches for your working week is probably the last thing you feel like doing when you barely have time see your friends, catch up on sleep or watch the latest episode of House of Cards. But in reality, prepping lunch doesn't have to be an hours-long ordeal. And your body will definitely thank you for putting in a little time to make you feel good from the inside out. The hands down easiest way to get around this issue is to simply make extra dinner.  Boxing up leftovers gives you lunch for a couple of days plus only costs you a minute or two extra in the kitchen.
A veggie-packed soba noodle salad is a great bulk-dinner choice that will keep in the fridge for a couple of days.  Simply sauté some broccolini with a bit of olive oil, garlic and chilli in a pan and mix it together with about a cup of cooked soba noodles (cooked per packet directions). We like to have ours just like that for lunch, but if we are looking to amp it up or add an even bigger serve of veggies, then in a separate container, mix together:
1/4 red cabbage, shredded

1 red capsicum, thinly sliced

handful of cherry tomatoes

1/4 cup spring onions, thinly sliced

handful of coriander leaves, roughly chopped

1 cucumber, deseeded and thinly sliced

small tin of corn kernels, drained and rinsed

When the time comes to pack your lunch, take half the noodle mix and half the salad mix and combine. You can also make a quick dressing by combining a little olive oil, sesame oil, sriracha and rice vinegar. So yum!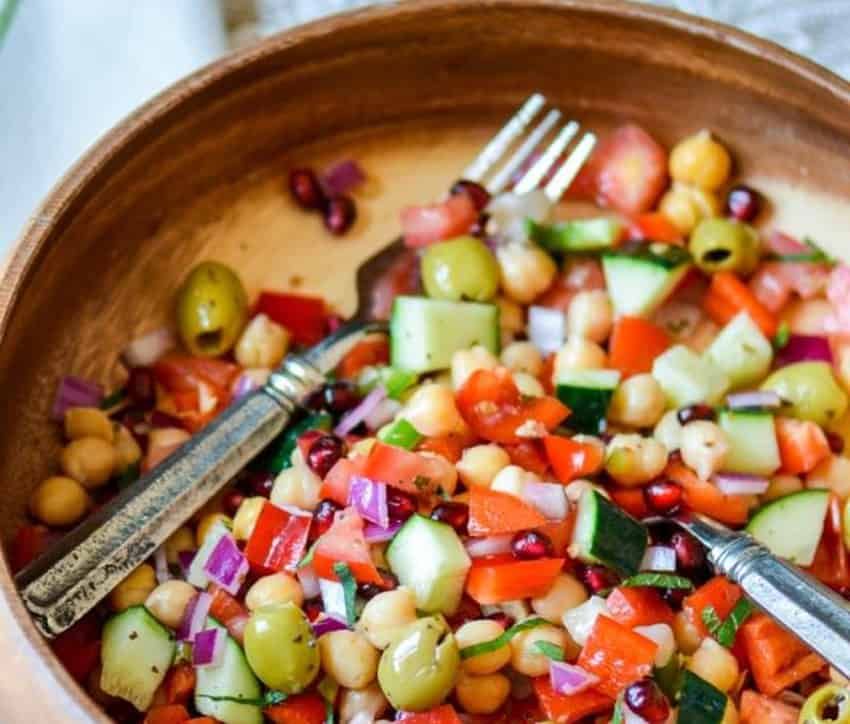 Keeping food cold is a big issue for those with no access to a fridge.  It's a big reason many choose to head to their local café instead.  To get around this issue, try making meals that keep well at room temperature.  
This yummy Mediterranean salad is meat and dairy free, so not only is it super healthy but it won't go bad throughout the day.  Simply combine:
½ cup chopped cucumber

½ cup canned chickpeas

½ chopped tomato

½ chopped red onion
Mix in 1 tbsp. pomegranate seeds and sprinkle some chopped olives over the top.  Serve with half a wholemeal pita and a squeeze of lemon juice.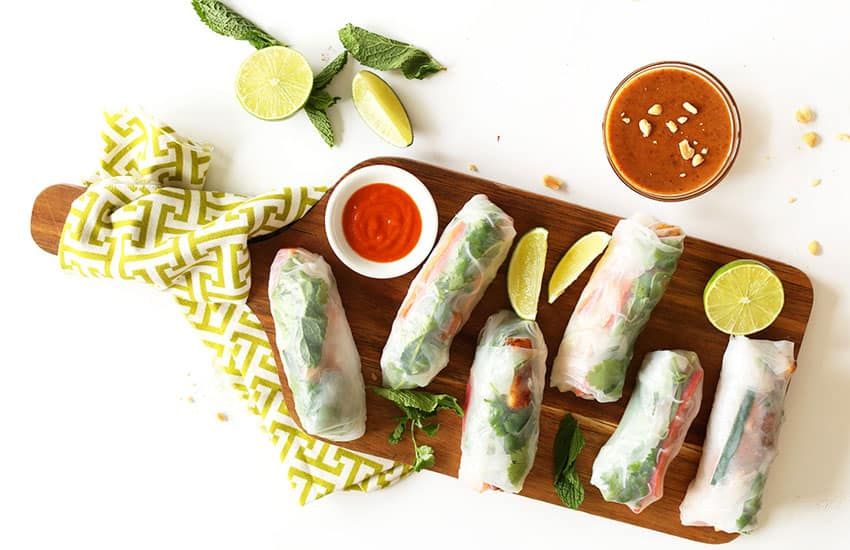 We get it – we love to lunch with our colleagues too! To avoid lunchtime loneliness, try creating quick and easy lunches that you can share with a colleague or friend. Take it in turns. Not only will you save time (only making lunch twice or three times a week), money and calories (thanks to the food court) but you may get to try some delicious new recipes as well.
Rice paper rolls are great for sharing and always go down a treat.  All you need is some store-bought rice paper wraps and a whole lot of finely sliced veggies.  We love to fill them with things like cucumber, Chinese cabbage, capsicum and sliced chicken or avocado.  For a delicious satay dipping sauce, whisk together some peanut butter, soy and sweet chilli sauce (about 2 tbsps. of each).     
Got any brown bag lunch tips you'd like to share? Leave a comment below, we would love to hear from you!