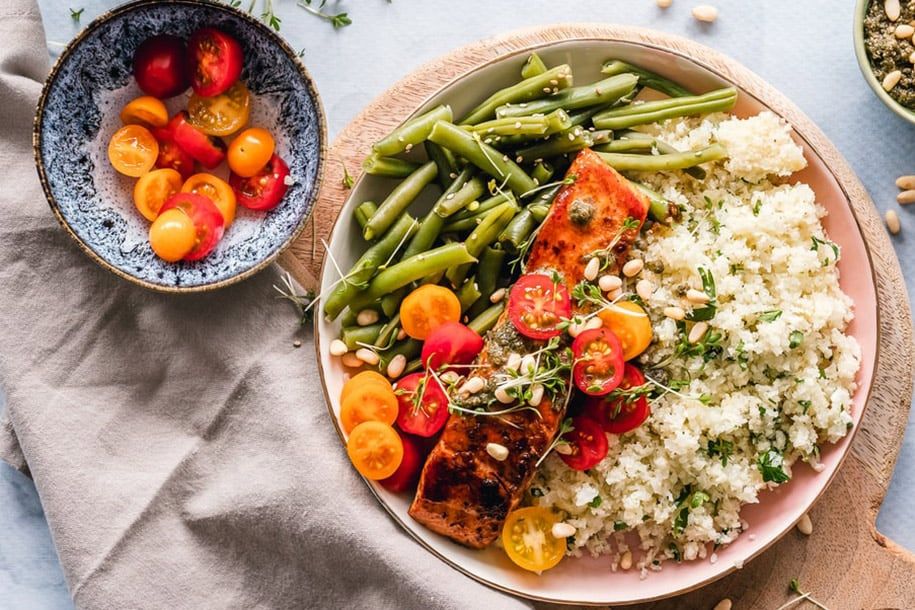 For us, this uber-clean (yet dangerously delicious) recipe is the perfect dinner. You'll find us serving up this Honey-Soy Salmon With Cauliflower Rice at least once a week. So. Damn. Yummy.
HONEY-SOY SALMON WITH CAULIFLOWER RICE
Dairy-free / Pescatarian
Serves 4
INGREDIENTS
4 x salmon fillets
2 x 250g packs of ready-made cauliflower rice – like this one
1 cup cherry tomatoes, halved
1 cup green beans, steamed
Olive oil to drizzle
Fresh coriander, to garnish
Alfalfa sprouts, to garnish
Salt and pepper, to taste
Marinade
4 tbsp soy sauce
2 tbsp white vinegar (or any other vinegar you have, except balsamic, will do)
⅓ cup honey or rice malt syrup
1 tsp crushed garlic
METHOD
Preheat the oven to 180ºC. Combine the marinade ingredients in a bowl and whisk to combine.
Line a medium-sized baking tray, add the salmon fillets, then pour the marinade evenly over the salmon pieces. Cook in the oven for 15 minutes, or until the salmon is cooked to your liking.
Heat cauliflower rice as per packet instructions. Serve with the salmon, tomatoes, and beans. Drizzle over olive oil, coriander, sprouts, and salt and pepper to serve.
WANT MORE? CHECK OUT OUR RECIPES SECTION AND OUR BOOKS FOR MORE NUTRITIOUS TASTY MEALS.