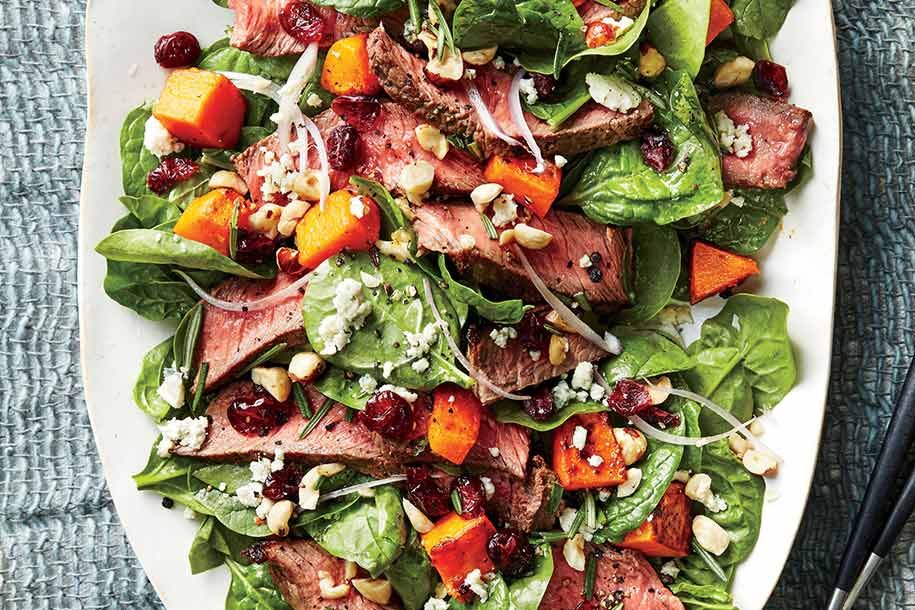 This is the kind of easy to make monster salad you can enjoy any time of year. The best part about this Seared Steaks With Pumpkin & Cranberry Salad is that it's got a unique blend of flavours and textures – thanks to the oh so sweet cranberries and crunchy hazelnuts. The bonus? It's the perfect dish to sneak some extra iron-rich meat and spinach into your diet, hassle-free. As iron is one of the most important nutrients for your immune system, you can see why this dish is one of our go-to's throughout the cooler months!
SEARED STEAKS WITH PUMPKIN & CRANBERRY SALAD
Serves 2
INGREDIENTS
1 medium-sized pumpkin, peeled and diced
250g boneless sirloin steak
7 tbsp olive oil
1 tbsp white wine vinegar
1 tsp fresh rosemary
120g packet baby spinach
¼ cup dried cranberries
¼ cup toasted hazelnuts, roughly chopped
1 shallot, thinly sliced
¼ cup goats cheese, crumbled
Salt and pepper, to taste
METHOD
Preheat oven to 220ºC.
Line a medium-sized baking tray with baking paper. Arrange pumpkin in a single layer. Drizzle with 2 tablespoons oil, salt and pepper, then toss to coat.
Bake for 15 minutes, or until browned, tossing once halfway through cooking.
Season steak with salt and pepper.
Heat 2 tbsp olive oil in a medium-sized pan on medium-high heat. Add steak to pan and cook for 4 minutes on each side, or until browned.
Place steak on a cutting board and allow to stand for 10 minutes, then thinly slice.
Combine remaining olive oil, vinegar, rosemary, salt and pepper in a small bowl or jar.
On a large serving platter, layer the spinach, pumpkin, cranberries, and steak. Sprinkle with hazelnuts and shallots. Drizzle vinegar dressing and sprinkle with cheese to serve.
WANT MORE? CHECK OUT OUR RECIPES SECTION AND OUR BOOKS FOR MORE NUTRITIOUS TASTY MEALS.