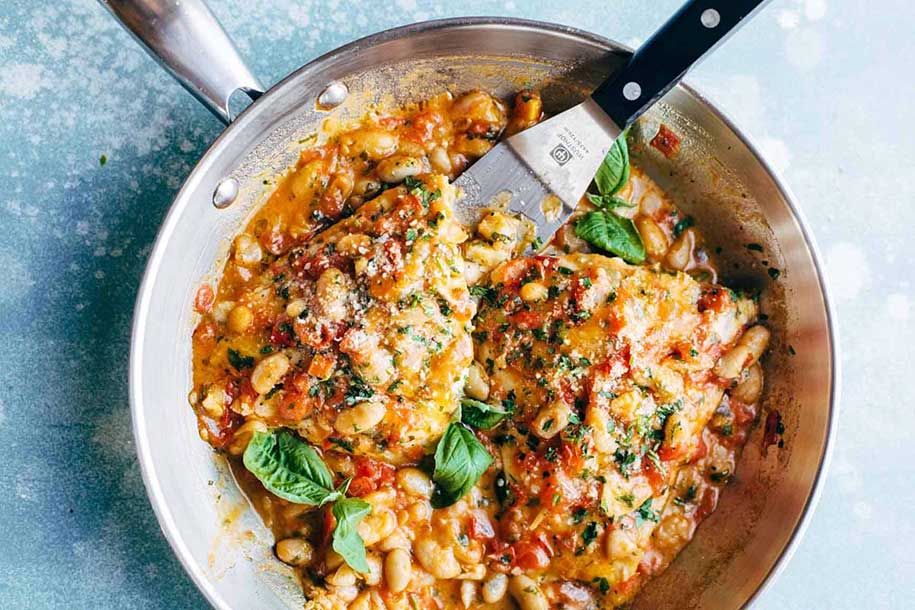 Enjoy a rich pop of flavour with every bite in this One-Pan Garlic & Tomato Barramundi. Similar to salmon, barramundi is a great source of omega-3's that provide excellent anti-inflammatory effects. Plus, the cooked tomato in this dish is rich in lycopene (a potent antioxidant) which's important for almost every process in the human body!
ONE-PAN GARLIC & TOMATO BARRAMUNDI
Pescatarian
Serves 4
INGREDIENTS
2 tbsp olive oil
2 garlic cloves, minced
½ cup fresh basil, roughly chopped, plus extra to garnish
6 tomatoes, diced
400g tin cannellini beans, rinsed and drained
4 barramundi fillets
½ cup vegetable stock
4 tbsp butter
Parmesan, to serve
Salt and pepper, to taste
METHOD
Combine 1 tablespoon olive oil, garlic, basil, salt and pepper, tomatoes, and beans in a small bowl. Set aside to marinate.
Heat remaining olive oil in a pan over medium heat. Pat the fish dry, season with salt and pepper, and pan-fry on each side for 4 minutes, or until golden. Remove from the pan and set aside.
Heat butter in the pan and add the tomato and bean mix. Bring to a low simmer until the sauce starts to thicken, then add the stock as needed to thin it out. Season with salt and pepper.
After 2-3 minutes, add the fish back into the pan. Spoon the sauce over the fish and top with basil and parmesan to serve. We love serving this dish with our

Cranberry & Sweet Potato Monster Salad

.
WANT MORE? CHECK OUT OUR RECIPES SECTION AND OUR BOOKS FOR MORE NUTRITIOUS TASTY MEALS.