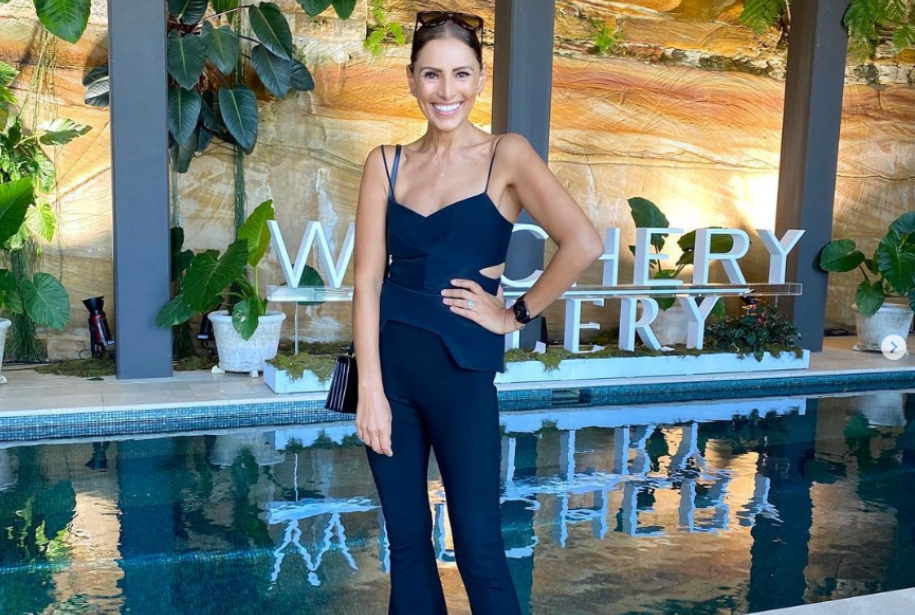 Without a doubt, THE most asked question I've received from you guys recently has been about my weight loss. How it happened. What I did. Which foods I ate. Which foods I didn't eat. Which exercises I did. The list goes on. I tried to answer a few questions on socials but the more I answered, the more questions came my way. So I figured I'd share the whole story, the background, the context and what went down. If you find it helpful in any way, terrific. If not, that's also fine. I ask that you respect that this is my story and that I'm sharing from the heart.
I want to start by saying this:
– Regardless of your weight, shape or size, you are worthy, you are loved and you are whole.
– I in absolutely no way want to encourage diet culture or any feelings of not being good enough.
– The size of our clothes or the number on the scales is not who we are as people.
– It's our heart, our kindness, our morals and values that make us.
– It's what's inside, that's the most important thing.
As a proud founder and CEO of a wellness brand, I can assure you that crash diets are not wellness. Deprivation is not wellness. The numbers on the scale are not indicative of wellness. Wellness is looking after yourself. And how that translates into everyday life, is different for all of us. Wellness for one person might be rock climbing, while for another it's silent yoga. Like our tastes in food and our Netflix preferences, we are unique. And that is to be celebrated.
This is MY story.
The most interesting part of this is that it wasn't something that had come to my full attention until you guys asked about it. This is just me, and my (rather long) journey. Retracing the steps I took to get here. For me, the most important thing that came out if it is how I feel – and the mindset evolution that had to happen in order for me to get here. It's an emphasis on wellbeing, not deprivation. I'm big on this. Always have been, always will be.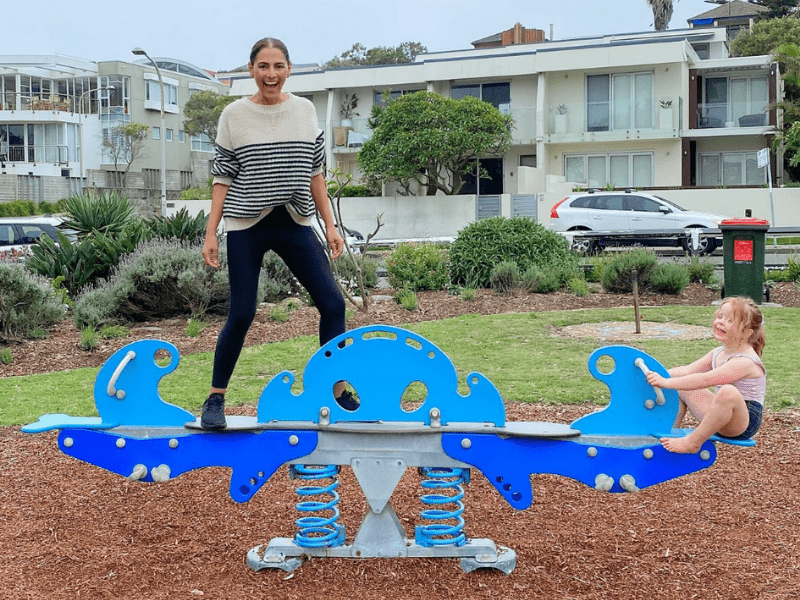 How It Started
My "weight loss journey" actually began back in late 2020. You know, that year we typically don't speak of. It was Christmas. We were in lockdown. And I had had a big 6 months prior. The television show I hosted had wrapped up, we'd had a large amount of growth in our business at SWIISH, and we had to relocate our office/warehouse to larger premises. The office move was a very emotional, taxing experience. We had been at our previous office since we began the business – almost 8 years prior – and leaving brought up a whole heap of emotions. Beyond this, Maha (my sister and SWIISH Co-Founder) was taking time off to have a baby, and Elyssa (my youngest) had just finished up her last year of daycare which had been quite a tumultuous experience all-round with the pandemic. All-in-all, it had been a moment.
I was on a walk by myself on Christmas Day and I finally had a moment to stop, think, process the last 6 months, and realise the toll it had all taken. Something that became clear to me was an acute awareness of my fitness. I realised that when my girls asked me to go to the park to run around, I would almost automatically try to convince them to do something else. "Why don't we go to the movies instead? Or a cafe? If we go to the cafe, you can have chocolate!" In my head, I was quietly dreading having to go to the park and run around, because I knew I didn't have the fitness to keep up with them. I would rather sit and do sedentary, slower-paced activities instead (or better yet, no activity!). It wasn't until the movies and cafes were closed that I really noticed the effect that my fitness was having on me and on the girls. My body had become an afterthought. Whilst I ate okay and of course was taking my SWIISH wellness products, I wasn't actually thinking of my body, front of mind, that often. If at all.
"My body had become an afterthought."
As I walked further and further that day, I cast my mind back and remembered a period of time where I felt most IN my body. Connected to it. Like really connected to it.
I want you to just stop for a moment to make sure you know what I mean. Do you feel connected to your body? Connected for me means – I'm aware of it, I'm in touch with it, I monitor it and I think about what my body is feeling or needing… and then I respond accordingly. That's connected for me.
The last time I felt really connected to my body was after my cancer treatment. Unsurprisingly that's because going through the treatment rips your body apart, so of course I was aware of it. Pains here, nausea there. Surgery, stitches, recovery, etc. You get the picture. My body had been completely annihilated and all I wanted was to rebuild it.
So in my recovery, I became amazingly aware of my body. I was truly in touch with it. I was conscious that if I wanted to rebuild it then I had to be an active participant. It wasn't just going to happen by itself. I didn't just eat well in that period. It was more than food. I also just checked in with myself, all the time. I gave it a lot of care and thought every day. It wasn't an afterthought. It was my first thought. Over the past few years, this was something I had really forgotten. I had stopped doing that check-in, replacing it instead with looking after everyone else first.
I knew this had to change. I was no longer happy in my skin. And I've always said, "If I'm not happy with something… then it's on me to make the change". The power lies with me.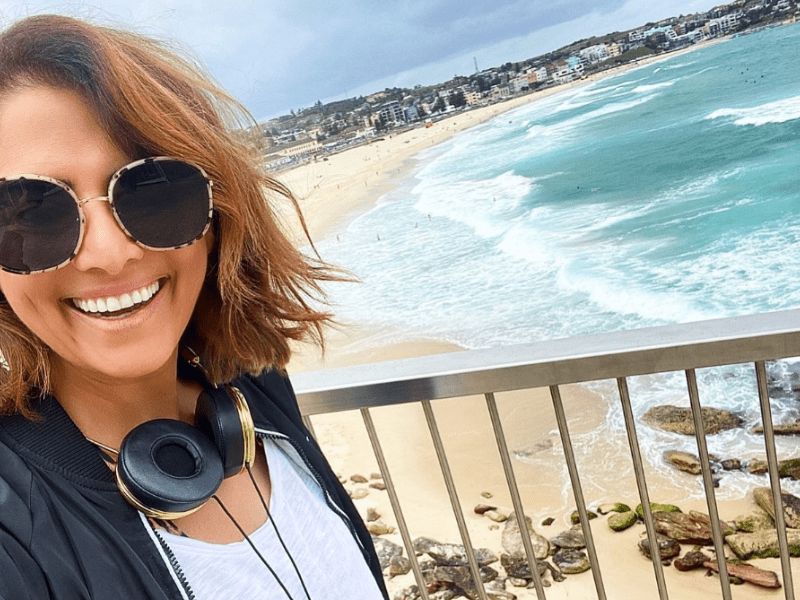 First Steps
Once I had decided what I wanted and in some ways needed to change, I knew there were two things that had to happen. The first was that I had to be super-duper honest with myself and acknowledge that one of my greatest strengths – an all-or-nothing philosophy – was actually a weakness in this case. In the past (excluding the cancer recovery) this would typically have played out like this:
Day 1: Make a decision and proclaim something ridiculous like, "That's it, I'm starting jujitsu!! I'll become a black belt – that's how I'll get fit! I'll go every single day. In fact, I'll go early before work. I'll go at 5am every day!" (What you're seeing there is the ALL part of my character)
Day 2: Sign up and pay for a year's membership (because when you have an all-or-nothing tendency, you are ALL IN *cue the facepalm*)…
Day 3: Go to class at 5am.
Day 4: Go to class at 5am.
Day 5: No class.
Day 6: No class.
Day 7: Hate the idea of the class and never want to go again because, of course, what I had set up for myself was unrealistic and unsustainable. Instead of acknowledging that and simply adjusting I'd decide it was a write-off and then probably say something like, "Oh well, I'll start fresh ______ (insert time far, far away here)… Like next year. Or Spring. Or my personal, all-time favourite > January 1st." And then I would never go again.
Or, another way my all-or-nothing tendency may have played out is…
I might've thrown out all my old activewear and rushed out to buy brand new pieces. New leggings, new t-shirts, new sports bras. And definitely new shoes. Maybe two pairs of shoes. Because I was ALL IN. Then I'd hardly use it at all.
I decided that this time I would go against this.
The year before, I'd watched my husband, Marcus, get fitter. His methods were wildly different from mine (we're 100% chalk and cheese). I initially scoffed at his "I'm going to just walk for 30 minutes a day" statement. I was sure he'd make no progress (because, hello – all-or-nothing attitude here). Yet over the course of that year I saw him just chip away. He walked every day and, sure enough, he got so much fitter.
Before he knew it he was walking further each day. Feeling that bit better in himself. I watched in awe. (Also with a side of "eat my words"…)
That was what I wanted to emulate. I knew I could take a leaf out of his book and go against what I would usually do. Instead, just keep it simple.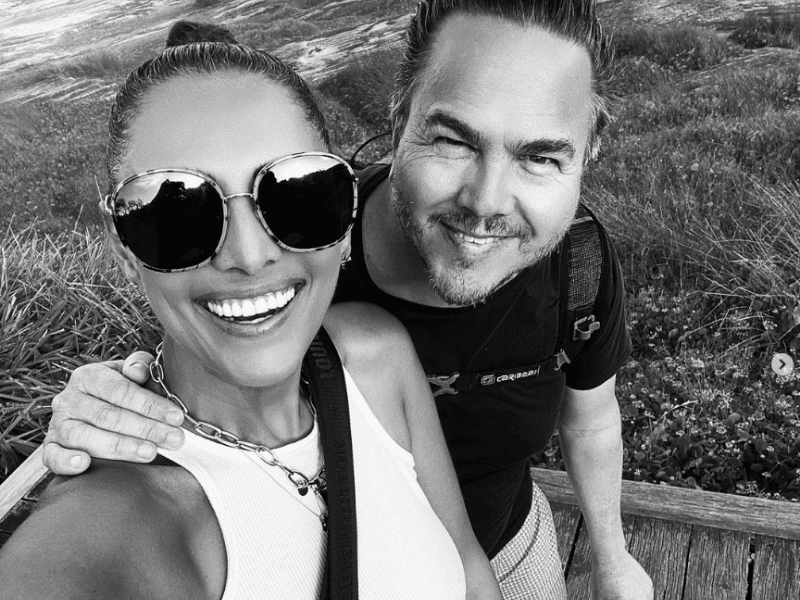 What I did…
I challenged myself not to buy any new activewear because it's not about that. "I own a pair of sneakers. I own a pair of leggings. I'm not going to join any kind of fancy gym. Nothing extreme." I kept reminding myself, "I am not allowed to do what I would normally do." I'd say it over and over. It's hard to go against your norm, but I decided that I would start with just going for a 30-minute walk every day and checking in more with myself. You know, doing things that actually made me feel good. That's how it started.
I would pop my headphones on, listen to an audiobook or a podcast and just walk. Before I knew it, having that 30 minutes to myself became my everything. Especially as we continued into the pandemic and lockdowns.
I remember going through periods of homeschooling/working from home and sometimes (in winter) I'd get to 8 pm and wouldn't have gone for my walk. My natural tendency would've been to just say, "Don't worry Sal, just start again on Monday, or next month" and then go all in. That was when I had to think, "What would Marcus do in this situation?". The answer was simple – he would still go. It was about the mindset shift. I'd remind myself it doesn't matter if it's 8pm or 7am, the body doesn't know any different. It feels good to move no matter what time it is.
"It was about the mindset shift… The body doesn't know any different." 
I absolutely love the book "Atomic Habits" by James Clear, and one thing really struck me was when he spoke about runners. He explained that when runners say, "I'm a runner" they're saying it as if it is part of their identity. Because it is! It's who they physically and mentally are. They live and breathe it. Whereas, if you're not a runner you would just say "Sometimes I run". I found this so interesting and realised that it was a good description of my relationship with exercise. It's not actually a part of my identity – I just go through periods where I do this or I do that, but I'm not an exerciser. But I wanted to be one. This meant it had to become part of my identity.
I did not set out to lose weight. That was not the goal. The goal was to feel fitter and to be more active with my girls. I wanted to become more connected to my body. I wanted to feel strong and I wanted my physical strength to match my mental strength. I am such a big believer that when we feel good in ourselves we're often able to make better choices, lean into harder decisions, face situations head-on. Strength in one area quite often tips into another.
So, I began doing small things in addition to my walk to just take care of myself. Some days I would stretch, others I'd have a bath. I would dry body brush or body gua sha most days. Maybe it was about popping on a sheet mask for the evening or going to bed earlier than normal. It was these little acts of self-kindness that started to make a big difference.
Check-ins: I would lie awake before drifting off at night and ask myself, "How do I actually feel today in my body?". This was an honest conversation with myself. There was no judgement or dismissal. I wasn't thinking about the "If only's"… "If only I was fitter", "If only my old clothes fit". There was none of that. It was just simply a check-in, followed by an acceptance of whatever I was feeling.
Then I'd say the things I was grateful for and nice things to myself – not to be "woo woo" but I am a big believer in being mindful of how I talk to myself. Yelling at yourself doesn't change anything. It just makes you feel like shit. And that's pointless.
So over time, instead of my body being an afterthought – it actually became a pre-thought. That's the big shift that had to happen for me mentally. This encouraged me to keep walking and to feel better.
"Instead of my body being an afterthought – it actually became a pre-thought."
Here's the key part: although my mindset and relationship with exercise changed – who I was didn't. I didn't suddenly take more selfies because I was feeling good. I've taken selfies in outfits my whole life, at every size and every shape. I didn't suddenly start going out more. It wasn't about that. I was doing this so that it became a part of me, instead of changing who I was essentially.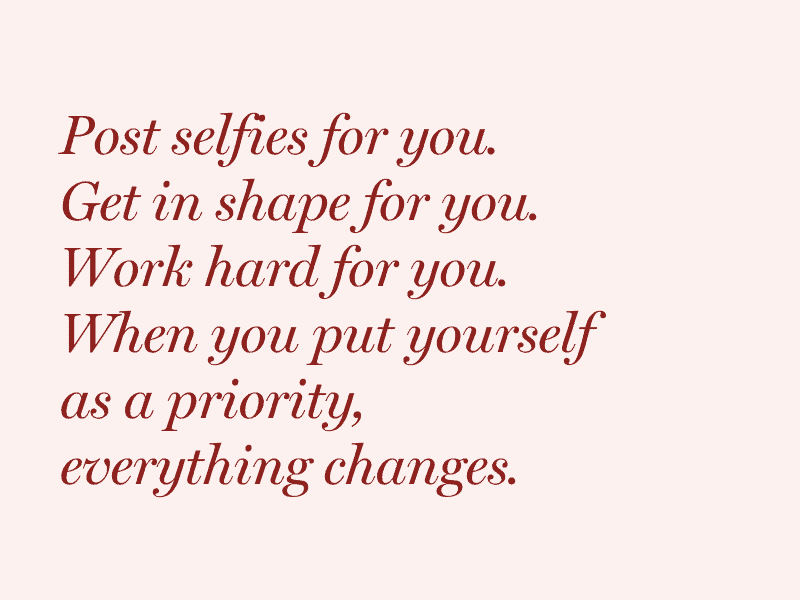 It wasn't until I'd been walking daily for around 4 months that I really noticed my fitness increasing. This made me enjoy my walks even more. They started going from 30 minutes to 45 minutes, then to 60 minutes. I also made sure to only do whatever I was in the mood for. It might have been because of lockdown, but I was very conscious of my mental state. If I felt like a really fast power walk, I'd do it. If I felt like a slow beach walk, then I'd do that. It started to become second nature to tap into my feelings and adjust my exercise to what I needed.
Realising The Difference
It wasn't until the end of the year that I became aware of the weight I had shifted. I went out to buy some new clothes and noticed how much weight I had lost. People had started commenting on social media, in real life and in messages. When it's you and it's gradual every day, you don't really see it. But when people start commenting and making you aware of it – that's when the penny drops.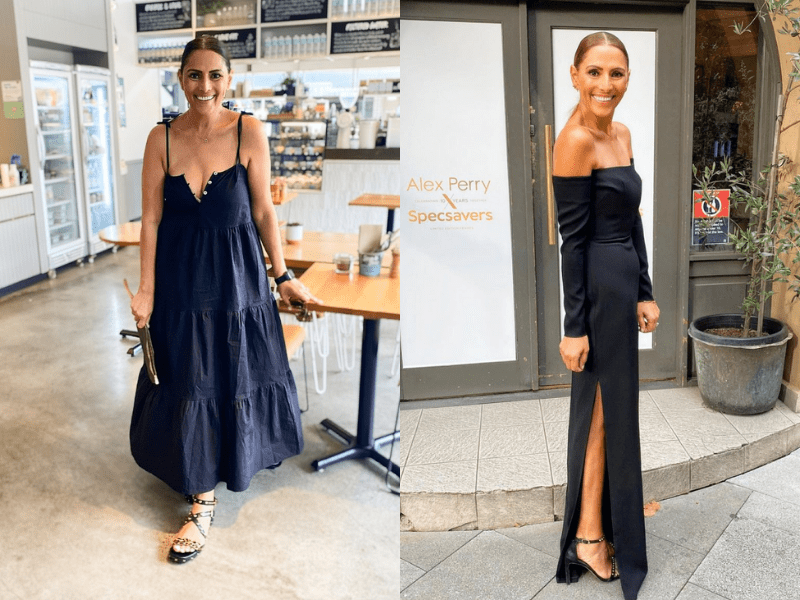 Despite it being obvious to the outside world, for me, it just felt like I was back to myself. I have been this weight before. I don't look at this as getting back to some "lowest weight ever" stage. It's not about that. It's about getting back to where my body feels most comfortable. Most itself. Most myself. I'm wearing clothes I wore years ago, back after I had finished treatment. Because I was taking care of myself back then, but for the last 5 years or so I hadn't been. I feel comfortable and healthy and that's what makes me happy.
I guess that's the thing I really want to get across here. It's not actually about the weight, that's just a by-product. If you think you're going to unlock this infinite feeling of happiness once you reach a certain number on the scales, it's important you re-target that goal. You can be happy at any weight. You can also be sad at any weight, and miserable at any weight. Your weight doesn't guarantee you happiness. I've had the worst things in my life happen to me when I've been a "great weight". It's important to remind yourself that the most important thing is how you feel in your body.
"You can be happy at any weight. You can also be sad at any weight and miserable at any weight. Your weight doesn't guarantee you happiness."
The Foundation
Now, I know there's a lot of interest in what I ate throughout this period and what I eat now. It's one of the most common questions I get. In short, this is my philosophy and it's one we have at SWIISH.
Eat well.
Move often.
Supplement.
Monitor.
These four elements are key. There is no one magic bullet. But there are a few things you can focus on and that's what these 4 elements are. Think of it like asking, "What's the one thing that makes your car work so well?" The answer isn't going to be "only petrol" or "only tyres". Nope, it needs a few key essentials to actually fire-up and rev through the day. Your body is the same.
It needs these four things.
1. Eat well > More on this below.
2. Move often > I feel like I've covered this!
3. Supplement > Okay, so what supplements do I take? Here's the lowdown:
I start every morning with my Supershot Trio – this is a combo of SUPERGREENS + IMMUNITY + GLOW COLLAGEN POWDER all mixed together into half a glass of water. I also boost it with a serving of Fibre Gut Cleansing Powder. I love it. I do it first thing on an empty stomach. It keeps my system alkaline, my immune system supported, my skin glowing and my gut microbiome healthy. I also take my Hair + Metabolism supplement. As we age our metabolism slows, so this is a non-negotiable for me. I started taking this at the beginning of this journey. (The iodine in this supplement aids overall body metabolism and metabolic rate).
4. Monitor > This is so underrated and overlooked I believe. We need to tune in, monitor and adjust as we go. We monitor so many parts of our lives, yet forget about our bodies.
A really simple analogy is the pantry. We monitor the pantry constantly. What did we buy? Have we used it? Should we top up on this or that? We assess, we check in and we adjust accordingly. And yet, so often for so many of us we forget to monitor our bodies. So I monitored and adjusted. Do I need more sleep? Am I hungry or am I eating because I'm bored? How's my skin? Should I up my collagen? Are my muscles tired from the walk? Based on my monitoring I would adjust. Because guess what? I'm not a robot – and neither are you. What I did last month might need tweaking or adjusting. So don't be afraid to monitor.
What I Ate
I ate well – but my day on a plate is, in a way, irrelevant here. Whilst I'll share some of the things I typically did (and still do) eat, everyone's day on a plate should look different because every single one of us is different. You may be a bricklayer doing 10 hours a day of manual labour, whilst I, on the other hand, have a desk job. I am sitting down for the majority of my day. Everyone's body, shape and size are entirely different – meaning their food requirements would be too. I am very conscious of this, which is why on Instagram when you guys ask me those questions I don't often have an answer for them. Just keep that in mind when reading what I eat below.
What I Focused On – Food-Wise:
I had protein at almost every meal – I think this is really important for satiety, muscle mass and more.
I had a Body Blitz sachet every day for either breakfast or a snack. It's a high-protein plant-based meal replacement. It was usually my go-to for breakfast as mornings in our household are hectic and this way I knew I was getting enough quality protein plus all the added nutrition – without any hassle. Also, if you are someone who is interested in knowing calories, it's 215 calories. So I knew that by having this, I'd be saving around 300-350 calories compared to my old breakfast (a muffin eaten on the run). You can imagine how this adds up over a week.
I did not avoid carbs or cancel anything from my diet.
I was mindful of my portions.
I was also aware that it's not a big deal for me to eat four slices of toast slathered in butter, simply because I'm stressed. What I really focused on was eating for enjoyment. Eating for health. But not eating because I was emotional. If I was feeling emotional about something, I tried to tackle it in a different way. I would go for a walk. Call a friend. Have a nap. Read. Just anything that took care of me on the inside. Once that became a habit, it was locked in. This made me feel good.
I also did not stop living. Every Sunday, I have a date night with Marcus, I order whatever I want and I eat it all and enjoy it. Every Friday night is family pizza night. When there's cake in the office – I eat it. The same goes for team lunches, girls' nights out, events and family dinners. Life is for living. It's to be enjoyed. One does not need to be at the expense of the other. They can (and should!) happily co-exist side by side.
With all these things it's important to remember that self-care is not selfish. It's not me first, it's me too. I know as a Mum it can be easy to put ourselves last, because if we put ourselves first, we immediately feel guilty. I actively worked on removing this. I reminded myself that me looking after me, is actually me looking after them. It's a cascade effect.
"Self-care is not selfish. It's not me first, it's me too."
My Typical Day On A Plate
Breakfast: Body Blitz sachet or two eggs with a slice of sourdough toast and one tomato, doused in Sriracha hot sauce.
Lunch: A massive tuna or chicken salad, loaded with greens. Or, if I didn't have eggs in the morning I would have an egg, tomato, rocket, feta and avocado wrap.
Dinner: I try to have fish three nights a week, chicken or red meat a couple nights a week, and generally one night a week protein-free. That's because I love a classic Napolitana tomato pasta. Even though there's no protein in this pasta a) it tasted DELICIOUS and b) I knew I'd already reached my protein requirements earlier in the day.
Snacks: Half a Body Blitz sachet if I didn't have it for brekkie, or similarly if I hadn't had eggs I would have an egg and two sliced cucumbers (I loooove cucumbers, I think they're so underrated). I would also have smoked salmon or trout with cream cheese spread on a Mountain Bread wrap, make a good old-fashioned green smoothie, or simply snack on a punnet of berries (strawberries or blueberries are my faves) with pistachios or have Medjool dates slathered with peanut butter.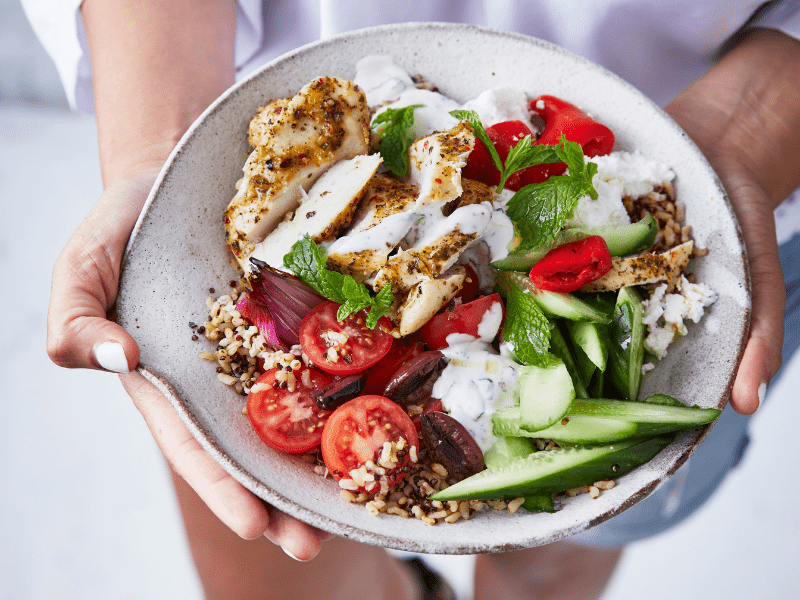 Ultimately, weight loss is about an energy deficit. It happens when you burn more energy than you consume. If you have a healthy relationship with food and exercise, then the two start to work synergistically.
As I became more mindful of my body, I also became more mindful of my food.
For example, if I was staying up late to work (which I often do) I would factor in dessert or a snack to munch on while I worked. That might be potato crisps, chocolate, an ice cream – whatever I felt like. But, if I did that, I started to factor it into the day. If I knew if I was going to be having one of those late-night treats, then at lunch I wouldn't have two sources of protein, I would cut it down to one. Instead of having the feta and the eggs, I'd just have the eggs. Then, later that night instead of the feta I would be having an ice cream (or whichever other treat I chose).
I removed the emotion around food and I started to think of it in the way I think of money – because I have a healthy relationship with money.
Analogy (can you tell I love analogies? haha): When I was 21 and in Europe travelling, I budgeted $100 for each day. If my girlfriend and I were going to a fancy $70 dinner, then I knew I had to make the remaining $30 last the rest of the day. So, I'd be extra careful and spend it wisely. I started to think about food the same way. Without emotion, just mindfully.
"I removed the emotion around food and I started to think of it in the way I think of money."
My food was not an afterthought. I was not an afterthought. I put some prep, planning and pre-thought into what I was eating. This meant there was no deprivation. But also, I was not overeating. I was simply eating well and enjoying it. Most of us have emotional relationships with food. We put a big yes or no on items, saying "this food is good" and "that food is bad". I let all of that go.
All the food is good.
Everything is fine.
Everything has its place.
Nothing is off-limits.
I can eat anything.
I can eat everything.
I just need to work out where it all belongs.
My Day At A Glance
Okay, so I know that was a fair bit of info above. Here's a quick summary:
6am (Pre-Breakfast): Supershot Trio + Hair + Metabolism supplement.
7.45am (Breakfast): Body Blitz mixed with almond milk. OR 2 soft-boiled eggs with tomato on sourdough.
9am: Long black coffee with 2 teaspoons of GLOW Hydrolysed Collagen.
12pm (Lunch): Tuna + avocado salad with shallots, chilli and cranberries. OR massive green salad with a pre-bought salmon fillet. OR fried eggs with feta and chilli on a tortilla with tomato and avocado. OR Mexican microwave rice with diced cucumber, tomato, onion and shredded BBQ chicken.
2pm: Beauty Buzz Adaptogen Collagen Coffee
4pm: I gauge this depending on how I am feeling – again, monitoring my body. If I'm hungry, I have half a sachet of Body Blitz, mixed with water. OR a smoked salmon and cream cheese wrap. OR an egg and 2 sliced cucumbers. OR a green smoothie. This satisfies me until dinner and stops my raiding the fridge and pantry like a wild woman.
7pm (Dinner): I cook and eat a lot from our cookbooks. Mostly because the recipes are easy to make, they taste amazing and use uncomplicated ingredients. I make a lot of sheet pan dinners in summer and slow-cooked meals in winter. I have a salad with my dinner every night. I also don't skip carbs. My plate is typically half salad or veg, one-quarter protein and one-quarter carbs. My carbs of choice are generally roasted sweet potato, microwave rice, couscous or rice/sweet potato noodles. As I mentioned, one night a week I skip the protein and just have pasta. Some of the go-to dinners are:
Slow Cooked Lamb Shoulder with roast Veges and Salad
Maple Lemon Salmon with Sweet Potato and Veges
Prawn Tacos
Chilli and Garlic Hot Pot Mussels
Sicilian Baked Fish
Chicken Tagine
Throughout the whole day: 1 litre water (I'm not as good as I should be!). I have to have it with GLOW Pina Colada Collagen to make me drink it.
9pm: If I'm working then I'll have a bowl of potato chips or an ice cream – if I'm craving it. If not, then I don't. So rather than it being a mindless habit, I'm tuning in first to see if I feel like it. If I do cool. If not, also cool.
What More Can I Share?
So, that's kind of it. It was gradual. It took 12 months to lose 22 kgs. It wasn't 20 kgs in 2 weeks. It was not fast, but also it wasn't overly difficult either. It was just methodical.
Besides getting fitter, the other thing that happened is that my muscle mass increased, my cholesterol went down, and my bone density went up (which was very important to me after all the chemo and my doctors' warning about early osteoarthritis), plus I'm just feeling good.
Now, I feel like exercise is part of my identity instead of something I do sporadically. For me, this is something I feel really proud of. I'm no longer avoiding physical exercise with the girls, instead, I'm enjoying it with them. I could have never done Coastrek (a 30km charity walk) a couple of years ago because I wouldn't have been able to walk that distance  – and that feels good to have accomplished that too recently.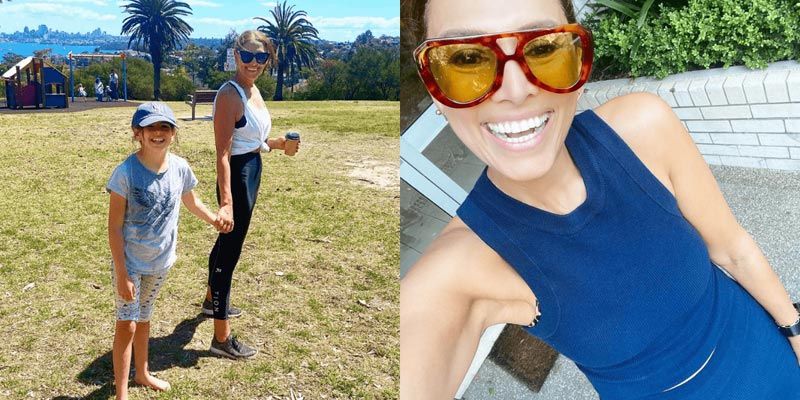 The 'key' lies in the four pillars I mentioned – EAT RIGHT, MOVE OFTEN, SUPPLEMENT, MONITOR – coupled with consistency, self-care and that all-important mindset shift. It's all well and good that people are noticing my weight change and wanting to pursue that for themselves, but for me, that's not the bit that stands out. The most important part is that I'm now looking after myself without feeling guilty about it.
Pursue the things that make you feel good.
This is your life. Live it. And live it the way you want. 
Big kisses,
Sal xx
WANT MORE? CHECK OUT OUR WELLNESS SECTION FOR INSIDER INFO AND EXPERT ADVICE TO FEEL AMAZING INSIDE + OUT!