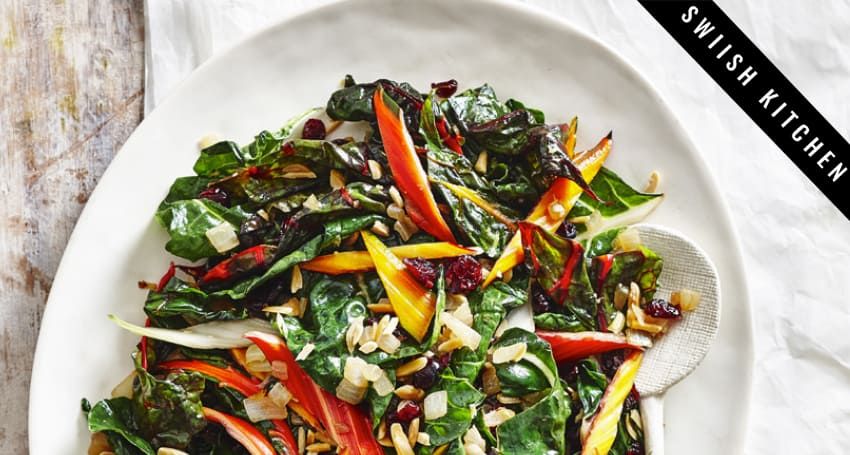 These days, it's as easy to find a spinach filled smoothie or crunchy kale salad as it is to find a coffee.  But the truth is, there are soooo many other options to choose from!  Don't get us wrong, we love our spinach and kale.  At the same time, we can't stand idly by while a whole family of leafy greens get swept to the side.  Nope, not in our kitchen!  
In our opinion, silverbeet is one of the most underrated leafy greens out there.   Packed with magnesium, calcium, iron, folic acid and vitamin K, it tastes great and sautés like a dream.  We think it's time to give silverbeet the credit it deserves!
With slivered almonds, sticky brown onions, chewy cranberries and zesty lemon, this rainbow silverbeet salad will be the highlight of your lunch.  Not only is it super tasty and packed full of nutrition, but it also takes less than 15 minutes to make.  Got to love that!
Oh and did we mention it comes in at under 293 calories per serve?  Work this one into your weekly diet and you'll be beach ready in no time. 
By the way, if you like this one you'll find heeeeeaps more lean, healthy, delicious, quick and easy recipes in our cookbook, THE GOOD LIFE, which you can pick up now from our online store right here.