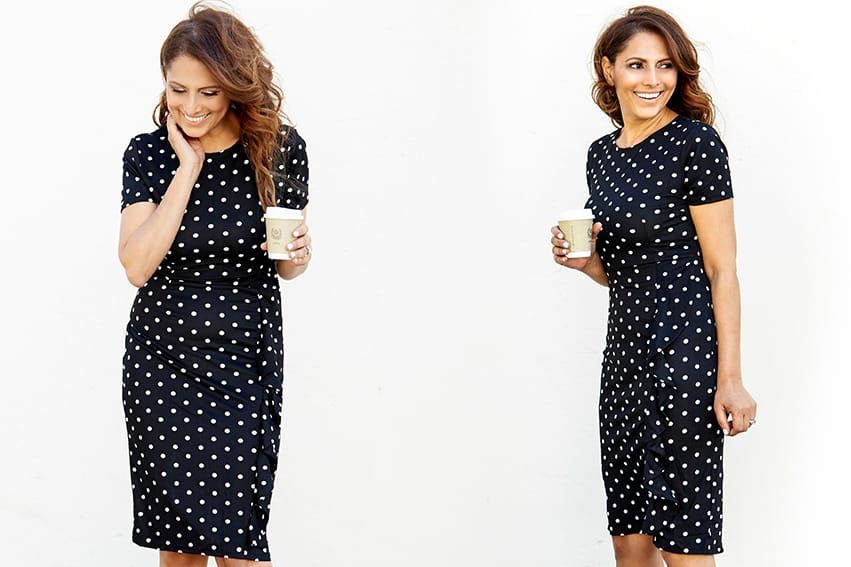 Polka dots scream classic style and as soon as we saw them feature heavily on the catwalks of this year's global fashion weeks, we knew we were in for a big treat.
This trend has actually stuck around since last year, because it's oh so pretty and perfect. Just like gingham, polka dots are super charming, graceful and suit women of all shapes, sizes and ages. It's no wonder polka dots are considered one of fashion's greatest prints when they literally look good on everyone!
If you thought there were only a few different polka dot patterns, colours and styles, think again. This timeless style can be worn so many different ways so we've rounded up our favourites below! Simply add a pair of sneakers or heels and you're good to go!
(function(){var scriptURL='https://sdks.shopifycdn.com/buy-button/latest/buy-button-storefront.min.js';if(window.ShopifyBuy){if(window.ShopifyBuy.UI){ShopifyBuyInit();}else{loadScript();}}else{loadScript();}
function loadScript(){var script=document.createElement('script');script.async=true;script.src=scriptURL;(document.getElementsByTagName('head')[0]||document.getElementsByTagName('body')[0]).appendChild(script);script.onload=ShopifyBuyInit;}
function ShopifyBuyInit(){var client=ShopifyBuy.buildClient({domain:'swiish-by-sally-obermeder.myshopify.com',apiKey:'b9bcd77eea223a9ac3df9c0117588ac0',appId:'6',});
ShopifyBuy.UI.onReady(client).then(function(ui){ui.createComponent('collection',{id:455471245,node:document.getElementById('collection-component-e8c495452a7'),moneyFormat:'%24%7B%7Bamount%7D%7D',options:{"product":{"variantId":"all","contents":{"imgWithCarousel":false,"variantTitle":false,"description":false,"buttonWithQuantity":false,"quantity":false},"styles":{"product":{"@media (min-width: 601px)":{"max-width":"calc(25% - 20px)","margin-left":"20px","margin-bottom":"50px"}},"button":{"background-color":"#fdc6c7","color":"#000000",":hover":{"background-color":"#e4b2b3","color":"#000000"},":focus":{"background-color":"#e4b2b3"}}}},"cart":{"contents":{"button":true},"styles":{"button":{"background-color":"#fdc6c7","color":"#000000",":hover":{"background-color":"#e4b2b3","color":"#000000"},":focus":{"background-color":"#e4b2b3"}},"footer":{"background-color":"#ffffff"}}},"modalProduct":{"contents":{"img":false,"imgWithCarousel":true,"variantTitle":false,"buttonWithQuantity":true,"button":false,"quantity":false},"styles":{"product":{"@media (min-width: 601px)":{"max-width":"100%","margin-left":"0px","margin-bottom":"0px"}},"button":{"background-color":"#fdc6c7","color":"#000000",":hover":{"background-color":"#e4b2b3","color":"#000000"},":focus":{"background-color":"#e4b2b3"}}}},"toggle":{"styles":{"toggle":{"background-color":"#fdc6c7",":hover":{"background-color":"#e4b2b3"},":focus":{"background-color":"#e4b2b3"}},"count":{"color":"#000000",":hover":{"color":"#000000"}},"iconPath":{"fill":"#000000"}}},"productSet":{"styles":{"products":{"@media (min-width: 601px)":{"margin-left":"-20px"}}}}}});});}})();