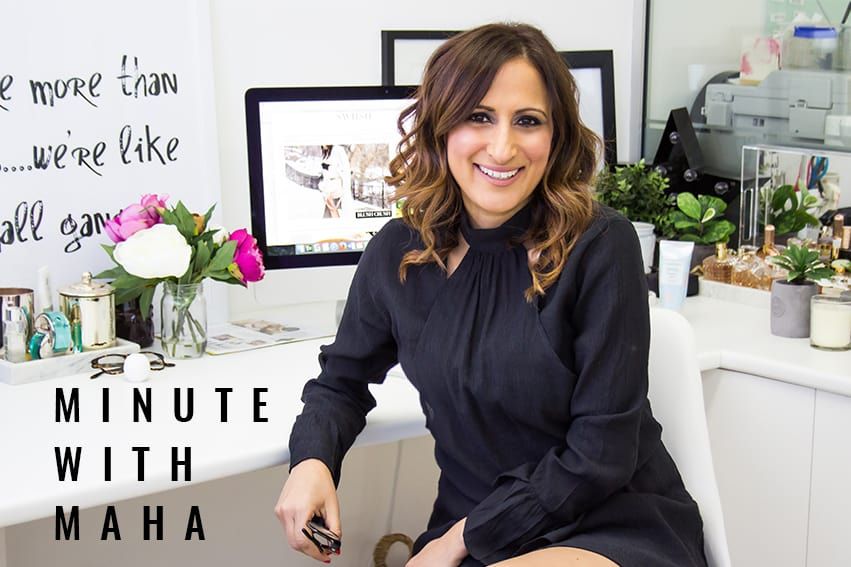 Today, we are excited to bring you another Minute with Maha post!
We had such great feedback on our last post and received some excellent follow-up questions including how to network. This week, Maha's going to share all her wisdom about networking. While some people love it and some people hate it, we can't deny that it's an essential part of any career, and of course, being a #girlboss.
Networking can be really tricky, especially if you're shy.
Lucky for me, I love to chat but I wasn't always like that. I too had my fair share of going to industry networking events, and then spending way too much time looking at my phone, and pretending to text a friend, because I was too scared to talk to anyone! It's definitely not like that for me anymore. I just learned a few little tricks along the way, which helped to develop my confidence.
Firstly, if you're going to an event to make new contacts and build new relationships, then it's important to go to events that are worth your time (and money).
Despite an interest in real estate, there's no point in me attending a construction industry expo if it isn't going to help me build my career or business. It's much wiser for me to go to an event like 9 To Thrive that Business Chicks hosts every year, where I can make connections with women who are also interested in small business, fashion, beauty, health and lifestyle.
Secondly, I mentally prepare. I tell myself that I have something to learn from every person I meet and from every event I go to. Networking is as much about listening to other people as it is about trying to tell someone about what you do.
I also think that if you go to an event with the mindset that you have to talk to 30 new people, it can be completely overwhelming. Whereas, I tell myself that even if I only make one meaningful connection that could develop into any kind of mutually beneficial relationship, then it is worth it.
There's a very cool motivational quote I saw on Instagram (where else?!) years ago that really struck a chord with me, and I think of it often. The quote goes:
"your energy introduces you, before you even speak"
This is so true. So I try and keep this in mind whenever I attend any event or meeting. I stand up straight and put a huge smile on my face. It's amazing how when you do this, other people automatically respond the same way, and it's the simplest of ice-breakers to then say hi and introduce yourself. 
Whatever event I go to, I always scour the guest list to see if there's anyone I may know, or have heard about, through a mutual friend or colleague. It's so easy to chat to someone when you have someone else in common, and I've actually met one of our favourite wholesalers through an old colleague.
Finally, be real and openly share. Whilst I do believe in having a positive and upbeat energy, if you're facing a super challenging time in one part of your job or business, and someone asks you how you're doing, I believe it's okay to be honest about that and to share. It's relatable, because – let's face it – who hasn't ever gone through challenging times or situations. Sure, have your elevator pitch ready for when someone asks you what you do, but it's more engaging when you can share authentically your values, joys and challenges. 
Likewise, listen intently to others, ask them what excites them, what their goals are, as well as their challenges. Think about how you can help them, or any solutions you can provide. Sometimes even just empathy is what they need!
Don't go in to a networking event expecting to make a sale or get a big break or new job offer. Too often I've had people come up and within a second of saying hello, they've asked whether they can have my business card. Whoa. We just met hahaha! Slow down. Let's get to know each other a little. It's not a race to see who can get the most business cards. It's a long game, in my opinion. Networking is about people sharing who they are, what they do, their experiences and ultimately as a result, building trusting, long term relationships where you do what you can to help each other out – be it, advice, connecting your new contact in with someone who can help them, or simply making a friend! All of it is good and whatever you put in, is what you'll end up getting back.
Whatever you do, if you've met someone new, follow up is everything. Connect with them on LinkedIn or social media after the event, and send a follow up email to let them know how much you enjoyed chatting to them. Touch base again when appropriate and schedule a time for a coffee catch up.
Like anything, the more you do it, the easier it gets.
I'd love to hear any of your tips on effective networking! Do you love it, or hate it?
Til next time!
Maha xx