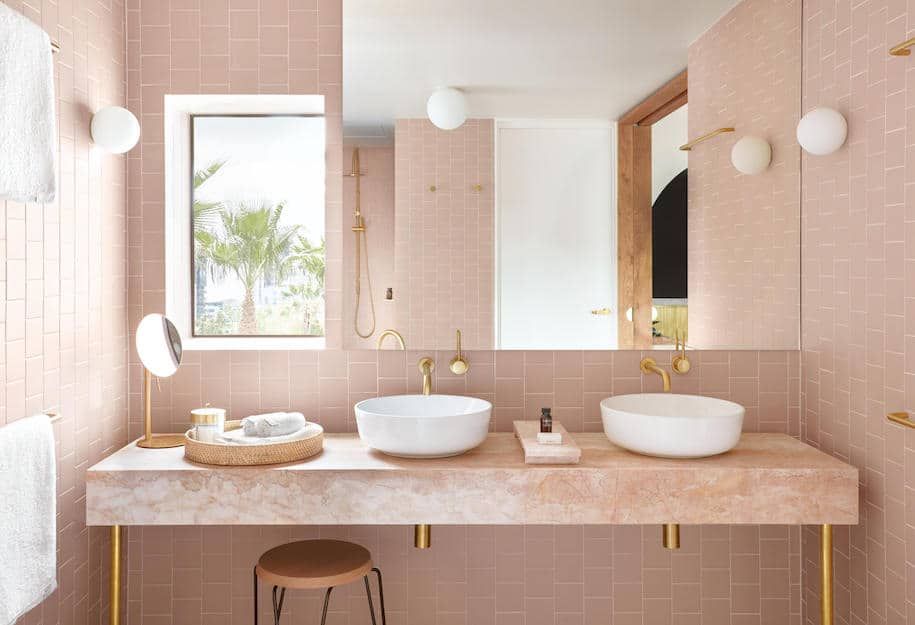 Bathrooms typically stick to the grey, white, and neutral tones – but lately, we're seeing a rise in a little pop of pastel in there… and we are LOVING it!
We're about to take you through some of our favourites pastel coloured bathrooms with 3 quick tips on how you can get the look at home – without breaking the bank.
1. Decorate, decorate, decorate.
Whether it's a vase, floor mat, towels or an indoor plant pot, you can easily add some pastels to a neutral space with some affordable decorations.
Change the whole look of your bathroom on a budget – who doesn't want that!?
2. Paint it!
Painting tiles is a fast, easy, and affordable way to transform the entire look of your space.
Contrary to common belief, it's just as easy as painting a wall, all you have to do is clean the surface well beforehand and ensure you're using tile paint. Simple as that!
3. Wallpaper… in the bathroom!?
Yep – you read that right… We bet putting wallpaper in the bathroom seems a little out of the box, but if you have a spare wall to fill up this truly will give your room a femme twist.
Vintage shops or deep dives into online stores will help you find the unique wallpaper you're after. Go for something you wouldn't expect yourself to here, chances are you'll love it.