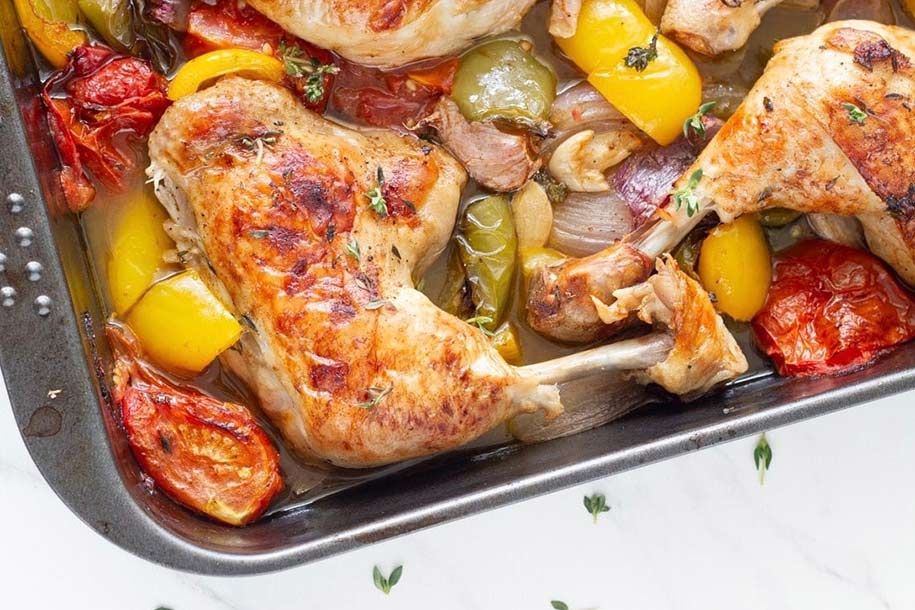 A family-favourite dish doesn't get much easier (or delicious) than this. We are crushing on this Paprika-Spiced One-Tray Chicken, big time.
PAPRIKA-SPICED ONE-TRAY CHICKEN
Dairy-free
Serves 4
INGREDIENTS
4 chicken Marylands (thigh with the drumstick attached)
3 large tomatoes, quartered
1 green capsicum, roughly diced
1 yellow capsicum, roughly diced
1 red onion, sliced into wedges
4 garlic cloves, squashed with the back of a knife (peel on)
2 tbsp olive oil
2 tbsp balsamic vinegar
½ bunch fresh thyme
1 tbsp paprika
Salt and pepper
METHOD
Preheat oven 180ºC.
Place the chicken Marylands, tomatoes, capsicum, onion, and garlic in a large baking tray.
Add the olive oil, vinegar, thyme, paprika, salt and pepper to the tray and mix it with the chicken well to coat evenly.
Spread the chicken and vegetables evenly across the tray and roast for 50-60 minutes, or until the chicken is golden and cooked through.
WANT MORE? CHECK OUT OUR RECIPES SECTION AND OUR BOOKS FOR MORE NUTRITIOUS TASTY MEALS.