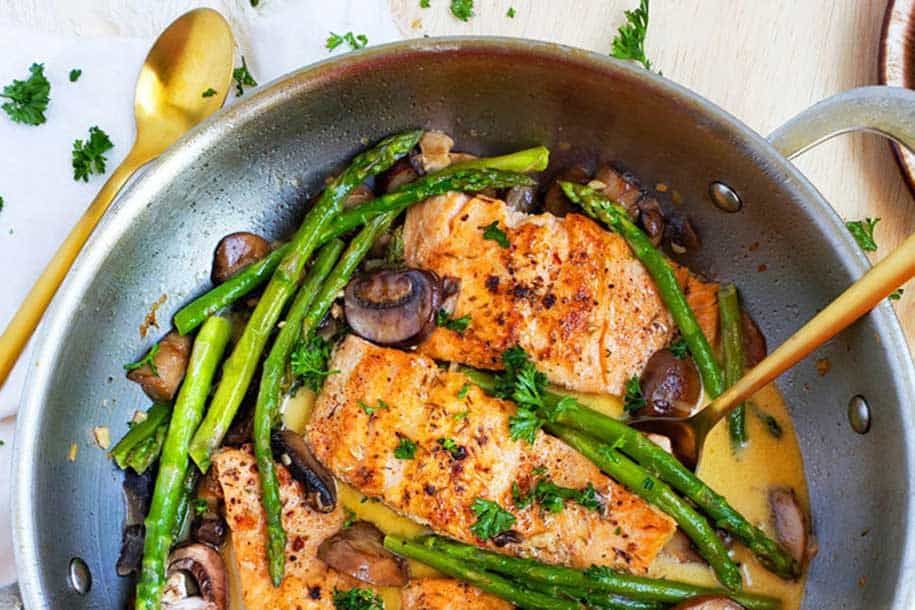 One-pot. Mouth-watering. Super clean. This Creamy Mushroom & Asparagus Salmon is a winner in the SWIISH kitchen.
CREAMY MUSHROOM & ASPARAGUS SALMON
Pescatarian
Serves 4
INGREDIENTS
2 tbsp olive oil
4 boneless salmon fillets, skin removed
1 tbsp Cajun seasoning
2 tbsp butter
3 tsp crushed garlic
1 ½ cups mushrooms, sliced
¾ cup cream
½ cup chicken stock
2 bunches of asparagus, ends trimmed
Fresh parsley, roughly chopped, to garnish
Salt and pepper, to taste
METHOD
In a large non-stick pan on medium-high heat, add the oil.
Season the salmon with Cajun seasoning, salt and pepper.
Place salmon in the pan and cook for approximately 6 minutes on each side, or until cooked to your desire. Remove salmon from pan and set aside.
Reduce heat to low and add butter, garlic, mushrooms, cream, and chicken stock to the same pan. Stir until the sauce starts to simmer.
Add asparagus and cover with a lid. Cook for 10 minutes, or until asparagus is tender. Season with salt and pepper to taste.
Remove lid and add salmon back to the pan. Spoon sauce over salmon. Garnish with parsley and serve.
WANT MORE? CHECK OUT OUR RECIPES SECTION AND OUR BOOKS FOR MORE NUTRITIOUS TASTY MEALS.