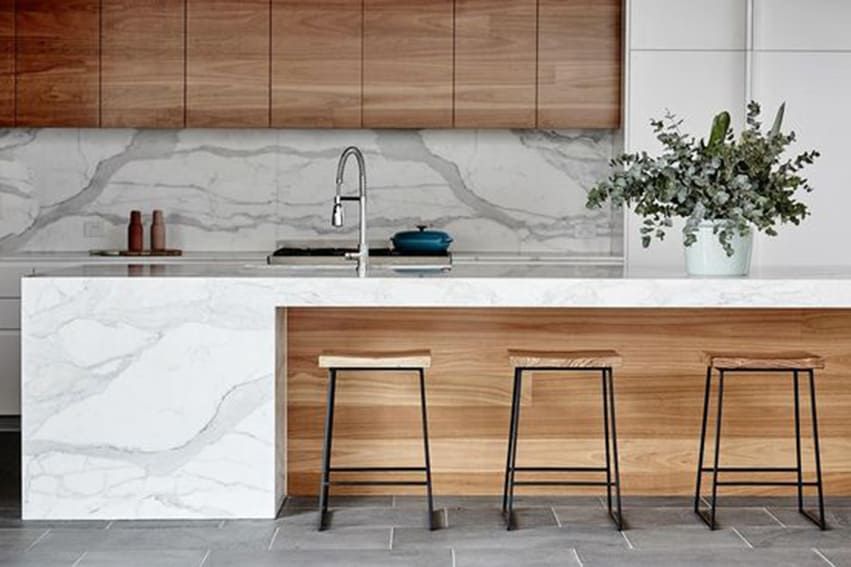 They say that a kitchen is the heart of the home and as self-confessed cooking and baking addicts; we can't help but agree with them (whoever 'they' are haha!). 
With the kitchen being the heart of the home, you want to make it look as chic as possible without losing any of the functionality. Even if your cooking style is more Carrie Bradshaw than Martha Stewart (AKA Carrie stores sweaters in her stove), there's no reason why you can't have a beautiful kitchen too. After all, your sweaters deserve a gorgeous oven to live in!
Marble is one of those materials that looks stunning in any style of kitchen and has the added benefit of being timeless, universal and totally functional. It barely dates and lasts forever so even though it might be a tad more expensive than other materials, it's definitely worth it, especially when you consider how often you use your kitchen. We don't see the marble trend going anywhere anytime soon. It's here to stay so think of it as the LBD of your kitchen – it looks good on everyone!
Here's a round up of our favourite marble kitchens – of all shapes, sizes and styles. Even if you are the Carrie of the kitchen world, looking at our ultimate inspo gallery will instantly turn you into a Martha. You're welcome! We've also included a roundup of our favourite marble products. We understand most people (including us!) can't instantly add a marble bench top to their homes so with these affordable and chic pieces, you can get the look in an instant!