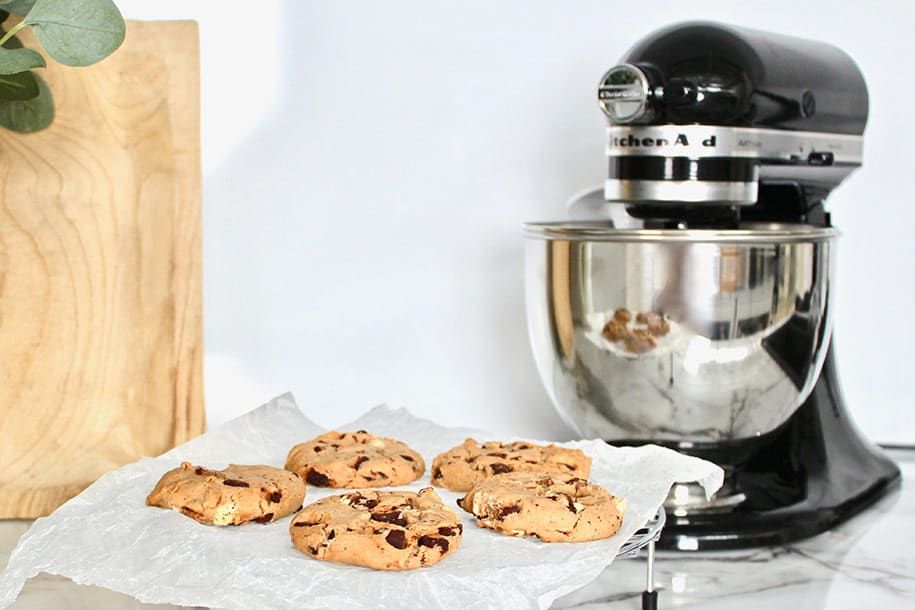 Anyone craving a sweet treat? How about one that's super healthy? These Ooey Gooey Chocolate Cookies hit the spot. Sure, they taste AMAZING – but the best part is they're easy to make, thanks to KitchenAid Artisan Stand Mixer.
OOEY GOOEY CHOCOLATE COOKIES
Refined Sugar-free / Vegetarian
Makes 12 cookies
INGREDIENTS
2 cups almond meal
1/4 cup cornflour
1 tsp baking powder
1/3 cup maple syrup
2 tbsp coconut oil, melted
1/4 cup milk of choice
1/2 cup dairy-free dark chocolate chips
1/2 cup dairy-free white chocolate chips
METHOD
Preheat the oven to 175°C. Line a tray with baking paper and set it aside.
Using the KitchenAid Artisan Stand Mixer, combine almond meal, cornflour and baking powder, maple syrup, coconut oil, and milk until combined. Remove the bowl and fold in the chocolate chips.
Roll the cookie dough into 12 balls. Place each evenly on the tray. Press balls slightly to flatten.
Bake for 12-15 minutes, or until light brown. Remove from the oven. Allow to cool before serving, and keep stored in a sealed container for up to 5 days.
WANT MORE? CHECK OUT OUR RECIPES SECTION AND OUR BOOKS FOR MORE NUTRITIOUS TASTY TREATS.