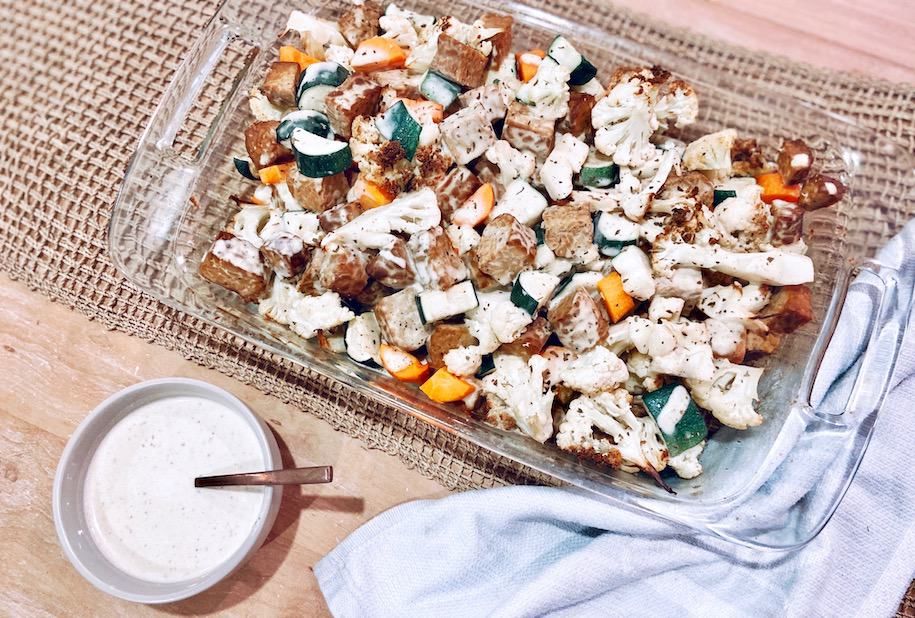 Vegetarian
Serves 4
INGREDIENTS:
3 tablespoons garlic-infused olive oil

1 brown onion, roughly chopped

4 medium-sized zucchinis, roughly chopped

1 small cauliflower head, chopped into medium-sized florets

2 carrots, peeled and roughly chopped

8 medium potatoes, skin on, chopped

Salt and pepper
For the sauce
1 cup store-bought hummus dip

' cup water

Zest and juice of 1 lemon

1 tablespoon dijon mustard

1 teaspoon dried thyme leaves, plus extra to serve

Salt and pepper to taste
METHOD:
Pre-heat oven to 180ºC.

In a large baking tray, combine olive oil and all your vegetables with a generous pinch of salt and pepper. Toss to combine

Bake for 45 minutes, removing halfway through to give the vegetables a mix.

Combine sauce ingredients in a bowl and whisk to combine (you can also use a blender and blend until smooth).

After 45 minutes, remove the tray and pour the sauce over the entire vegetable mix, then return to the oven and bake for a further 5 minutes.

Serve sprinkled with extra thyme, if desired.
This easy One-tray Winter Wonder Veggie Bake is perfect for a Meat Free Monday dinner… it's simple, mess-free and loaded with goodness – what's not to love?!