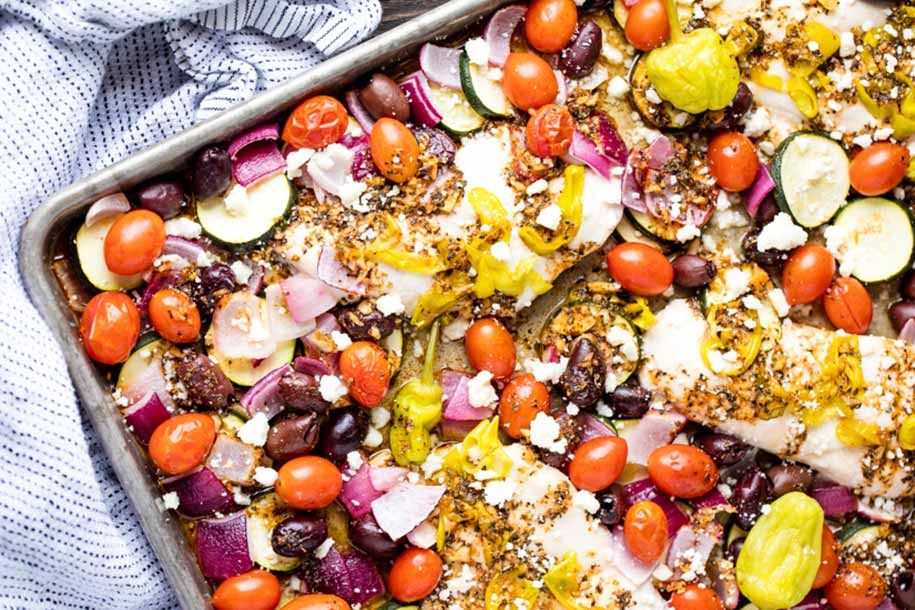 Want an easy dinner that's ready in no time? This One-Tray Greek Chicken & Veggie Bake is our SWIISH pick. The beauty of this dish is that the marinade is loaded with digestion-supporting ingredients (such as vinegar and lemon juice) to help your body thrive – better digestion = more nutrients absorbed. It's simple as that!
ONE-TRAY GREEK CHICKEN & VEGGIE BAKE
Gluten-free
Serves 4
INGREDIENTS
4 boneless skinless chicken thighs
250g cherry tomatoes
1 red onion, cut into chunks
2 medium-sized zucchinis, sliced
1 cup kalamata olives, pitted
½ cup pickled baby peppers, sliced
250g Greek feta, crumbled
Marinade:
¼ cup olive oil
5 garlic cloves, crushed
2 tbsp white wine vinegar
2 tbsp lemon juice
2 tsp dried oregano
1 tsp dried basil
1 tsp paprika
Salt and pepper, to taste
METHOD
Preheat the oven to 180ºC. Grease a non-stick baking tray with cooking spray.
Lay your chicken thighs on the tray. Spread the cherry tomatoes, onion, zucchini, and olives evenly around the chicken.
Pour over marinade, ensuring the chicken is well coated.
Sprinkle baby peppers on top of the chicken.
Bake for approximately 35 minutes, or until chicken is cooked through.
Sprinkle with feta to serve.
WANT MORE? CHECK OUT OUR RECIPES SECTION AND OUR BOOKS FOR MORE NUTRITIOUS TASTY MEALS.