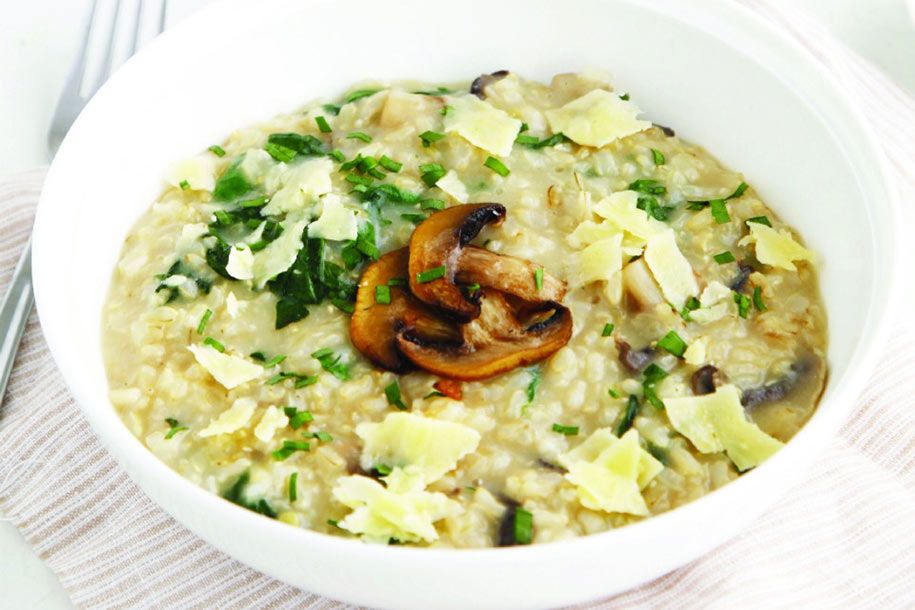 Sometimes a nourishing risotto is just the warming recipe you need. This Easy Mushroom & Spinach Risotto recipe is big on flavour – without the heavy ingredients. Our favourite thing about this dish: the mushrooms, they're a go-to secret superfood! Mushies are a great source of vitamin D to support immune health and are rich in B vitamins that are vital for everyday energy. Talk about a super healthy dinner, right?
EASY MUSHROOM & SPINACH RISOTTO
Vegetarian
Serves 4
INGREDIENTS
3 tbsp olive oil
1 brown onion, finely diced
2 garlic cloves, minced
2 cups of brown rice or Arborio rice
6 cups of vegetable stock
2 cups of white cup mushrooms, sliced
2 tbsp fresh chives, roughly chopped
2 cups of baby spinach
Parmesan cheese, to taste
Salt & pepper, to taste
METHOD
In a large non-stick pot over medium heat, add the oil and onion. Cook for several minutes until fragrant.
Add garlic and rice, then stir to combine.
Slowly pour one cup of stock in at a time, constantly stirring as you go, only adding new stock once the previous cup has been absorbed by the rice. The rice typically takes around 40-50 minutes to cook.
When the rice is almost done, add the last cup of stock and chopped mushrooms.
Once the rice has cooked completely, stir through the chives and baby spinach.
To serve, top the dish with parmesan cheese, salt and pepper.
WANT MORE? CHECK OUT OUR RECIPES SECTION AND OUR BOOKS FOR MORE NUTRITIOUS TASTY MEALS.