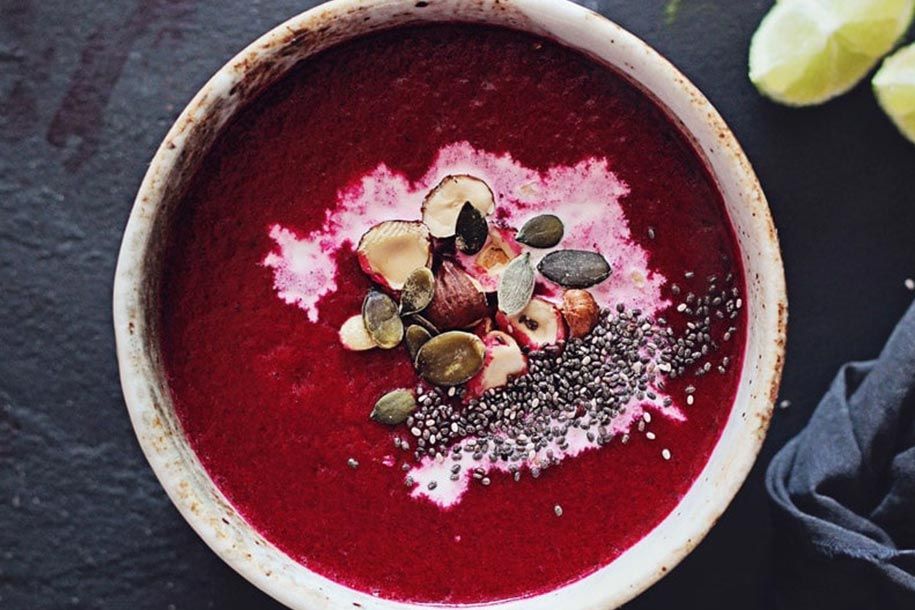 Burnout: it's a thing. The No. 1 trick to beating it? Rest and super-nourishing food – which is exactly where this Beet The Burnout Soup comes in. Sure, beetroot is high in antioxidants, but did you know that it also works to support heart health and improved circulation? Why is this important? Delivery of essential nutrients throughout the body relies on good blood flow – and beetroot contains important compounds known as nitrates that support this! The uber-rich and deliciously more-ish flavour in this dish is just a bonus. Yes, we're obsessed.
BEET THE BURNOUT SOUP
Vegan / Dairy-free
Serves 2
INGREDIENTS
3 whole beetroots, peeled and halved
2 carrots, peeled
1 tsp coconut oil
1 onion, finely diced
2 garlic cloves, crushed
1 leek, sliced
2 cups vegetable stock
1 tbsp chia sunflower and pumpkin seeds, to serve
1 tsp coconut milk, to serve
Salt and pepper, to taste
METHOD
Place the beetroots and carrot in a pot, cover with water. Bring to boil, then boil for 20-30 minutes, or until tender.
Drain from water and set aside to cool.
Heat the coconut oil in a pan on medium heat, add the onion, garlic, leek, and cook for 5-7 minutes. Add vegetable stock, carrots and beetroot to the pot and simmer for 10-15 minutes.
Remove from heat and using a stick blender, blend until smooth.
Garnish with seeds and coconut milk. Season with salt and pepper.
WANT MORE? CHECK OUT OUR RECIPES SECTION AND OUR BOOKS FOR MORE NUTRITIOUS TASTY MEALS.