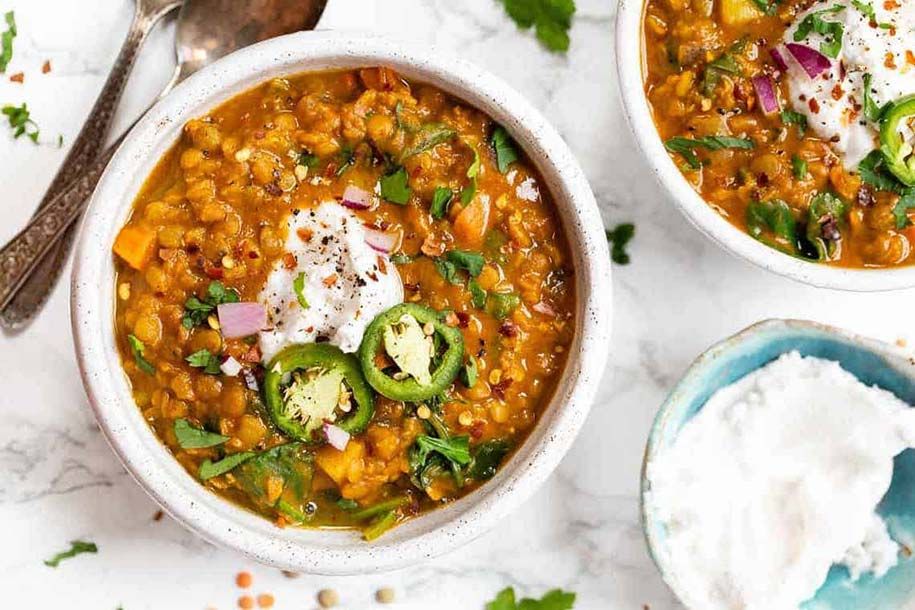 This Moroccan Lentil Detox Soup is filled with gut-supporting, wholesome ingredients (such as lentils that are high in prebiotics) that not only support detoxification processes in the body – but also diversify the bacteria in your gut. Amazing? Yes. Delicious? Obvi!
MOROCCAN LENTIL DETOX SOUP
Vegan / Dairy-free
Serves 4
INGREDIENTS
1 tbsp olive oil
2 onions, chopped
2 celery stalks, chopped
3 carrots, chopped
5 white potatoes, peeled and chopped
2 tbsp minced garlic
4 tbsp Moroccan seasoning
2 cups lentils
4 cups vegetable stock
2 cups water
½ cup tomato paste
1 cup nut milk
3 cups baby spinach
Coconut yoghurt, to serve – otherwise Greek yoghurt will also work
Salt and pepper
METHOD
Heat oil in a large pot over medium-high heat. Add onions, celery, carrot, potato, and garlic. Sauté for 5 minutes, or until softened. Season with salt, pepper and Moroccan seasoning. Cook for a further 2-3 minutes.
Add lentils and sauté for 1-2 minutes, then add the stock, water, and tomato paste. Stir to combine. Bring soup to the boil, cover and simmer to reduce for 30 minutes.
Remove from heat and stir in the milk and spinach. Continue to stir until the spinach has wilted.
To serve, add a dollop of yoghurt.
WANT MORE? CHECK OUT OUR 
RECIPES
 SECTION AND OUR 
BOOKS
 FOR MORE NUTRITIOUS TASTY MEALS.