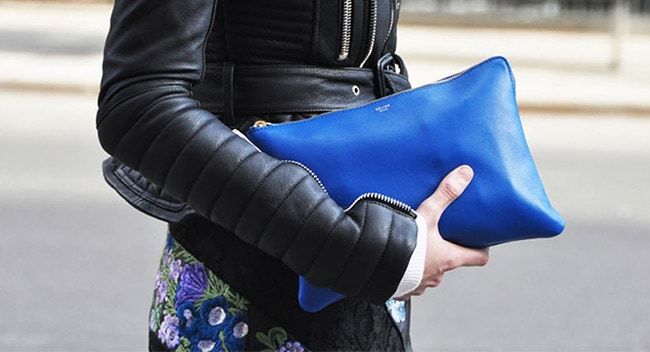 I'm having myself a little (ok ok…. you caught me out), more like a BIG love affair with leather! The reason I am obsessing is because once you know just how versatile a leather piece in your wardrobe can be, you, like me, will seriously wear leather again and again and again without it looking tired. Leather's come a long way fashion-wise and wearing it doesn't mean you have to resemble a glam rocker of the 80's (although that actually wouldn't really bother me being a die-hard Bon Jovi fan!).
Leather can be worn casually, in the office, to a cocktail party or for a night out with the gals. Best of all, leather has become so affordable and wearable with so many fashion chains taking the runway styles and toning them down for everyday wear.
Not a day goes by where you won't see a fashionista or celeb sporting yet another leather trend. Many of swiish's favourite celebs including Kate Bosworth, Alexa Chung and Kim Kardashian style the trend to perfection. Plus, you've probably noticed how often we've featured leather on swiish here and here and here and… oh this could go on and on!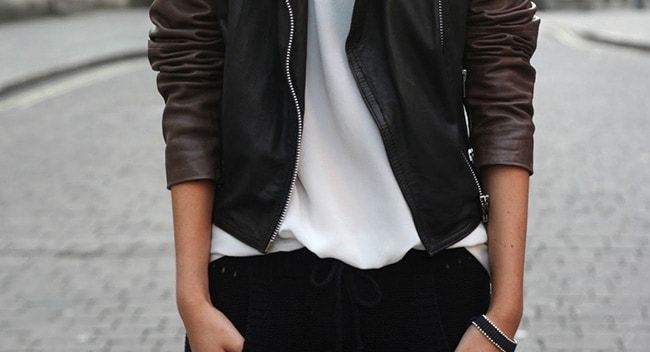 For those of you that are a little hesitant to embrace the trend, I promise you it is so easy to do and if you follow these simple rules you too will fall in love with leather!
Keep it chic
Say you've bought yourself a nice leather mini but it's a bit too chilly to wear with a tee? Then throw on your favourite knit, pair with ankles boots and voila! French chic in next to no time. 
Conservative is best 
If you're in a corporate office then I'd suggest leaving the leather for belts, heels and bags (which is by no means boring… I mean have you seen all the leather accessories out there!?!) however if your office is a touch more casual then think a tailored knee-length leather pencil skirt paired with an oversized man-style white shirt tucked in and bloused over. The look oozes femininity with a touch of punk. Or try a tailored leather peplum top – perfect to take you from work to Friday night drinks! 
A little goes a long way
Basically when it comes to leather, you make the rules according to your style – my best tip is to keep it simple. Leather can make enough of a statement without the need for too many accessories. So go forth and leather it ladies! 
Shop the look at Sportsgirl, Seed Heritage, Country Road, Witchery, Bardot and Kookai.