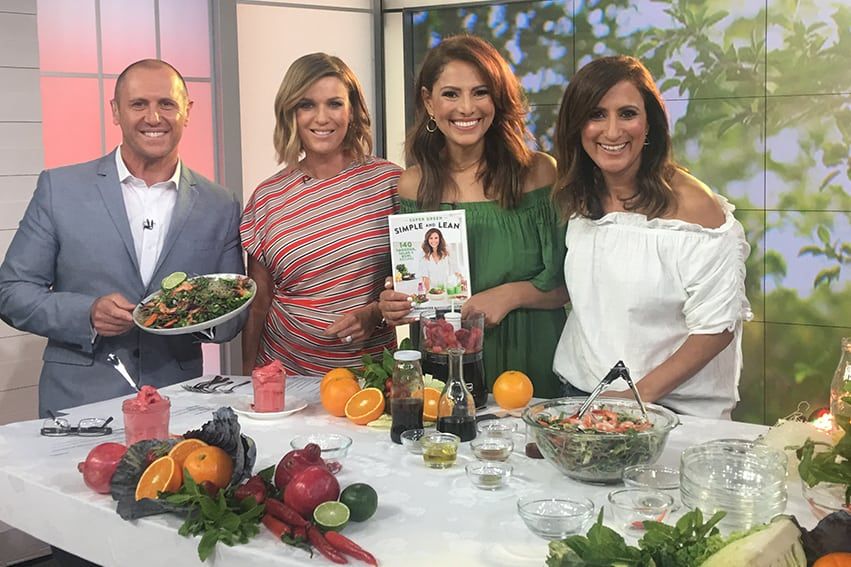 We stopped by The Morning Show today to share two of our favourite recipes with Kylie and Larry – a super simple TWO MINUTE STRAWBERRY GELATO that uses only two ingredients (YEP, you read that right!!) and a super lean show-stopping SUBLIME PRAWN & VERMICELLI NOODLE SALAD.
The thing is, now that the weather finally looks like it's warming up, we can't get enough of food with fresh flavours that ignite our tastebuds like no other. We're obsessed with anything that can give us that refreshing flavour hit that is super high on taste and super low in calories.
Enter our Totally Sublime Vermicelli Salad and our Two-Minute Strawberry Gelato. Both these recipes tick all of the boxes for taste, simplicity and health. This type of cooking is very true to our ethos, and is what you'll find in all the recipes in our new book, SUPER GREEN, SIMPLE AND LEAN.
Check out our catch up with Kylie and Larry below, and if you want to get your hands on SUPER GREEN SIMPLE AND LEAN, you can pick it up right here.
(function(){var scriptURL='https://sdks.shopifycdn.com/buy-button/latest/buy-button-storefront.min.js';if(window.ShopifyBuy){if(window.ShopifyBuy.UI){ShopifyBuyInit();}else{loadScript();}}else{loadScript();}
function loadScript(){var script=document.createElement('script');script.async=true;script.src=scriptURL;(document.getElementsByTagName('head')[0]||document.getElementsByTagName('body')[0]).appendChild(script);script.onload=ShopifyBuyInit;}
function ShopifyBuyInit(){var client=ShopifyBuy.buildClient({domain:'swiish-by-sally-obermeder.myshopify.com',apiKey:'b9bcd77eea223a9ac3df9c0117588ac0',appId:'6',});
ShopifyBuy.UI.onReady(client).then(function(ui){ui.createComponent('product',{id:[10745192781],node:document.getElementById('product-component-55bac7bd27c'),moneyFormat:'%24%7B%7Bamount%7D%7D',options:{"product":{"variantId":"all","contents":{"imgWithCarousel":false,"variantTitle":false,"description":false,"buttonWithQuantity":false,"quantity":false},"styles":{"product":{"@media (min-width: 601px)":{"max-width":"calc(25% - 20px)","margin-left":"20px","margin-bottom":"50px"}}}},"cart":{"contents":{"button":true},"styles":{"footer":{"background-color":"#ffffff"}}},"modalProduct":{"contents":{"img":false,"imgWithCarousel":true,"variantTitle":false,"buttonWithQuantity":true,"button":false,"quantity":false},"styles":{"product":{"@media (min-width: 601px)":{"max-width":"100%","margin-left":"0px","margin-bottom":"0px"}}}},"productSet":{"styles":{"products":{"@media (min-width: 601px)":{"margin-left":"-20px"}}}}}});});}})();