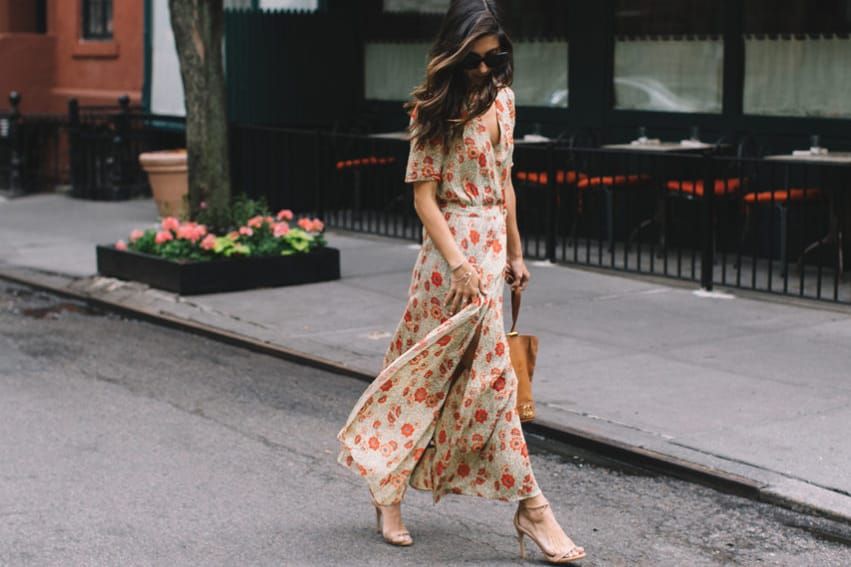 If you're a member of the Duchess of Cambridge fan club like we are, you would have noticed that her closet is filled with printed midi dresses.
Although we're not members of the royal family (much to our disappointment), we're drawn to the feminine silhouettes and stunning detail of these dresses and it's easy to see why Kate Middleton counts this style amongst her favourites.
Printed midi dresses are the ultimate spring/summer companion and can easily take you from work to play in a jiffy. Style with sandals and a basket bag for the day and heels and a clutch for the night, and you've got yourself an outfit fit for a royal!
(function(){var scriptURL='https://sdks.shopifycdn.com/buy-button/latest/buy-button-storefront.min.js';if(window.ShopifyBuy){if(window.ShopifyBuy.UI){ShopifyBuyInit();}else{loadScript();}}else{loadScript();}
function loadScript(){var script=document.createElement('script');script.async=true;script.src=scriptURL;(document.getElementsByTagName('head')[0]||document.getElementsByTagName('body')[0]).appendChild(script);script.onload=ShopifyBuyInit;}
function ShopifyBuyInit(){var client=ShopifyBuy.buildClient({domain:'swiish-by-sally-obermeder.myshopify.com',apiKey:'b9bcd77eea223a9ac3df9c0117588ac0',appId:'6',});
ShopifyBuy.UI.onReady(client).then(function(ui){ui.createComponent('collection',{id:458766733,node:document.getElementById('collection-component-f67004ddbf8'),moneyFormat:'%24%7B%7Bamount%7D%7D',options:{"product":{"variantId":"all","contents":{"imgWithCarousel":false,"variantTitle":false,"description":false,"buttonWithQuantity":false,"quantity":false},"styles":{"product":{"@media (min-width: 601px)":{"max-width":"calc(25% - 20px)","margin-left":"20px","margin-bottom":"50px"}},"button":{"background-color":"#f5b4b7","color":"#000000",":hover":{"background-color":"#dda2a5","color":"#000000"},":focus":{"background-color":"#dda2a5"}}}},"cart":{"contents":{"button":true},"styles":{"button":{"background-color":"#f5b4b7","color":"#000000",":hover":{"background-color":"#dda2a5","color":"#000000"},":focus":{"background-color":"#dda2a5"}},"footer":{"background-color":"#ffffff"}}},"modalProduct":{"contents":{"img":false,"imgWithCarousel":true,"variantTitle":false,"buttonWithQuantity":true,"button":false,"quantity":false},"styles":{"product":{"@media (min-width: 601px)":{"max-width":"100%","margin-left":"0px","margin-bottom":"0px"}},"button":{"background-color":"#f5b4b7","color":"#000000",":hover":{"background-color":"#dda2a5","color":"#000000"},":focus":{"background-color":"#dda2a5"}}}},"toggle":{"styles":{"toggle":{"background-color":"#f5b4b7",":hover":{"background-color":"#dda2a5"},":focus":{"background-color":"#dda2a5"}},"count":{"color":"#000000",":hover":{"color":"#000000"}},"iconPath":{"fill":"#000000"}}},"productSet":{"styles":{"products":{"@media (min-width: 601px)":{"margin-left":"-20px"}}}}}});});}})();