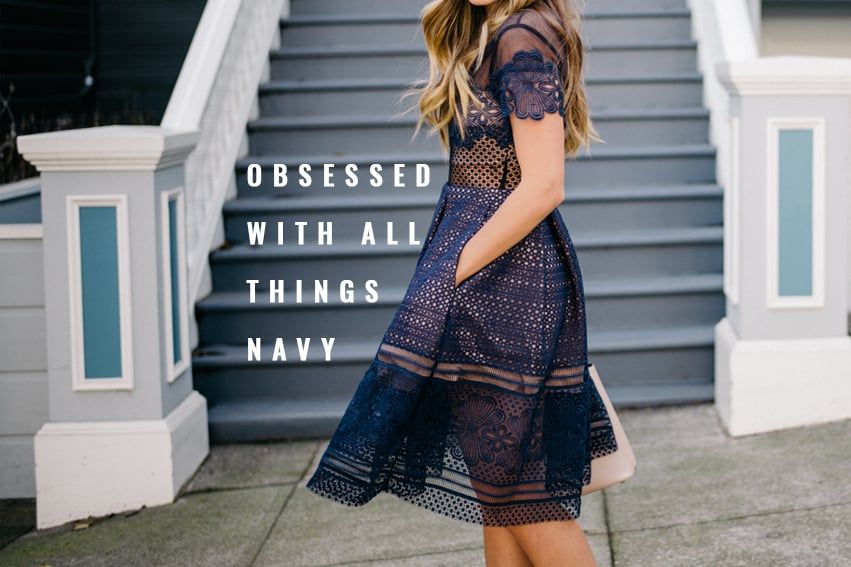 It's no secret that wearing anything black is our unofficial uniform. Actually – let's just correct that sentence for a minute. It should say 'black was our unofficial uniform'. Yep. That's right – move over black. You've been replaced.
We get it – there's something so easy about wearing black and it's true what they say… it's a colour that looks good on everyone. This spring and summer though, we're even more obsessed with all things navy! Why? Well black just feels way like too gloomy of a colour to wear in the warmer months.  
In our books, just like black, white and grey, we consider navy to be a neutral so it pairs so well with different colours and patterns. Navy and khaki? Check! Navy and white? Check! Navy and florals? Check! Navy and red? Check! Navy and baby pink? Check! Navy on navy? You bet. We honestly can't think of a colour it doesn't look good with.
The chicness of navy also makes it the ideal summer colour for those who live in all black so if you're thinking of weaning yourself off black (and trust us, it feels so good to do so!) may we please suggest adding a little navy to your wardrobe?
Without further ado, here's our ultimate round up of all things navy and if you did want to add some more navy to your life (who wouldn't?), you can also shop our favourite navy pieces below.

(function(){var scriptURL='https://sdks.shopifycdn.com/buy-button/latest/buy-button-storefront.min.js';if(window.ShopifyBuy){if(window.ShopifyBuy.UI){ShopifyBuyInit();}else{loadScript();}}else{loadScript();}
function loadScript(){var script=document.createElement('script');script.async=true;script.src=scriptURL;(document.getElementsByTagName('head')[0]||document.getElementsByTagName('body')[0]).appendChild(script);script.onload=ShopifyBuyInit;}
function ShopifyBuyInit(){var client=ShopifyBuy.buildClient({domain:'swiish-by-sally-obermeder.myshopify.com',apiKey:'b9bcd77eea223a9ac3df9c0117588ac0',appId:'6',});
ShopifyBuy.UI.onReady(client).then(function(ui){ui.createComponent('collection',{id:460723981,node:document.getElementById('collection-component-1e4917ef235'),moneyFormat:'%24%7B%7Bamount%7D%7D',options:{"product":{"variantId":"all","contents":{"imgWithCarousel":false,"variantTitle":false,"description":false,"buttonWithQuantity":false,"quantity":false},"styles":{"product":{"@media (min-width: 601px)":{"max-width":"calc(25% - 20px)","margin-left":"20px","margin-bottom":"50px"}},"button":{"background-color":"#171468",":hover":{"background-color":"#2722b1"},":focus":{"background-color":"#2722b1"}}}},"cart":{"contents":{"button":true},"styles":{"button":{"background-color":"#171468",":hover":{"background-color":"#2722b1"},":focus":{"background-color":"#2722b1"}},"footer":{"background-color":"#ffffff"}}},"modalProduct":{"contents":{"img":false,"imgWithCarousel":true,"variantTitle":false,"buttonWithQuantity":true,"button":false,"quantity":false},"styles":{"product":{"@media (min-width: 601px)":{"max-width":"100%","margin-left":"0px","margin-bottom":"0px"}},"button":{"background-color":"#171468",":hover":{"background-color":"#2722b1"},":focus":{"background-color":"#2722b1"}}}},"toggle":{"styles":{"toggle":{"background-color":"#171468",":hover":{"background-color":"#2722b1"},":focus":{"background-color":"#2722b1"}},"count":{"color":"#ffffff",":hover":{"color":"#ffffff"}},"iconPath":{"fill":"#ffffff"}}},"productSet":{"styles":{"products":{"@media (min-width: 601px)":{"margin-left":"-20px"}}}}}});});}})();