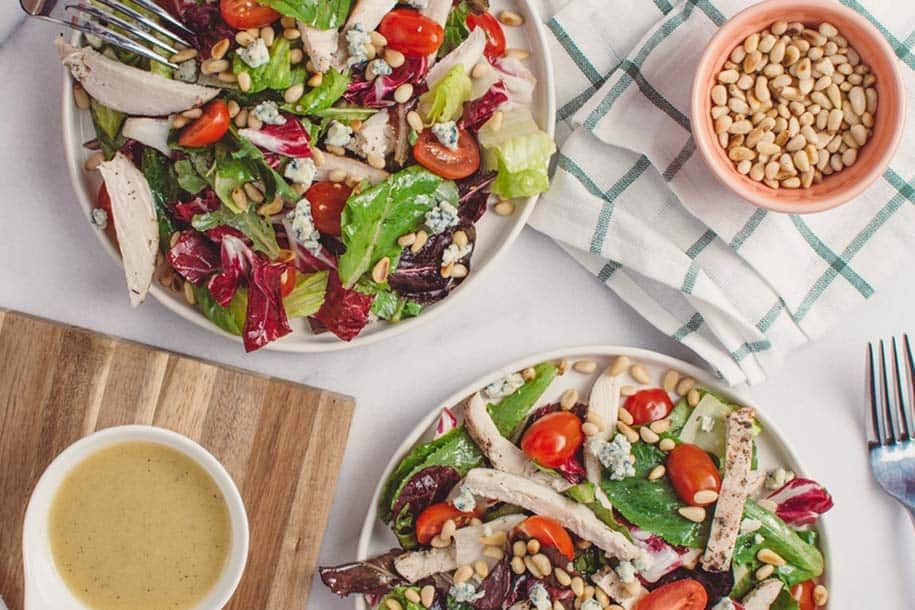 A salad that (believe it or not) everyone will love. We've tried and tested this Chicken & Butter Leaf Salad, and the verdict is in: It's brilliant, delicious, and super-duper easy.
CHICKEN & BUTTER LEAF SALAD
Dairy-free
Serves 2
INGREDIENTS
2 cups mixed butter leaf salad mix, washed and roughly chopped
250g pre-cooked carved chicken – we love using the Mt Barker Fresh Carved Chicken Breast 250g available at your local supermarket, otherwise store-bought BBQ chicken will work.
½ cup cherry tomatoes, halved
¼ cup pine nuts
Dressing
1 tsp Dijon mustard
3 tsp crushed garlic
3 tbsp white wine vinegar
9 tbsp olive oil
Salt & pepper to taste
METHOD
Add salad ingredients to a bowl and toss to combine. Whisk or blend dressing ingredients until combined, then drizzle over generously to serve.
SWIISH Tip: We recommend making the dressing the night before and adding it to a mason jar to grab-and-go.
WANT MORE? CHECK OUT OUR RECIPES SECTION AND OUR BOOKS FOR MORE NUTRITIOUS TASTY MEALS.