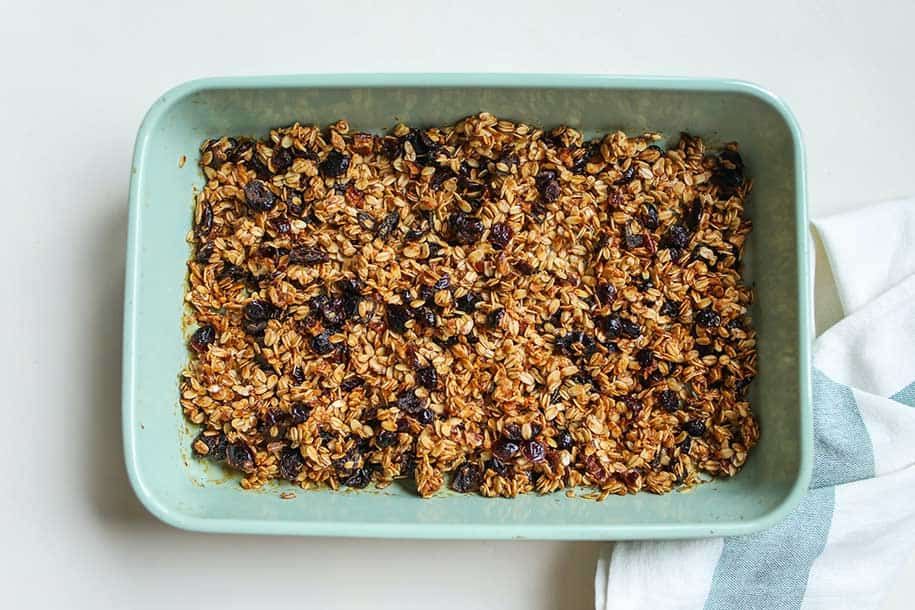 A cleaned-up brekkie that's loaded with gut-loving goodness. Every bite is sweet, salty, and dangerously more-ish. You'll be craving this Gut-Loving Granola every morning.
GUT-LOVING GRANOLA
Dairy-free / Refined Sugar-free
Serves 6
INGREDIENTS
2 cups rolled oats
⅓ cup walnuts, crushed
⅓ cup cranberries
2 tbsp chia seeds
4 tbsp coconut oil, melted
3 tbsp raw honey, melted
2 tsp cinnamon
¼ tsp salt
METHOD
Preheat oven to 180ºC. Line a large baking tray with baking paper.
Combine all ingredients in a bowl. Spread out in an even layer on the tray and bake for 15 minutes, or until golden, removing from the oven halfway through cooking to mix.
Set aside to cool before serving. Store in an airtight container for up to 1 week.
WANT MORE? CHECK OUT OUR RECIPES SECTION AND OUR BOOKS FOR MORE NUTRITIOUS TASTY MEALS.