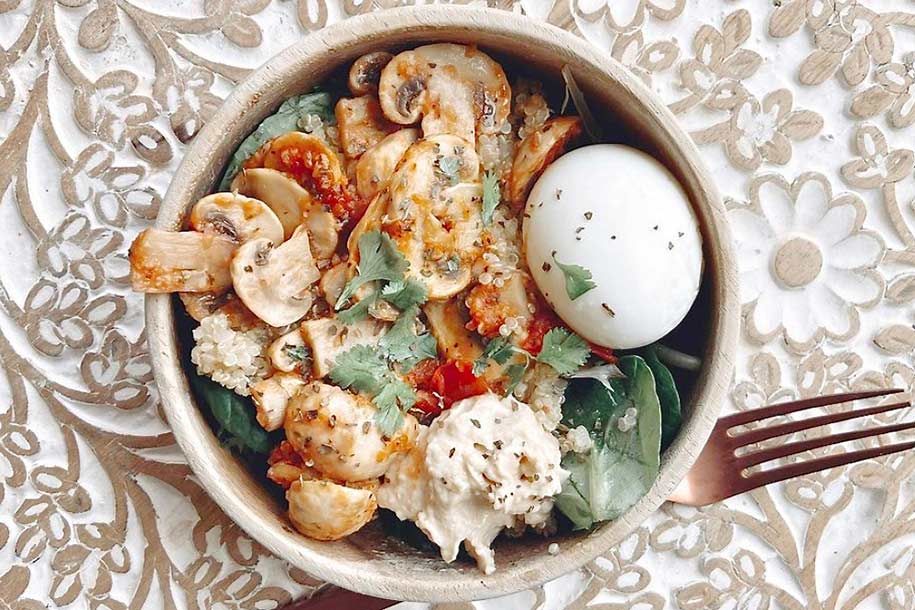 There's so 'mush' to love about this brekkie. Loaded with flavour, it'll keep you feeling full right through to lunchtime. For us, this Mushroom Brekkie Bowl is a Sunday morning favourite.
MUSHROOM BREKKIE BOWL
Dairy-free / Vegetarian
Serves 2
INGREDIENTS
1 tbsp olive oil
2 tsp crushed garlic
375g white cup mushrooms, sliced – we love using pre-sliced ones
200g diced tinned tomatoes
1 tbsp dried basil
2 cups baby spinach
1 cup microwave brown rice or quinoa, cooked
2 eggs, boiled – if we're in a hurry, we use pre-boiled eggs available at your local supermarket
2 tbsp hummus, to serve
Fresh coriander, to garnish, optional
Salt and pepper, to taste
METHOD
In a pan on medium-high heat, add the olive oil. Once heated, add the garlic, mushrooms, tomato, and basil. Cover and allow to cook for 8-10 minutes, stirring occasionally.
Serve the mushroom mix in a bowl on top of the baby spinach and brown rice or quinoa. Top with egg, hummus, coriander, salt and pepper.
WANT MORE? CHECK OUT OUR RECIPES SECTION AND OUR BOOKS FOR MORE NUTRITIOUS TASTY MEALS.