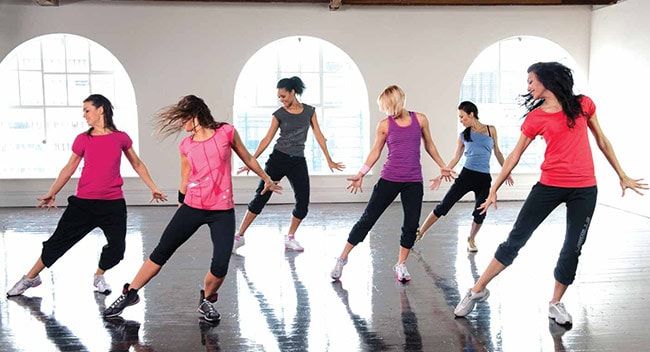 If you're stuck in a bit of an exercise rut, keeping the same routine day after day, there's a good chance that your mind and your body aren't benefiting nearly as much as they could be.
I'm not saying that your exercise isn't working, but I am saying that if you stick to the same routine for too long, more often than not, your body will become used to this same amount of physical exertion and your performance will begin to plateau. Your mind won't be actively stimulated to the level it requires for those fabulous endorphins to be released, and you could quickly lose motivation (hey, we've all been there, and it's tough to claw your way back).
So maybe it's time to shake things up… time to try something different, fun and invigorating! You'll be surprised by just how good you can feel just by doing these exercises. Tune in and give some of these a whirl!
 

Hula Hooping

It may sound silly, but hula hooping is a champion exercise for toning your tummy, thighs, and bottom – some of our biggest problem areas! Find your way back to your childhood and pick up a cheap hula-hoop at a two-dollar shop and swing those hips. You'll be able to have a laugh and get fit at the same time.

If you're looking for something a little more intense, reality star Audrina Patridge is a big fan of using a weighted hula to get fit and tone up. With these, you can burn up to 100 calories in just 10 minutes. Amazing! Visit fithoop.com.au for more information.

 

Skipping

It's old school, it's simple, and that is one of the reasons we love to skip! It burns huge amounts of calories and just a couple of minutes of skipping a day will cut down tummy fat fast! Jump only a few centimetres off the ground; only the balls of your feet should touch the floor. Try and keep your elbows close to your sides as it's your wrists that should be doing the work to move the rope.

 

Dancing

Shimmy that booty into shape! Entice your girlfriends into taking up classes with you. Whether it's salsa, burlesque, belly dancing, or ballroom you are sure to get fit whilst having a whole lot of fun. One of the best classes I ever did was a Beyonce dance class at Dance Studio 101 in Surry Hills in Sydney – we learned how to do Bey's "Single Ladies" dance. It was so fun, and I definitely sweated my tush off!

 

Hiking

There's something about that feeling of it just being you, and the great outdoors. Find a track that suits your level of fitness, get a good sturdy pair of hiking boots and off you go. Pack some tasty trail mix, and a water bottle, and let your thoughts soar as you work the track. Download the app MapMyHike GPS Hiking (Free, iTunes) and you can keep a log of your hikes – time, distance, pace, speed and elevation. Plus there's an interactive map so that you can see your current location and where you have travelled.

 

Trapeze

This one will really get you trying something new. Feel weightless as you glide through the air, and feel electrified once you nail your first catch for the first time. In the swiish office, we have all been inspired by Pink's incredible trapeze performances on her concert tours. Building core strength as well as your arm muscles is obvious, however your mind gets a workout too – after all, even though you're harnessed in, you have to be brave enough to jump off what can be as high as a two-storey platform. You'll also learn about timing and technique, reacting to the swing and letting go at just the right moment. Talk about a workout!
Remember, you don't need to become a professional trapeze performer, or even a ballerina – but mixing up your exercise routine is a fantastic way of pushing your body to new levels and working muscles you didn't even know you had. Not to mention the fact that trying something new can boost your mood, and make you feel more accomplished than ever before! Win win!