Cooking sensation and food goddess Donna Hay has just released her new book filled with tasty new recipes, Fresh and Light. Often we find ourselves struggling between eating healthy food and enjoying what we love to indulge in. Fresh and Light answers our long awaited prayers by providing us with recipes that give us that great balance we've been searching for.
"I′ve never been a fan of diets and this book is no exception. I don′t even like the thought of anyone being on a diet! For me, it′s always been about balance. Fresh and Light is mindful of fat and carbohydrates, but is focused on flavour and variety — without the guilt." – Donna Hay
Fresh and Light complements Donna's existing repertoire with recipes that combine the freshest ingredients, pantry staples and a few personal tricks for a lighter approach. Divided by meal, Fresh and Light is a solution-packed book of recipes overloaded with power foods to give you the balance your body needs across your week. Recipes include light breakfasts, tasty lunch box tips and fast dinner solutions, providing you with delicious new ideas for any time of the day. It's all about flavour and eating well.
Other must have additions to your recipe collection include Donna's Christmas Issue 2012, Simple Dinners, Fast Fresh Simple, Kids' Issue 2012 and Modern Classics books 1 and 2.
If you're feeling a bit peckish, why not try Donna's mouth-watering baked mozzarella and tomato dip by following this recipe:
What you'll need:
1 x 400g can crushed tomatoes
1 clove garlic, crushed sea salt and cracked black pepper
1 x 140g buffalo mozzarella or bocconcini, halved
olive oil, for drizzling
oregano leaves, to serve
Lebanese crisps
2 Lebanese breads, halved
olive oil, for brushing
The simple steps:
Preheat oven to 200°C (390°F). To make the crisps, brush the Lebanese breads with olive oil and sprinkle with salt. Cut into strips and place on baking trays. Bake for 5 minutes or until crisp. Set aside to cool.
Divide the tomatoes, garlic, salt and pepper between 2 x 1½ cup-capacity (375ml) ovenproof dishes and stir to combine. Top each with a piece of mozzarella and bake for 15–20 minutes or until the cheese has melted. Drizzle with olive oil, sprinkle with oregano leaves and serve with the Lebanese crisps.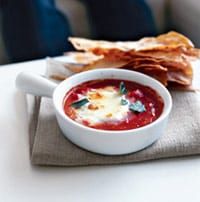 Fresh And Light, $39.99, plus Donna's other books and recipe collections are available from www.donnahay.com.au