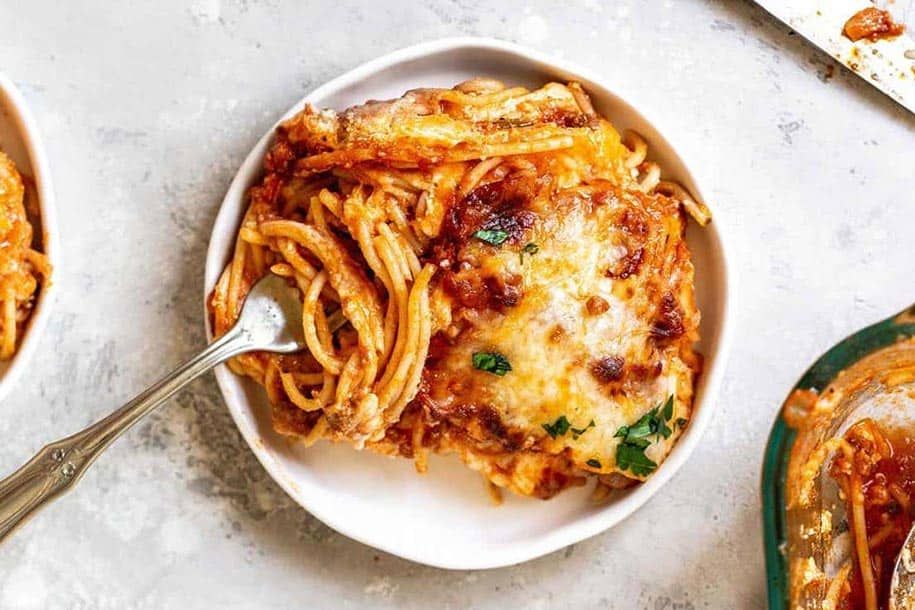 Baked spaghetti is about as genius as cooking gets. Just add all the ingredients to a tray and let them do their tasty thing. This Easy One-Tray Spaghetti is a family favourite.
EASY ONE-TRAY SPAGHETTI
Vegetarian
Serves 2
INGREDIENTS
250g wholemeal spaghetti
½ cup olive oil
2 tsp minced garlic
2 tsp Italian seasoning
1 tsp salt, or to taste
1 onion, sliced
1 red capsicum, sliced
200g diced tomatoes
1 cup passata sauce
1½ cups water
½ cup fresh basil, plus extra to garnish
1 cup mozzarella cheese
METHOD
Preheat oven to 180ºC.
In a medium-sized baking tray, place the uncooked spaghetti, oil, garlic, Italian seasoning, and salt. Gently toss ingredients with your hands to combine.
Add the onion, capsicum, tomatoes, passata, water, and basil on top of the spaghetti. Toss again with tongs to coat evenly.
Sprinkle with mozzarella cheese to cover the spaghetti.
Bake uncovered for 45-55 minutes, or until the top has browned slightly. Garnish with more fresh basil before serving.
WANT MORE? CHECK OUT OUR RECIPES SECTION AND OUR BOOKS FOR MORE NUTRITIOUS TASTY MEALS.