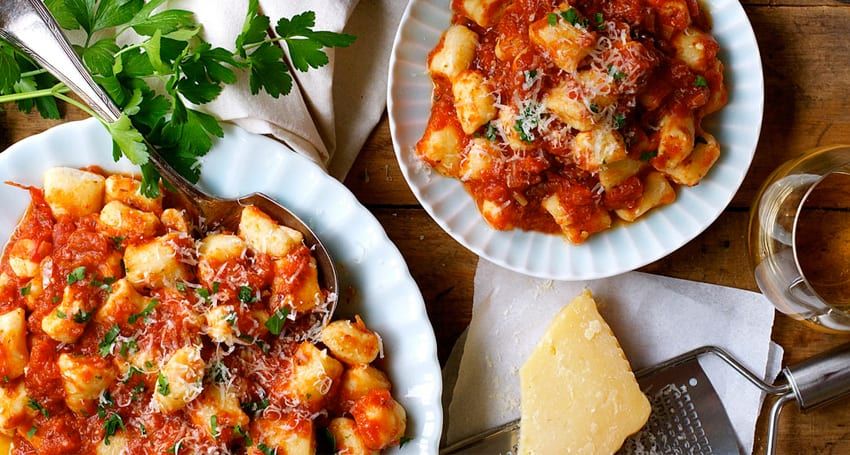 If there's one thing Italians always get right, it's food.  Cheese, cured meats, risotto, crostini, pizza, tiramisu … what's not to love?  Don't get me wrong, I still all about my lean proteins and superfood salads.  But when I'm really craving Italian food, nothing hits the spot quite like a big steamy bowl of freshly cooked pasta.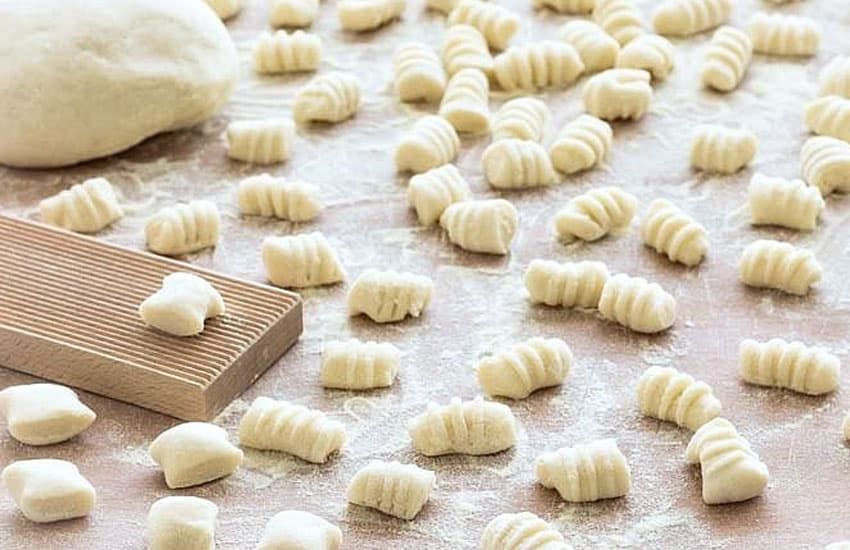 I couldn't help but think to myself how awesome it would be to make pasta at home. I don't know about you, but I'd just feel so thrilled to be able to make my family (and myself ha ha ha) a real, authentic Italian meal from scratch. One of my favourite pasta dishes to order out is gnocchi.  There's something about those soft little potato dumplings that I just can't say no to!  That's why I was so happy when I found that they're also super easy to make…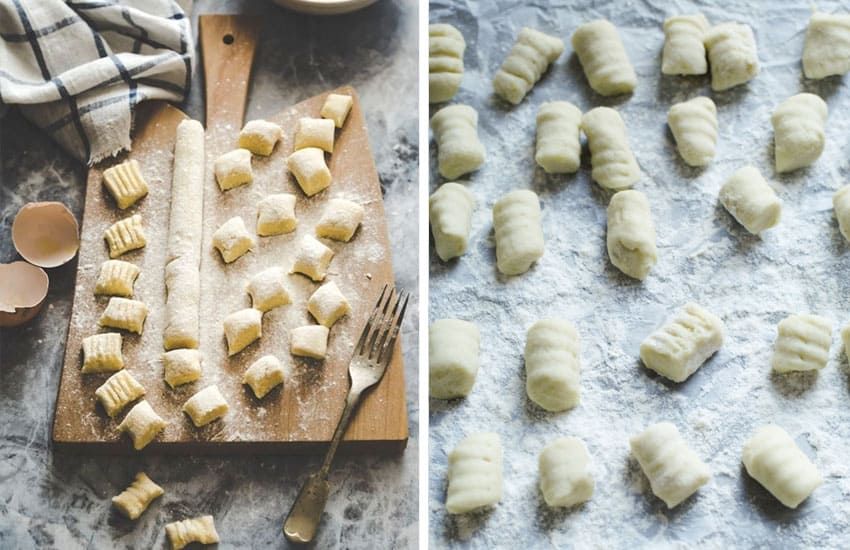 Basic Potato Gnocchi
Serves 4
INGREDIENTS
4 (about 800g) potatoes – washed, peeled, quartered
Salt & ground white pepper
1 egg, lightly whisked
300g (2 cups) plain flour
Plain flour, to dust

 
METHOD
Bring a large pot of salted water to a boil. Peel potatoes and add to pot. Cook until tender but still firm, about 15 minutes. Drain, cool and mash with a fork or potato masher.

Combine mashed potato, flour, egg, salt and pepper in a large bowl. Knead until dough forms a ball. Shape small portions of the dough into long "snakes". On a floured surface, cut snakes into 2-3cm pieces.

Bring a large pot of lightly salted water to a boil. Drop in gnocchi and cook for 3 to 5 minutes or until gnocchi have risen to the top; drain and serve.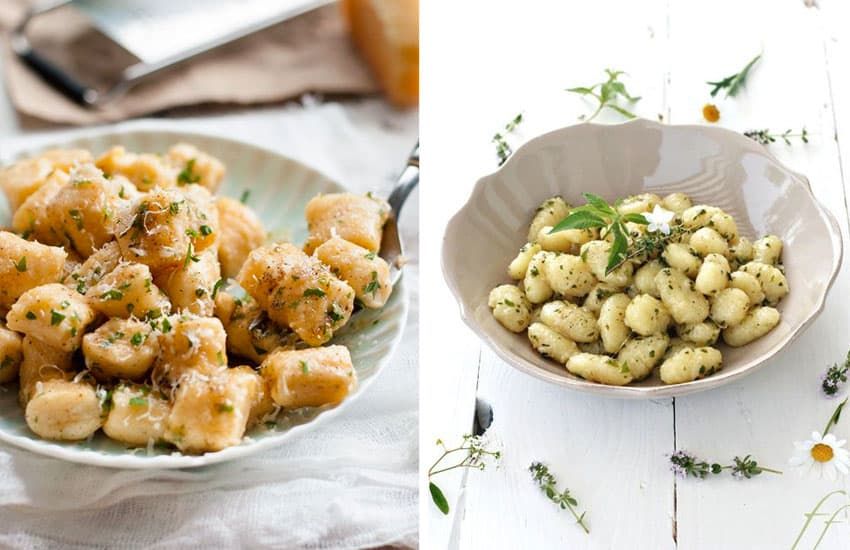 Due to its mild flavor, gnocchi goes great with just about any combination of vegetables, sauce and cheese.  Some people even experiment with the base by adding beetroot, sweet potato or various spices to the mix. 
You might like to use the basic recipe above and come up with a variation of your own. I usually make a tomato based sauce loaded with vegies to go with my gnocci. The recipes below are ones that I love when I want to make something a little more on the indulgent side (and that's totally ok every now and again). Enjoy!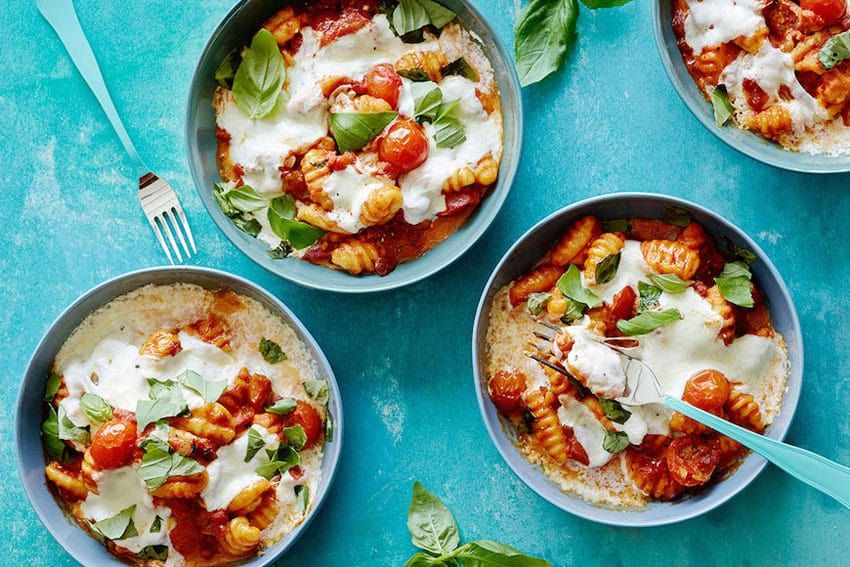 Cheesy Baked Gnocchi
Serves 4 
INGREDIENTS
4 servings gnocchi (from basic recipe above)
115g pancetta, chopped
1 spring onion, finely chopped
2 garlic cloves, chopped
1 teaspoon smoked paprika
1 x 425g can chopped tomatoes
1 tablespoon tomato paste
handful cherry tomatoes, halved
1 teaspoon sugar
3 tablespoons heavy cream
fresh basil, torn
kosher salt and freshly cracked black pepper to taste
250g fresh mozzarella, torn into pieces
METHOD
Pre-heat the oven to 200 degrees C.

Make gnocchi as per basic recipe directions

Add the cubed pancetta to a medium pan over medium high heat and cook until the pancetta has browned. Pour off most of the fat, reduce heat to medium, and then add the spring onion, garlic and smoked paprika. Cook for 30 seconds until fragrant.

Add the chopped tomatoes, tomato paste, cherry tomatoes and sugar and allow to simmer for 5 minutes. Remove the pan from the heat and stir in the cream. Add the gnocchi to the sauce and season with salt and pepper and torn basil.

Transfer the gnocchi and sauce to an oven-proof dish and top with the torn mozzarella.

Place in the oven and bake for 10 minutes until the mozzarella is melted and golden.

Remove from the oven and allow to rest for 5 minutes before serving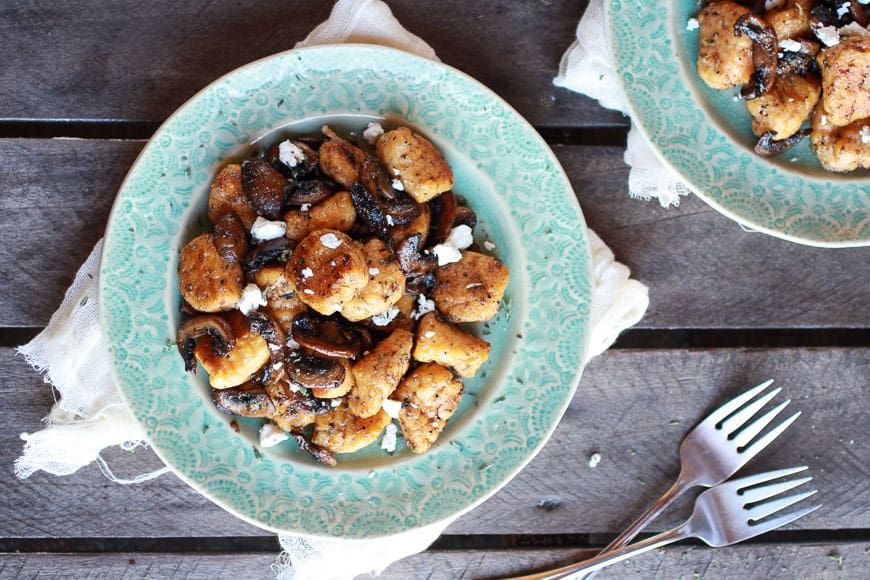 Crispy Sweet Potato Gnocchi with Caramelized Mushrooms Goat Cheese
Serves 4 
INGREDIENTS
1 cup of mashed sweet potato
1 cup ricotta cheese
2 large eggs
1 teaspoon salt
1/4 cup fresh parmesan, grated
3-4 cups flour
Brown Butter Balsamic Sauce Mushrooms
600g mushrooms, sliced
6 tablespoons butter
2 cloves garlic, minced or grated
2 teaspoons fresh thyme, chopped
2 teaspoons fresh rosemary, chopped
1/4 cup balsamic vinegar
salt and pepper 
130g goat cheese, crumbled
METHOD
Mix the mashed sweet potato, ricotta, eggs, salt and parmesan together in a large bowl. Add 2 cups of the flour and mix well with your hands. The dough should be very sticky. Add another half cup of flour and mix in. 

Spread some flour on a large work surface. Cut the dough log into four equal pieces. Take one piece and cut it in half. Roll the piece of dough into a snake about 1-2 cms thick, then cut it into pieces about the width of a fork. Dust the gnocchi with a little flour and then create an indent on the top with a fork. Repeat this process with the other piece of dough and place the gnocchi on a large plate, cover and set aside.

In a medium pan over high heat, add 2 tablespoons butter. When the butter is melted, sprinkle in the mushrooms in a single layer and let sit until caramelized.  Toss them once, season with salt and pepper and then continue to cook without stirring for about 5 minutes.  Add the remaining butter and cook until it begins to brown. Once the butter is browned reduce the heat and add the garlic, spices and balsamic vinegar, and simmer until the mushrooms are glazed with the sauce.   Push the sauce and mushrooms to the side of the pan (the gnocchi will go here later) and remove from heat.

Bring a large pot of salted water to boil and add the gnocchi.  Let them cook until they float, then remove them with a slotted spoon and add them right into the pan next to the mushrooms/sauce. Return the pan (with all the ingredients) back to medium heat. Let the gnocchi get crisp on one side for 2 minutes and then two minutes on the other, then stir gnocchi into the mushrooms. Remove from the heat and serve immediately with crumbled goat cheese on top. Yum!
Not convinced?  How about one of these…