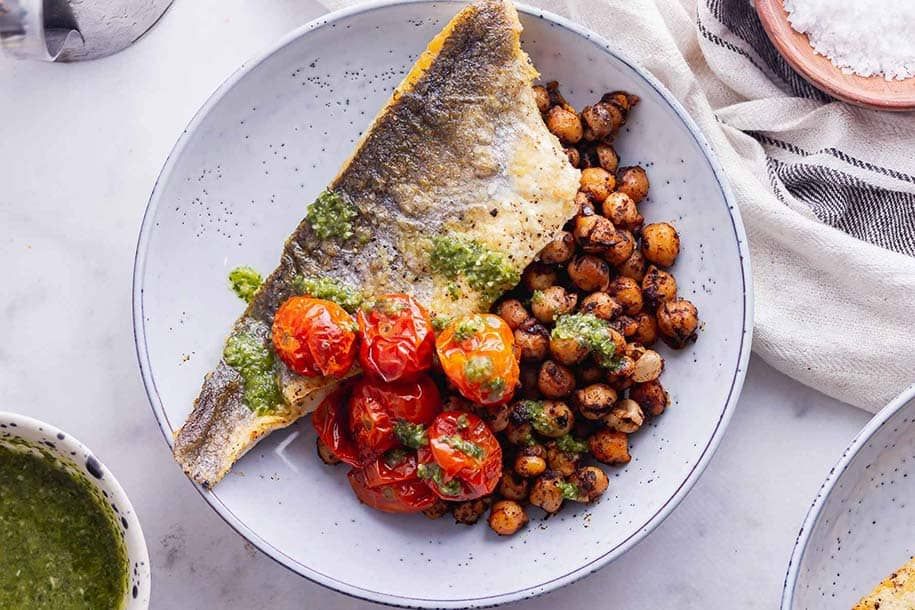 Now this is a cleanse-friendly dinner if we've ever seen one. High in healthy fats, lean protein, and lots of essential nutrients (such as skin-loving lycopene from the tomatoes) – this Delicious Pan-Fried Sea Bass is a hit.
DELICIOUS PAN-FRIED SEA BASS
Dairy-free / Pescatarian
Serves 2
INGREDIENTS
10 cherry tomatoes
3 tbsp olive oil
2 sea bass fillets, approximately 100g each
Salt and pepper
For the chickpeas:
400g tin chickpeas, drained and rinsed
4 tsp all spice powder
½ tsp chilli powder
3 tbsp olive oil
For the sauce:
¼ cup coriander
1 lemon, juiced
2 tsp crushed garlic
1 green chilli, deseeded
4 tbsp olive oil
METHOD
Heat the oven to 180°C. Line a large baking tray with baking paper. Add tomatoes to one side of the pan and drizzle with 2 tablespoons of olive oil and a generous serving of salt and pepper.
Mix together the chickpea ingredients in a bowl. Add chickpeas to the other half of the tray and place the entire tray in the oven. Roast for 25-30 minutes, or until the tomatoes are soft and the chickpeas are golden.
Season the sea bass fillets with salt and pepper on both sides. Heat a frying pan with a tablespoon of olive oil over high heat. Add the fish (skin side down) and press gently with a spatula. Allow to cook for 3-4 minutes, then flip and cook for another minute on the other side. Remove fish and set aside.
Add the sauce ingredients to a blender and blend until combined.
To serve, split the chickpeas between two bowls, top with the fish, add the tomatoes, and drizzle with sauce.
WANT MORE? CHECK OUT OUR RECIPES SECTION AND OUR BOOKS FOR MORE NUTRITIOUS TASTY MEALS.